Home | Pioneers | Contact Us | Copyright/Disclaimer
---
Monaro Pioneers Research pages: Index | Books/Lookups | Tracing Land | Convicts
Monaro Pioneers Newsletter
2013 Number 10
<![if !vml]>
<![endif]>
REQUESTS:
VENABLES FAMILY REUNION
From: Cheryl Venables
Sent: Wednesday, 1 June 2011 12:08 AM
Subject: Venables Family reunion worldwide - in France 13-17th July 11
Dear Ian
Hello you may like to post that there is a worldwide Venables reunion in the town of Venables France as you have
187 Venables on your site I noticed
http://www.ccgvenables.org/v1/accueil.php
regards
Cheryl Venables
Sydney
---
BEGA VALLEY WAR MEMORIALS
From: Pat & Frank Raymond
Sent: 2013-10-15 10:41 PM
Subject: RE: Newsletter 2013 No.8
"The Bega Valley Genealogy Society is working on a project of researching all the men whose names are on the War Memorials throughout the Bega Valley Shire and who are shown as having died – either in battle, from wounds or illness. Some died in Australia through illness before they even departed our shore. Another handful returned home – some being medically unfit and, if they died prior to 1924, their names are also shown as having died from war related injuries.
When the research is complete, a book will be published on these 180 or so men and we are trying to make it a personal account of their lives as well as information on their time within the Forces.
We would dearly love to have a photo of as many of these men as possible to go with their small biographies. Finding photos of these men, preferably in uniform, but, if not, any photos at all, is quite a challenge in itself. I was wondering if any of your subscribers would have a photo of any of the servicemen connected to the Bega Valley who died in WW1. Also if anyone has letters that the soldiers wrote back home to their loved ones – this would also be of interest.
So far I have collected 65 photos – if anyone thinks they can assist, it would be best to email me to find out which photos we are still searching for. My email address is ra80122@bigpond.net.au.
There are a small number of men whom I haven't been able to link up with a War Record and, if anyone can give any leads as to whom they might be – or a connection to our area, this would be extremely helpful.
W.P. ALLAN – shown on Bermagui War Memorial.
D. BROWN – shown on Bermagui War Memorial
T. MURPHY – shown on Eden War Memorial
W. RUSSELL – shown on Cobargo War Memorial
Thank you.
Pat Raymond, Research Officer, Bega Valley Genealogy Society"
---
FAIRMAN
From: Bryan Fairman
Sent: Saturday, 5 October 2013 6:41 PM
To: Ian Harvey
Subject: Fairman family
Hello Ian
Could I please ask in your newsletter if any person/persons know any information regarding my Fairman family history they lived in Bega / Candelo / Wolumla / Pambula / Twofold bay in the 1830's onwards. bryan_pat@bigpond.com
Best Regards Bryan
---
JOHN FRANKLIN EXPEDITION
From: garth walpole
Sent: Sunday, 1 September 2013 7:01 PM
Subject:
Dear Sir
I wonder if you may be able to help I am researching an aspect of the John Franklin expedition in particular that of Lt. John Irving who died on the above expedition. I am looking to trace Irvings residence and wonder if your organisation may know where Irving may have squatted in the 1840s. it appears he first farmed near Goulbourn then moved. Any information would be helpful.
Garth
---
SNOWY MOUNTAINS MUSEUM
From: Barry and Margaret
Sent: Sunday, 2 June 2013 4:09 PM
Subject: The Snowy Mountains Museum .rtf
Hi Ian
Would you please place this on the Monaro Pioneers home page for us please
Thanks Tracey & Margaret
The Snowy Mountains Museum at Adaminaby has been purpose built to show the history of the planning & subsequent building of the Snowy Mountains Scheme. The museum covers the period from 1947 to current times.
However it has been recognised that the period prior to this is in danger of being forgotten with the concentration these days being focussed on the Scheme.
With this in mind a section has been allocated to show the history prior to 1947.
At present the display is quite small, what is required are old photos of the Snowy Mountains districts, i.e. Berridale Adaminaby Jindabyne & surrounding districts. Ideally looking for old buildings, old farming techniques, family records or diary's anything that that would give an insight into what life was like.
If you have anything of that nature that you think may be of interest please contact Tracey ( asst. Curator)
Phone: 02 64541601 Email: gleneden147@bigpond.com
Ps the museum is also very short on volunteers if you can spare an hour or two occasionally please contact Tracey.
---
ROBINSON FAMILY REUNION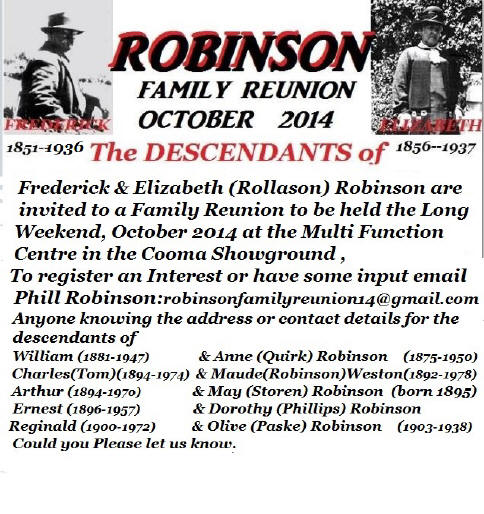 <![if !vml]>
<![endif]>

Current correspondence:
ELPHICK
From: brett frost
Sent: Saturday, 26 October 2013 10:45 AM
Subject: Proposed Change: Elphick, Stephen (I102318)
Proposed Change: Elphick, Stephen (I102318)
Tree: Eden Monaro Pioneers
Link: http://monaropioneers.com/TNG/getperson.php?personID=I102318&tree=MP
Description: Riding on his horse Stephen would daily light and extinguish the gas street lights in tumut.
brett frost
Thanks,
Regards, Ian
---
HARTMIRES
From: tjoa
Sent: Thursday, 24 October 2013 10:30 AM
Subject: The Hartmires
Hello Ian,
Still researching my family. Earlier in the year we visited Braidwood. Unfortunately, the family history room wasn't open but we did go out to Mongarlowe Cemetery where great grandfather Frederick is in an unmarked grave. I wonder about the life of a man apparently born in Germany ending up at such a hidden place. Obviously, he didn't find a lot of gold.
Would like to suggest that Margaret Bryant ( daughter of William Bryant and Margaret Chapman) also be added to the list of Hartmires as she did marry my great grandfather Frederick ,19 June 1871. I cannot find any reference to Margaret Hartmire after 1897 and it is her death I am still seeking. Also, I am still unable to find any reference to her youngest son, Alfred Charles Hartmire after 1901 Census where he is still shown as being in Mongarlowe.
Re: my great great grandmother Margaret Bryant ( nee Chapman), the following information comes a copy of her death certificate:
died at Buddawang 17 March 1888, aged 57 years
cause of death was asthma
father was Chapman, occupation stockman; mother unknown
One source has her mother as Sally Gundary. This would make her a half cast aboriginal and the sister of the Henry Richard Chapman listed in your index. According to AIATSIS it was practice to not list aboriginal mothers on birth certificates for fear of having the child removed. This may account for the listed "unknown". Are you able to provide any information that may clarify this issue?
I think I have exhausted my avenues for this side of the family and it is probably time to start on my mother's side. That should be a little straight forward.
Regards, Olga Green
Thanks,
Regards, Ian
---
SCHOFIELD
From: Brett Schofield
Sent: Thursday, 24 October 2013 12:20 PM
Subject: Schofields
Hi Ian,
My name is Brett Schofield, I am a direct descendant of James Schofield, one of the pioneers of the Monaro region. I am planning to visit the area around the Christmas season, and apart from the Bungendore cemetery I was wondering if there are any other historical locations worthy of visiting whilst I am there.
Kind regards, Brett Schofield
Hi Brett,
Now that is an interesting question! A bit like "how long is piece of string". The "true" Monaro region extends from south of Queanbeyan to the Victorian border and from Kiandra to Cathcart. Whereas the Eden/Monaro region extends from just south of Goulburn to the border and from the Hume highway to the coast. A lot of territory that contains a vast number of interesting places and historical stuff.
What are type of things were you looking for?
Just a few to get you started - Canberra with its galleries, the National Library and the War Memorial.
Cooma, Jindabyne, Thredbo, Perisher, Lake Eucumbene, the Kiandra Gold fields.
Eden, Bega and Moruya.
Braidwood, Araluen (more gold fields), Majors Creek, Captains Flat, Queanbeyan.
Regards, Ian
Hi Ian, I was looking for more things that might relate to my family, such as where their farm might have been etc.
Brett
Sorry Brett, I am unable to help you with that unfortunately. I suggest you try the local Historical Society.
Regards, Ian
---
KELLY
From: Gale Kane
Sent: Wednesday, 23 October 2013 10:06 AM
Subject: Relative
ID 138171
I am a descendant of a sibling of Mary Morgan Kelly listed in your project.
I can significantly add to your information about her.
William Morgan and his wife Margaret Mulqueeny of Ennistymon, Co. Clare, Ireland had five children baptized at Ennistymon. The names if the children correspond with family information passed on by their granddaughter, Mary Margaret Morgan of Arkansas City, Kansas, USA.
The children were:
John bp 28 May 1825, sp John Mulqueeny and Margaret Healy (d. 28 Nov 1901, Tumut, NSW, Au) m. Bridget (widow) Bourke, 1879. No issue.
Mary bp 14 Mar 1829, sp John Davine and Mary McNamara (d. 4 Aug 1868, Bombowlie, NSW, Au) m. Peter Kelly 27 Jan 1851, Yass, NSW. Issue.
Michael bp 20 Sept 1830 sp Michael Morgan and Bridget Healy (d. 14 Jun 1913, Parsons, Kansas, USA) no issue.
Bridget (Fanny) bp 27 Dec 1832 sp Michael Morgan and Kate Scanlon (d. 16 Aug 1900, Fredonia, Chatauqua Co., NY) m. Henry Wilcox. Issue.
William bp 3 Apr 1835 sp Frank Morgan and Bridget Roughan (d. 23 Jun 1908 Ponca City, Oklahoma, USA) m. Ann Nagle 1856. Issue
William Morgan and Margaret Mulqueeny died in an epidemic (prob cholera) after a hurricane when William was very young. That historic storm was the Great Wind of 1839. The orphans were presumedly dispersed to their godparents. John went to England and then "went out to Australia in public service." He actually enlisted in the British Army in 1846 and retired and moved to Tumut (near his sister) in 1867. He was a decorated veteran of the Crimean War. There is an impressive grave marker in the cemetery in Tumut.
Mary lied about her age and went to Australia aboard an orphan ship. I believe you have the rest of her story and her descendancy. The youngest three children were sent to Canada with Richard Nagle in 1850 who was taking his children to America after the death of his wife and two daughters. I believe he brought the Morgan children to John Mulqueeny who was a shoemaker in Toronto at the time.
William Morgan married Ann Nagle, daughter of Richard, at Niagara Falls.
Their 3 children were born at Niagara Falls (where church records were lost). After the US Civil War ended they immigrated into New York, along with Michael and Bridget. Bridget married in New York and raised two sons there. Michael and the William Morgans moved to Pennsylvania, and eventually to Kansas. William "made the run," the Oklahoma land run of 1893, staked a claim and farmed as long as his health held out. Michael homesteaded a farm in Kansas and farmed the rest of his life. He did not marry.
I would be happy to correspond with Australian relatives and I have a few photos.
Gale Kane
Bartlesville, Ok, USA
Hi Gale,
Thank you very much for the information.
Regards,
Ian Harvey
Monaro Pioneers Project
Sydney, NSW, Australia
---
SCOTT/FEINT
From: dianne roberts
Sent: Saturday, 19 October 2013 6:51 PM
Subject: Jane Lockerby Scott/FEINT
Hi there, I was just looking up info on your site.
I note your entry for Jane Lockerby Scott/FEINT. I am currently researching this person.
If I could make some suggestions based on my research:
Jane Lockerby Scott (note spelling) was b in Scotland in about 1836. I do not have the details confirmed as yet
Her parents were Marion and Thomas Scott. I do not have a record of her entry into Australia.
She married John Gaspard Feint in Melbourne in September 1857. They had one daughter b in October 1858
No other info is available at this time on John Gaspard Feint however he was b in the Channel Islands, his father Gaspard Feint d in Brisbane in 1862.
Jane Feint married John Watson at Adelong in 1873. They had a number of children, most of whom you have listed on your site. Other children with parents of John Watson and Jane Scott are also recorded on BDM before 1873.
Jane Lockerby Scott died in West Wyalong in 1911 on a visit to her daughter, Adelong Flood Burton, Jane is buried in Adelong with her husband John Watson. One of their 'children' William J Watson b 1867; d 1928 is also buried in the same grave.
John Watson is reported to have been b in Irvine in Scotland in about 1830. I do not have details of this as yet. He came to Australia, I believe in the mid 1850's.
The only marriage I can find of John Watson is to Jane Feint (formerly Scott as listed above) in 1873.
Hope this info may be of assistance perhaps to some other person researching this family.
Regards, Di
Hi Dianne,
Thank you for the information.
Regards, Ian
---
DARKE
From: Jim Darke
Sent: Saturday, 19 October 2013 11:41 AM
Subject: William John Darke id 1295644
Hello Ian,
Firstly, I congratulate you & Monaro team for your wonderful & informative site.
Ian, I researching my family and have established a lot of family history of the Darke Family going back 5 generations in both UK & Germany using Tribalpages for recording etc. I have obtained information on William Darke above and his Braidwood connections with family hotels he had there, but unable yet to find where he was buried, hence my search on Monaro. His place of death is listed as Surry Hills NSW but unfortunately, a lot of graves of early pioneers were either destroyed, relocated for building extensions to Sydney CBD.
Perhaps Monaro can give me assistance? Also I notice William Darke does not get mentioned on "Monaro Pioneers " page, yet he was a significant member of the Braidwood community with his brother. Perhaps you can comment
Best Regards, Jim Darke
Hi Jim,
Thank you, as you can probably see we don't have much information on later generations of the Darke clan, perhaps you help us to fill in the blanks?
Your comment has been noted and William Darke now has a pioneers index entry. I also discovered he is buried in the Anglican section of Rookwood Cemetery (as is his wife) via their online search facility.
Can you also provide any details of his brother?
Regards, Ian
---
DAVIS
From: Pearl
Sent: Saturday, 19 October 2013 9:47 AM
Subject: Alice Kate Balcombe Davis
Good Morning Ian
Just stumbled on your web page.
It appears that someone has researched one of our family already.
I line I am just starting to research.
My husband is Alice Kate Balcombe great grandson, and my father in law is her Grandson(82 years young).
I was wondering if you could possibly give me a contact email, or how can I obtain more information regarding Alice.
I have a bit of information I am happy to share with whom ever is interested.
Regards, Brigitte Miller
Hi Brigitte,
All the information we have is in our database on our web site.
Unfortunately we have no contact details for that family but I would be very pleased to be able to add any additional information you can provide.
Regards, Ian
---
HARRINGTON
From: Judy McCutcheon
Sent: Wednesday, 16 October 2013 8:36 AM
Subject: Proposed Change: Harrington, Charlotte Maud (I232531)
Proposed Change: Harrington, Charlotte Maud (I232531)
Tree: Eden Monaro Pioneers
Link: http://monaropioneers.com/TNG/getperson.php?personID=I232531&tree=MP
Description: Charlotte Maude Harrington married Allan Cameron, born Bingara, NSW, son of Duncan Cameron and Bridget Tierney, but married as Mary in the home of Mrs J Robbie at Bombala, to Allen Cameron, age 45, Labourer, son of Duncan Cameron and Bridget Tierney at Bombala 16 Aug 1918 – The witnesses, Harold John Aston and Claudine Bernice Aston (Claudine was the daughter of Mrs Robbie).
Charlotte Maude Harrington, widow of Allan John Cameron, dau of Michael Harrington, Drover and Sarah Jane Reidy, died Caabah Private Hospital Randwick 24 May 1961, usual residence 54 Regent Street, Paddington. COD Acute Pericarditis Myocardial Degeneration. Informant Mavis Edna Samuel, daughter, 76 Lancaster Avenue, West Ryde. Buried Roman Catholic Cemetery, Northern Suburbs. (Transcription courtesy Joy Murrin)
Judy McCutcheon
Thank you Judy,
Regards, Ian
---
HOLDSWORTH
From: Leanne
Sent: Wednesday, 16 October 2013 12:14 AM
Subject: Proposed Change: Holdsworth, Jane Maud (I92135)
Proposed Change: Holdsworth, Jane Maud (I92135)
Tree: Eden Monaro Pioneers
Link: http://monaropioneers.com/TNG/getperson.php?personID=I92135&tree=MP
Description: Wondering if you can help me with a newspaper article I found The Southern Record and Advertiser NSW Friday 27 April 1928
Mr. R. Wilson and Miss Burns (formerly Mrs. Squire Denny) of bimbaya were married in Bega on Wednesday.
If they were talking about Jane M Holdsworth wouldn't they Miss Holdsworth formerly Mrs Squire Denny, Why do they refer to her as Miss Burns, isn't burns her mother's maiden name?
Or is the article about someone totally different with similar names ?
Leanne
Hi Leanne,
You will have to make your own assumption on the article, my own opinion is it refers to Robert Wilson and Jane Maude Denny nee Holdsworth. Why they refer to her as Burns I can only guess and given the date it is impossible now to ask them.
After some further investigation I now believe that Robert Wilson was the son of Robert Wilson and Margaret Ann Irving, he was born in 1877 and died in 1956. Only the certificates can prove for certain but the Electoral Roles do give a good indication. I know the BDM index shows Robert's parents as Robert and Mary Ann but the index is notoriously inaccurate.
Death recordings quite often relied on the knowledge of the person registering the death and if not an immediate family member, were subject to error.
If you have any information that can prove or disprove this assumption I would be most grateful to receive it.
Regards, Ian
---
HOLDSWORTH
From: Leanne
Sent: Tuesday, 15 October 2013 10:54 PM
Subject: Proposed Change: Holdsworth, Annie (I85945)
Proposed Change: Holdsworth, Annie (I85945)
Tree: Eden Monaro Pioneers
Link: http://monaropioneers.com/TNG/getperson.php?personID=I85945&tree=MP
Description: Index says Annie's mother is Margaret H.
I know the letter usually indicates the middle name but do you think in this case it could mean Holdsworth. Or is it just a coincidence.
Leanne
The index is a transcription of the register which is copy of the original birth registration document. Given the limited education availability and the sometimes incredibly bad writing skills of people in those days, misinterpretation of an "A" as a "H" is very possible.
Regards, Ian
---
FEENEY
From: Shane Donnelly
Sent: Saturday, 12 October 2013 12:53 PM
Subject: Proposed Change: Feeney, Catherine (I58824)
Proposed Change: Feeney, Catherine (I58824)
Tree: Eden Monaro Pioneers
Link: http://monaropioneers.com/TNG/getperson.php?personID=I58824&tree=MP
Description: Catherine Clohessy (nee Feeney) your Person ID: I58824.
Catherine died 10 Oct 1920 at Randwick, NSW. Her death certificate (NSW BDM
1920/18290) states that she had two children from her marriage to Timothy Clohessy - "2 males deceased", as Timothy's death certificate states that he died with "no issue" these sons where already deceased by 1913, and this again proves that Maude Clohessy was not the biological child of the Clohessy's.
I therefore suggest you correct both the records of Maude being the daughter, and also of the son of the Clohessy's who you have dying in 1959.
Shane Donnelly
Thanks,
Regards, Ian
---
CLOHESSY
From: Shane Donnelly
Sent: Saturday, 12 October 2013 12:44 PM
Subject: Proposed Change: Clohessy, Timothy (I58823)
Proposed Change: Clohessy, Timothy (I58823)
Tree: Eden Monaro Pioneers
Link: http://monaropioneers.com/TNG/getperson.php?personID=I58823&tree=MP
Description: I suggest you update your Person ID: I58823 Timothy Clohessy with these details.
Timothy Clohessy was born about 1842 near Cooma. He died 14th Sept 1913 at Kiah, near Eden, and was buried at Corcoran's Flat, near Kiah, (presumably in the old cemetery on what was once Patrick Whelan's property - his grave unfortunately is unmarked) (NSW BDM 1913/12675). The informant for his death was an "M. Clohessy, presumably Maude. The Death Cert also states that Timothy died with "No Issue" so Maude was not his biological daughter.
Timothy Clohessy apparently owned land in the Cooma area (County Beresford, parish Winifred selected 1st August 1878, reported in The Goulburn Evening Penny Post, 2nd Jun 1883).
Again, in The Manaro Mercury and Bombala Advertiser, 18th Dec 1880, Timothy Clohessy, of "Nimmitybelle" is reported as purchasing 100 acres, county of Wellesley, parish of Nimmitybelle for 25 pounds (those were the days:)). So on this evidence he was proximate to Mount Cooper prior and around the time Maude Oslington was born, 1885, and when Mary Oslington (nee Gardner) died, 1888.
By 1903 he and Catherine are recorded on the NSW Electoral Roll for Eden Monaro, at the Kiah Polling Place, as residing at Kiah, Timothy being a farmer. He remained on the Electoral Roll at Kiah until 1913, the year of his death.
Maude Clohessy, my grandmother, also appears on the electoral roll at Kiah for the first time in 1913. As an aside, it would appear that living at Kiah placed Maude and future husband, John Vincent Donnelly, as neighbours, as the Donnelly's lived variously at Kiah, Towamba and Wonboyne in the late 19th and early 20th century.
I would guess that the notes you have relating to Timothy Clohessy "Timothy is possibly a convict who was transported on the vessel "Prince Regent" in 1824. He received a Certificate of Freedom September 16 1830 and it was renewed April 27 1839" concern another Timothy Clohessy, very likely his father, although I have not proved this.
Since Timothy died with no issue in 1913 your details about a son who died
in 1959 seem to also need correction.
Shane Donnelly
Thank you Shane,
Regards, Ian
---
OSLINGTON
From: Shane Donnelly
Sent: Saturday, 12 October 2013 12:12 PM
Subject: Proposed Change: Oslington, Maude (I123727)
Proposed Change: Oslington, Maude (I123727)
Tree: Eden Monaro Pioneers
Link: http://monaropioneers.com/TNG/getperson.php?personID=I123727&tree=MP
Description: I suggest you merge your Maude Clohessy into Maude Oslington.
My grandmother was born Maude Oslington 27th Oct 1885 at Mount Cooper near Bombala. Father Conelius, mother Mary Gardner (NSW BDM 1885/25879), your reference Person ID: I123727 . She was also known as Maude Frances Clohessy, your Person ID: I58822. Maude Oslington and Maude Clohessy are identical.
It would appear that some time after Maude's mother, Mary (nee Gardner) died in 1888 at Mount Cooper, Maude was adopted or fostered by Timothy and Catherine (nee Feeney) Clohessy.
As an adult Maude used her adoptive name, Clohessy, in all official documents, eg, marriage to John Vincent Donnelly and all birth records of her children. However she did tell the story of her birth to her children.
My aunty, Maude's daughter, Mary Elizabeth (Betty) Donnelly born 1927, Opotiki, New Zealand, in turn, told me the story.
Mary Elizabeth and my father, Charles Clement (Clem) Donnelly, born 1922 Opotiki NZ (NZ BDM 86330) both used her birth name on their own marriage documents, recording her as "Maude Oslington".
My grandmother died 3rd Oct 1948 at Ryde NSW (NSW BDM 1948/27655). On this document her mother is given as "Mary Gardiner" and name of father is left blank. She is buried at Wollongong where she had lived the final years of her life.
Please see my further suggestions concerning Timothy Clohessy for more details.
Shane Donnelly
Thank you,
Regards, Ian
---
ELPHICK
From: brettafrost
Sent: 2013-10-11 11:38 AM
Subject: james eplhick 1857-1942
Photo of James Elphick, and James in front of his funeral and blacksimth business in Tumut 1912,with his sons and workers.
Hi Brett,
Thank you for the photos, unfortunately they are too small to be of any use, are you able to supply them in much higher resolution?
Regards, Ian
---
BLACKBURN
From: M.C. McGrath
Sent: Tuesday, 8 October 2013 7:20 PM
Subject: Anne Blackburn (Monara ID I38203) & Christopher Russell
Hello Ian,
I apologise if I have contacted you before.
I am researching the Blackburn families from Galbally on the Tipperary/Limerick border. As you probably know, there are no civil BMD records available in Ireland prior to 1864 (RC) and few Church records before 1810. What few death records were recorded in the 1800's does not list the deceased's parents. So I am hoping to locate Anne's death record that might have some detail about her parents but it doesn not appear on the NSW BMD records. According to Anne's immigration record, her parents were William & Ann who I believe were also my ancestors.
According to info on your wonderful site Anne Russell died 10 May 1853 so I guess someone has either written documentation or there is a headstone? I would appreciate if you could contact the person who submitted the death record for me. I believe that Anne's mother was Anne Sherlock but would love to get confirmation.
I think that Anne must have been born c1794 or before as she & Christopher Russell married in Galbally RC Church on 2 March 1812.
Thank you for your assistance.
All the information we have is shown on our web site and there is no contact information for that family unfortunately. This email will be included in our next newsletter and perhaps one of our readers can help you.
Regards, Ian
---
GILBERT
From: Robyn Waite
Sent: Tuesday, 8 October 2013 1:48 AM
Subject: Photo mentioned in Newlsetter
Hi Ian,
Did John send the last mentioned photo in his correspondence (below) to you? I found the family photos of my ancestors he sent on the website but not the near the woolshed.
Many thanks, Robyn (Waite)
Hi Robyn,
Not as yet, here is his email address
John Gilbert < >
Regards, Ian
GILBERT
From: John Gilbert
Sent: Monday, 16 September 2013 12:13 PM
Subject: Gilbert pictures for web site
Hello Ian
I would like to send these pictures to you for inclusion in the web site as I think it's important the pictures of Pioneers are displayed
James Gilbert 1810 1886
Isobel Bain 1809 -1854
James Gilbert 1844 -1926
Annie Gilbert (nee Moyles) 1845 1915
Peter Ignatius Gilbert 1878 -1961-
Elizabeth Mary Gilbert (Moore) 1883 1966
Hope this sends Ok I will send a picture tonight that has been in the family for years it is outside a woolshed with a dray with wool bales
John Gilbert
Thank you John,
Regards, Ian
---
MEAKER
From: "Serge Gamsaragan"
Subject: photos of Meaker ancestors
Date: 6 October 2013 9:47:02 PM AEDT
Hi David,
A few years ago I sent you some old photos of the Meaker and Carroll pioneers.
You posted them on the website and I have had some enquiries since then – all very nice!
Here are a few more that you may like to use in the Meaker or Carroll sections.
My grandmother, Violet Mary Carroll (sister of Melvyn and Alphonse Carroll) came from Bega and married local boy Henry James Meaker and they settled in Ganmain NSW.
She died in 1932 of Bright's Disease.
They had six children ( my mother Pauline aged 88 is the only surviving child).
Mum's elder sister Marie Iris Walker nee Meaker married George Joseph Walker from Coolamon and also had six children – all living.
Marie died early this century aged 87.
Best wishes
x
Kate
Thank you Kate,
Regards, Ian
---
From: Jim & Janelle Jefferson
Sent: Sunday, 6 October 2013 6:12 PM
Subject: Old Adaminaby Map - 1921
http://nla.gov.au/nla.map-vn317863
Hello Ian,
I found this map on Trove showing the town of Old Adaminaby and the blocks are marked with who owned them in 1921 which I found very interesting.
Although small, It can be checked out with the zoom feature which make it easy to see who owned what blocks and what the town was like at that date. I thought it may be of interest to any families from Old Adaminaby that had not seen it before and maybe you can put it in your references or in the newsletter.
Regards, Janelle Jefferson
Thank you,
Regards, Ian
---
LEGGE
From: John Burke
Sent: Wednesday, 11 September 2013 1:41 AM
Subject: Garnet Allen Legge - family ID 102373
Hello Ian
I found a photo of the above named in my late parents photo album - he apparently sent it to them whilst based overseas during World War 2 the photo has been taken by a professional photographer in Jerusalem
Garnet (known as Bill ) had written a little note on the back

" wishing my parents and sister
all the best of good health and good luck"
together with Garnet address whilst abroad.
I tried to send an email to Judy Gill who has submitted photos and information to the Monaro website but this email was returned to me.
I felt that I should ask a Legge family member if they would like a copy of this photo.- before I sent it onto you.
I would appreciate it if you could maybe include this into your next newsletter .
Thank you very much for the regular newsletters and great work done on the website.
Kindest regards, Ann Murray Burke
Hi Ann,
Judy Gill's reply ….
Dear Ian,
Just read news letter re Legge- John Burke letter. Can you be in touch as I checked Edwin Peach and my email seems correct on that.
He can try again as we had a death late August so email may have been busy plus husband is connected or rather miner is connected through his so can be used a lot. I thought Garnett Legge stayed in Australia so must be wrong.
Best Wishes Judy
Regards, Ian
---
From: John Tozer
Sent: Tuesday, 13 August 2013 9:12 PM
Subject: THE MEN FROM SNOWY RIVER
Hi Ian,
I saw your request in the recent Monaro Pioneers Newsletter regarding the names of the "Men From Snowy River" (MFSR) and can help out with the information.
I am enclosing a copy of what I believe is a privately published book that is held in the collection of the Australian War Memorial. I purchased a copy while researching the WW1 military records of the Tozer family (specifically Alfred Sydney Albert Tozer). I believe the document is subject to the normal War Memorial rules in respect of copyright so you may not be able to publish it as is. I do not know that the same applies if you were to transcribe from it the names that it contains (Appendix 3). It is an interesting read anyway. I hope the file size isn't a problem....
I also have a photo of the MFSR taken in Cooma at what looks very much like either the Cooma Showground or the stand at Cooma Racecourse. It is also a War Memorial collection item and it can be viewed on-line on the AWM web site in their photographic collection as photo No. 403177. This photo is exceptionally clear for the time and all the faces would be instantly recognisable to anyone who knew the men at the time. Unfortunately, there is no index of the names of the men in the photo.
Finally, I have a copy of a very interesting anecdote item from the National Library's Trove web site. It is an excerpt from the Queanbeyan Age and Queanbeyan Observer: 1915-1927 for Tuesday 31 October 1916, Page 2. It relates to a "Message in a Bottle" story involving some of the MFSR including Alfred Tozer while on the troopship to England. I don't have the full web address for the item but you should be able to bring it up by searching the Queanbeyan Age for the particular date on Trove.
Happy reading!
Regards, John Tozer
Hi John,
I have received permission to display the document on the MP website on the War Efforts page. Thank you for sending me the copy, your help is much appreciated.
Regards, Ian
---
From: Luke Stegemann
Sent: Sunday, 6 October 2013 10:10 AM
Subject: RE: Snowy River Marchers - W C Stegemann
Hi Ian, many thanks once again for your interest in Dad's work. Yes do please go ahead and use Dad's work on your website, and if possible use my email address if anybody wishes further information as I now look after all enquiries relating to the various volumes of work he produced.
Are you familiar with Dad's book "A Monaro Mosaic" produced in the mid-80s, that emerged from his time as Anglican Priest at Berridale during the 1970s? I'm sure the local library or historical society would have a copy – in fact I think that was where it was launched. I was a student at Berridale Primary School in 1970-72, incidentally.
Just give me a call on the mobile number below, or email me, if you have any questions.
Best regards,
Luke
Hi Luke,
Thank you for permission to use your Father's work, it can now be viewed on our website using the following link
http://www.monaropioneers.com/Men%20From%20Snowy%20River%20story%20and%20list%20of%20names.pdf
I am unfamiliar with the other book you reference but would be keen to read same when I encounter a copy.
Regards, Ian
From: Ian Harvey [mailto:iansharvey@bigpond.com]
Sent: Thursday, 3 October 2013 1:31 PM
To: Luke Stegemann
Subject: Snowy River Marchers - W C Stegemann
Hi Luke,
I was wondering if you have had a chance to look at our website www.monaropioneers.com. I apologise if I seem a bit anxious but we have our next newsletter to be distributed next week and I am keen to include a note referencing your father's document if we have your permission to display it on our War Efforts page.
Regards,
Ian Harvey
Monaro Pioneers Project.
---
MEAKER/ROOD
From: Angela Reed
Sent: Saturday, 5 October 2013 11:45 PM
Subject: Meaker - Rood
Ian, thank you for your newsletters and all the wonderful information you have on the website. I have been doing some work on my Meaker line and been in touch with Athol who put his Meaker family tree on the website. Lucy Ann Meaker married Solomon Rodd/Rood and I am descended from that line. Would you like me to send you the information on the Rood line and photos which I have for the website?
I look forward to hearing from you.
Angela Reed (nee Rood)
Hi Angela,
Yes please.
Regards, Ian
---
WALLACE
From: Sylvia Aldred
Sent: Saturday, 5 October 2013 7:24 PM
Subject: Proposed Change: Wallace, Anne Cecilia (I320236)
Proposed Change: Wallace, Anne Cecilia (I320236)
Tree: Eden Monaro Pioneers
Link: http://monaropioneers.com/TNG/getperson.php?personID=I320236&tree=MP
Description: Mum was born in Dulwich Hill (Sydney) in 1932.
Her 2nd husband's name is actually Keith Thomas Roberson (F122614). Keith was born in 1937 and died in Goulburn in 2002. His first marriage ended in divorce; his first wife is living. They had 3 children, 1 deceased (Anita died 1967 Goulburn) and 2 living.
Keith is the son of Mabel Esther Love (1902-1992)I63448 and Thomas Alexander Roberson (1898-1965)F16465 Hopefully this will work this time.
Sylvia Aldred
Thank you,
Regards, Ian
---
BUCKLEY
From: John Richards
Sent: Saturday, 5 October 2013 5:54 PM
Subject: Proposed Change: Buckley, Jeremiah (I1107)
Proposed Change: Buckley, Jeremiah (I1107)
Tree: Eden Monaro Pioneers
Link: http://monaropioneers.com/TNG/getperson.php?personID=I1107&tree=MP
Description: Buckley spent some time in Shanghai, and travelled from Darwin to Enlist, with a group of fellow 'Territorians'. There are some references to him on The NT Library Fallen ANZACs database
http://territorystories.nt.gov.au/handle/10070/214521
Regards, John
Thanks,
Regards, Ian
<![if !vml]>
<![endif]>
The purpose of this newsletter is four-fold:
1. To let people know about all our activities including: the "Back to Nimitybelle" Book and the Monaro Pioneers Website.
2. To collect email and postal addresses of as many people as we can, so that they may be invited to contribute to this archive.
3. To collect Historical information about the Monaro District and the Families that have lived there.
4. And most importantly the newsletter is a venue for people who have an interest in the district to keep in contact with each other.
This newsletter is published by the Monaro Pioneers Editor on behalf of all those folk who are interested in the history of the Monaro.
If you do not wish to continue receiving this newsletter simply reply to this email with unsubscribe in the subject line.
<![if !vml]>
<![endif]>