Home | Pioneers | Contact Us | Copyright/Disclaimer
---
Monaro Pioneers Research pages: Index | Books/Lookups | Tracing Land | Convicts
Monaro Pioneers Newsletter
2013 Number 12
<![if !vml]>

<![endif]>
REQUESTS:
WARE
From: Robyn
Sent: 2014-01-01 12:17 PM
Subject: Ernest Henry Ware
Hello, I am trying to research Ernest Ware who was KIA on the 11/11/1918,the telegram was received around the 23/11/1918 by his family. My mother Jean gave a photo of Ernest and others dressed in uniform to me years ago but all efforts to trace his army history have yielded nothing. My mothers mother was Lillian Veronica Ware Ernest Henry Wares sister. The photo is very clear for the era and its age. I was told at the Canberra War Memorial they were dressed in New Zealand uniform but there are no NZ war records of Ernest Ware, yet his name is on the Adaminaby Cenotaph, I keep hitting brick walls ,so if someone knows more I would love to hear from them.
Kind regards, Greg Tozer,0248724750AH or 0428219285 or this email address.
---
BEGA VALLEY WAR MEMORIALS
From: Pat & Frank Raymond
Sent: 2013-10-15 10:41 PM
Subject: RE: Newsletter 2013 No.8
"The Bega Valley Genealogy Society is working on a project of researching all the men whose names are on the War Memorials throughout the Bega Valley Shire and who are shown as having died – either in battle, from wounds or illness. Some died in Australia through illness before they even departed our shore. Another handful returned home – some being medically unfit and, if they died prior to 1924, their names are also shown as having died from war related injuries.
When the research is complete, a book will be published on these 180 or so men and we are trying to make it a personal account of their lives as well as information on their time within the Forces.
We would dearly love to have a photo of as many of these men as possible to go with their small biographies. Finding photos of these men, preferably in uniform, but, if not, any photos at all, is quite a challenge in itself. I was wondering if any of your subscribers would have a photo of any of the servicemen connected to the Bega Valley who died in WW1. Also if anyone has letters that the soldiers wrote back home to their loved ones – this would also be of interest.
So far I have collected 65 photos – if anyone thinks they can assist, it would be best to email me to find out which photos we are still searching for. My email address is ra80122@bigpond.net.au.
There are a small number of men whom I haven't been able to link up with a War Record and, if anyone can give any leads as to whom they might be – or a connection to our area, this would be extremely helpful.
W.P. ALLAN – shown on Bermagui War Memorial.
D. BROWN – shown on Bermagui War Memorial
T. MURPHY – shown on Eden War Memorial
W. RUSSELL – shown on Cobargo War Memorial
Thank you.
Pat Raymond, Research Officer, Bega Valley Genealogy Society"
---
FAIRMAN
From: Bryan Fairman
Sent: Saturday, 5 October 2013 6:41 PM
To: Ian Harvey
Subject: Fairman family
Hello Ian
Could I please ask in your newsletter if any person/persons know any information regarding my Fairman family history they lived in Bega / Candelo / Wolumla / Pambula / Twofold bay in the 1830's onwards. bryan_pat@bigpond.com
Best Regards Bryan
---
JOHN FRANKLIN EXPEDITION
From: garth walpole
Sent: Sunday, 1 September 2013 7:01 PM
Subject:
Dear Sir
I wonder if you may be able to help I am researching an aspect of the John Franklin expedition in particular that of Lt. John Irving who died on the above expedition. I am looking to trace Irvings residence and wonder if your organisation may know where Irving may have squatted in the 1840s. it appears he first farmed near Goulbourn then moved. Any information would be helpful.
Garth
---
ROBINSON FAMILY REUNION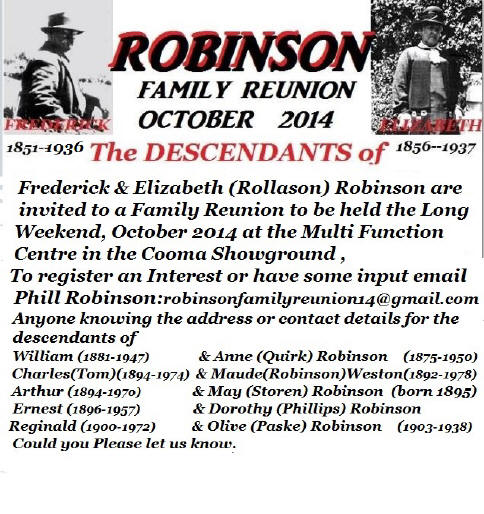 <![if !vml]>

<![endif]>

Current correspondence:
PETERS
From: Garry Peters
Sent: Thursday, 2 January 2014 10:44 PM
Subject: Proposed Change: Peters, John Joseph (I43701)
Proposed Change: Peters, John Joseph (I43701)
Tree: Eden Monaro Pioneers
Link: http://monaropioneers.com/TNG/getperson.php?personID=I43701&tree=MP
Description: Sir,
Additions if you approve. John Joseph Peters 1878-1949 (son of Tobias
Peters) had Son John Peters born Cooma 1902 passed 1963 at Sutherland. John married Cecelia Dorothy Breen born Bega 1905 passed 1948 at Rockdale.
John & Cecelia's son Reg was my father, hence my connection to the Monaro Pioneers.
Best regards, Garry.
Thanks for letting us know,
Regards, Ian
---
TRACEY
From: Colin Foot
Sent: Tuesday, 31 December 2013 11:38 PM
Subject: Charles Tracey on the Project Web Site
Dear Mr Harvey
I hope you don't mind me contacting you but I am not sure who contributed the information I have seen.
I would like to tell you a story relating to Charles Patrick Tracey who appears on the Rootsweb connection to your project. During the First World War my Great Aunt collected eggs from her own hens in the village of Chideock, Dorset, UK and sent them to the National Egg Collection Scheme from where they went to wounded servicemen in hospital. But my Great Aunt also decorated some of her eggs and included her home address and Mr Tracey replied to her after he had received one of the eggs. He wrote from E3 Ward, King George Hospital, London (letter undated).
Next year the village will be holding a commemoration of the 100 years since the outbreak of WW1 and I will be giving a talk on the service of my Great Aunt's three brothers and her own part in the war effort. It just so happens that I will be using the letter that Mr Tracey sent to illustrate the egg connection to the war.
The details I have found so far show Corporal C P Tracey (184090 and 51) joined the 1st Battalion, 1st Australian Division on 21st August 1914 and in his letter he said that he had landed at Gallipoli on April 25th 1915 - this was the first landing of ANZAC troops on Gallipoli. His occupation before the war was clerk and he embarked with his unit from Sydney, NSW, on board the Transport A19 Afric on 18 October 1914.
I found his father Patrick Tracey was born 1863 and came from Wicklow in Ireland and was an innkeeper who died 19th November 1918, and his mother was Amy Constance Tracey (nee Cootes) born 8th March 1868 in Dundundra, NSW who later lived at 56 Alberto Terrace, Darlinghurst, New South Wales.

Corporal Tracey was recommended for the Australian Order of Merit "For constructing a sand bag barricade across a captured communication trench at a critical period under heavy fire." Date and place: 6 August 1915, Lone Pine. Gallipoli (also known as the Battle of Kanli Sirt).

From Bombala Times 28th May 1920 I found in the Birth Death & Marriage Notices
"Amongst the passengers to arrive in Sydney shortly are Mr & Mrs C P Tracey, who are passengers on the Horarato. Mr Tracey is the eldest son of Mrs Tracey of this town. He has been in active service in Egypt, Gallipolli and France. He was wounded at Lone Pine. About eighteen months ago Mr Tracey took unto himself an English bride"
If by any chance there is a member of Mr Tracey's family who is in touch with your project I would love to hear from them as a bit more information will be quite a surprise when I present my family's history piece in September.
Regards, Colin Foot
Hi Colin,
Your request will be included in our next newsletter and hopefully that will bring forth some response for you.
Regards, Ian
From: Colin Foot
Sent: Wednesday, 1 January 2014 7:37 PM
Subject: RE: Charles Tracey on the Project Web Site
Dear Ian
Very kind of you to do that for me. Just to add a bit of "colour" to the message I sent before I am attaching a copy of Corporal Tracey's letter and a picture that another soldier drew and send back to my Great Aunt of the egg that he received.
Regards
Colin
---
MUSGRAVE
From: Phillip Robinson
Sent: Monday, 30 December 2013 1:33 PM
Subject: death in family
Hi Ian,
Could you please update the particulars on my mother Irene Lillian Musgrave born Turner and first married to Phillip Alan Mark Robinson( 19-05-1912--13-07-1999) Irene was born 15-05-1912 and died in Merimbula 06-12-2013 cremated at Pambula 11-dec-2013
Thanks, Phill Robinson
Thank you Phill,
Please accept our condolences for your sad loss.
Regards, Ian
---
SCHLICK
From: Allen Gibbon
Sent: Saturday, 28 December 2013 1:01 PM
Subject: Schlick Photo
Hi Ian,
Attached is a photo of the Schlicks which was probably taken at Cooma in the 1890's. I have also attached a photo of an Illuminated Address presented to John Feilen on his departure from Cooma in 1914. You may aready have a copy of this address. I have photos of all the Feilens.
Regards Allen
Thank you Allen,
I look forward to receiving more of your photos.
Happy New Year.
Regards, Ian
Hi Ian,
I will get some more photos to you shortly. The two you got were sent at about 1MB is that OK?
In reference to the Herbergers I have some doubts to the accuracy of an entry on Monaro Pioneers under Edward Burke Mt Cooper. It stated that the Sailing Ship Heloise arrived in Adelaide in 1837 and Annie Herberger was born in 1842. My information is that the Heloise arrived in Adelaide on 19 March 1847 with the 2 Herbergers as passengers. There was no mention of Annie. According to one of Annie's descendants she was born in 1849 at Adelaide and her name and birth date appears in a family bible she inherited.
The year is also backed up by Laurie Platts book on the 'Bygone Days of Cathcart'. Laurie's book also contains a lot more information on the Burkes and Herbergers. He suggested that Annie could have been adopted. This does not ring true with Charles Herberger's death certificate which states that there were 3 Herberger children. Only one has been named so that the other 2 probably died as infants. If you don't have Laurie's book I can send you an extract.
I will send you a family tree of the Herbergers in the near future.
You have a Happy New Year.
Regards Allen
---
MCKEE
From: michael and maureen
Sent: Thursday, 26 December 2013 5:03 PM
Subject: Joseph Michael McKee ID I97349
G'day Ian
1. In the 1972 Australian Electoral Roll, Michael Joseph McKee and his wife Ida Louise McKee (nee Morton) are residing at 12 Blackbutt Street, O'Connor, Australian Capital Territority. See attached extract.
2. I don't have the primary death certificate record from the ACT BDM Registry, but the following secondary records suggests that Michael Joseph McKee
. died 16 March 1974 in Canberra ACT - the following entry appears from a search of ACT BDM "Historic Death Index"
Registration No.: 20009447
Surname: McKee
Given Names: Joseph Michael
Date of Death: 16 March 1974
Father Surname: (not stated in the index)
Father Given Name: (not stated in the index)
Mother Surname: (not stated in the index)
Mother Given Name: (not stated in the index)
. is buried 19 March 1974 at Woden cemetery ACT - see the following grave location search of ACT Cemeteries
| | | | | | | |
| --- | --- | --- | --- | --- | --- | --- |
| Name | Cemetery | Died | Buried | Area | Description | Allotment Index |
| MCKEE, JOSEPH MICHAEL | | Saturday, 16 March 1974 | Tuesday, 19 March 1974 | Headstone | Ex-Service Personnel | EX/H/N/026 |
Cheers and happy new year.
Michael Jennings
Thanks Michael,
Happy New Year,
Regards, Ian
I had meant to include in my earlier email the following extract of the Joseph Michael McKee death notice which appeared in the Canberra Times of Monday 18 March 1974. The source of the extract is the newspaper holdings TROVE of the National Library of Australia.
McKEE, Joseph Michael. — March 16th at Canberra, late of 12 Blackbutt St. O'Connor formerly of Nimmitabel. Dearly beloved husband of Ida, loved father Jeffrey, Lola, Bruce, Joseph and Lynn. RIP.
Cheers, Michael Jennings
Thanks,
Regards, Ian
---
DWYER
From: Sue Lambert
Sent: Thursday, 26 December 2013 12:42 PM
Subject: Proposed Change: Dwyer, Francis (I12940)
Proposed Change: Dwyer, Francis (I12940)
Tree: Eden Monaro Pioneers
Link: http://monaropioneers.com/TNG/getperson.php?personID=I12940&tree=MP
Description: Hi Ian, As far as I can find, Francis Dwyer was born in Dublin, Ireland about 1846. He sailed from Liverpool as a seaman aboard "Maryborough" arriving in Moreton Bay in Feb. 1865. It is not know if he is the father of Ellen Trainer's children.
Sue Lambert
Thanks,
Regards, Ian
---
RILEY
From: Sue Lambert
Sent: Thursday, 26 December 2013 12:35 PM
Subject: Proposed Change: Riley, Mary (I270606)
Proposed Change: Riley, Mary (I270606)
Tree: Eden Monaro Pioneers
Link: http://monaropioneers.com/TNG/getperson.php?personID=I270606&tree=MP
Description: It was Sarah who had the baby. Found the details in Trove article. Mary was charged with concealing the birth.
Sue Lambert
Thanks,
Regards, Ian
---
WARD
From: Cathy B
Sent: Wednesday, 18 December 2013 4:01 PM
Subject: Wonderful and essential work
Hello Ian
Congratulations on the tremendous work that you do maintaining the Monaro Pioneer site. The enormous amount of work you put in and in particular the Graves update made me remember my previous life in the Public Service in ACT.
The National Trust received lots of grants to record the old cemeteries – I think it may have been just NSW at the time – early 80's.
Knowing how there are funds for such community activities, I am hoping that you are receiving funding from any Government Grant sources. And if you are not, to suggest you look into what is available as I am sure that with the work you do, you would qualify. I am aware of Community Grants via Local Government and am sure your State as well as Federal Government should now be funding your work. Have you got or tried to get Government funding?
I have lived on the Gold Coast now for 25years. My roots are with the Wards in Cooma. I have completed our tree and am sorry I still have not added my branch yet – I will someday. I keep hoping someone else will do so, but so far they haven't so I guess I had better do so. It is just that when I do update the line I will need to update the history of Joseph Ward of Cooma and his father.
Thank you so much for all the wonderful work you do.
I would like to wish you and all your family a very happy, safe and peaceful Christmas and prosperity for 2014.
Kind regards, Catherine Bowd (nee Ward)
Of the Edward Joseph (EJ) Ward line
Thanks Cathy,
To answer your question, no we don't receive any grants, David and I do it all at our own expense and with lots of our time. I certainly would like to explore the grant opportunity as there are lots more that could be done if only I could afford it. Maybe someone out there can advise me where to apply and how to go about it?
Merry Christmas and happy New Year.
Regards, Ian
---
HEFFERNAN
From: Anderson, Joanne (Westpac)
Sent: Wednesday, 18 December 2013 4:50 PM
Subject: Thomas Heffernan
Hi There
My name Is joanne Anderson I am the Great Grand daughter of Thomas Heffernan of Bega originally County Tipperary Ireland who Married Johanna daughter of Ferninand Beck from Prussia who also lived in Bega there were married in Bega in 1857. This Family from what I can see have no mention Thomas was one of the founding fathers of Bega cheese I have much information on both these families would you be interested
Joanne
Hi Joanne,
We have Thomas Heffernan married to Johannah Beck in 1875 Bega in our database but obviously our information is incomplete. We would welcome any additional information you can provide.
Regards, Ian
---
From: Peter Whiter
Sent: 2013-12-18 6:15 PM
Subject: Update about 'Great Southern Developments, BVSC and Metcash (as licensee's of IGA): Retain the Australasia from facade to the stair wall for the property width' on Change.org
Thanks everyone today was another day in the fight to save the front section of the Hotel Australasia. I was so disheartened on the Weekend but today I feel 9 feet tall and have had my faith in the council restored to some point.
From the Eden Magnet online
" Council defers decision on Australasia's future
By Amanda Stroud and Ben Smyth
Dec. 18, 2013, 3:08 p.m.
The Hotel Australasia' future remains unknown after Bega Valley Shire Council deferred the matter at today's extraordinary council meeting.
The motion for deferral was put by Cr Russell Fitzpatrick.
See your ad here
"I have some serious concerns about the economic study. I want to see development in Eden, I want to see development on this site. But for once I agree with Councillor Keith Hughes on heritage matters, and historic aspects should be retained," he said.
Cr Fitzpatrick's motion to defer a decision pending further economic impacts was moved by him with Cr Hughes seconding the motion.
See your ad here
The motion was passed unanimously.
Cr McBain was absent and Cr Tapscott absented herself from chambers citing pecuniary interest in nearby premises."
Good on Cr Fitzpatrick and Cr Hughes for bending to see our vision!
But this is not the end and there will be undoubtedly another trip to Bega in late January and if you can think of anyone who might sign this petition or a paper one that's ready to sign in the IGA Eden Please get them involved we need to keep this rolling now it seems to be heading in the right direction.
Once again thanks for your support
Peter Whiter and the Save the Australasia crew
This message was sent by Peter Whiter using the Change.org system. You received this email because you signed a petition started by Peter Whiter on Change.org: "Great Southern Developments, BVSC and Metcash (as licensee's of IGA): Retain the Australasia from facade to the stair wall for the property width." Change.org does not endorse contents of this message.
---
HASLINGDENS
From: Anders Kllstrm
Sent: Tuesday, 17 December 2013 9:52 PM
Subject: Haslingdens
Hi Ian,
Just a short note to thank you for your help over the years with the Haslingden family tree and to tell you that I have actually found a living descendant in Australia.
A couple of weeks ago the Geni web told me there was a "smart match" to Augustinus Forsstr m in my family tree at MyHeritage. When I looked this up it was the Bentley- Patton website (to which I had no access of course) so I contacted the maintainer of the site, Ingrid Patton. She is a descendant of Edward Haslingden. I now hope that she has a lot of information about Hannah Haslingden's parents...
For her benefit I have put some material I collected about Hannah and her brother James on the web. It might not be of any interest to the Monaro database but you are welcome to look at http://www.texnat.se/Haslingdens/ If you find anything that you would like to add to the Monaro (photos or other things) just download it from my webpage or let me know if you want me to send it.
Merry Christmas,
/Anders K
Hi Anders,
Thank you and merry Christmas.
Regards, Ian
---
ALLWELL
From: david povey
Sent: Monday, 16 December 2013 10:25 PM
Subject: Josephine Margaret Allwell
Ian…
Firstly I will thank you for Monaro Pioneers…It has been a great help to me in my research.
I'm descended from the Povey family of Cooma and slowly gathering information on them so I can write a book on their exploits…My great uncles Max and Don Povey of Cooma have been a great help in remembering people's personalities…While I was based at HMAS Albatross I would duck down to Cooma and take photos…managed to get all of Christ Church, Mittagang, Michelago, Bredbo, Jerangle and Adaminaby cemeteries before I moved to Adelaide.
Anyhow with a lot of luck I've discovered what happened to Josephine Margaret Allwell wife to Adam Thomas Agnew (1879-1930), son of James Agnew and Honorah Power.
According to electoral rolls by 1931 she was living in Ascot Vale, Victoria with a William King Berry (1891-1968) also with her daughter Marie Josephine Agnew.
Josephine died in 1970 and her daughter Marie died in 1995. Both are buried at Fawkner Memorial Park, Victoria if you wish to investigate this.
If you do an ancestry.com.au search for Josephine Margaret Allwell my member name is davidpovey5 and you can go from there.
Thanks once again for all the good work…
David Povey
Thank you David,
We are very interested in the tombstone photos you have if you would like to contribute them to our project.
Regards, Ian
---
From: Michael Hurley
Sent: 2013-12-10 6:27 PM
Subject: Accessing the Monaro Pioneers Website
Dear Sir,
I have tried several times (unsuccessfully) to log-on to upload a large quantity of photos. It would appear that my details (username and password) are not being recognised. Could you kindly help me resolve this issue.
Regards, Michael Hurley
Hello Michael,
There has been a change in the way you access the Pioneers information. You need to create a suitable username and password to gain access. The details of the username/password that you use is entirely up to yourself when you create.
When at the Login page just navigate to the bottom and you will see a link to "register for new user account", just click on it and follow the prompts.
<![if !vml]>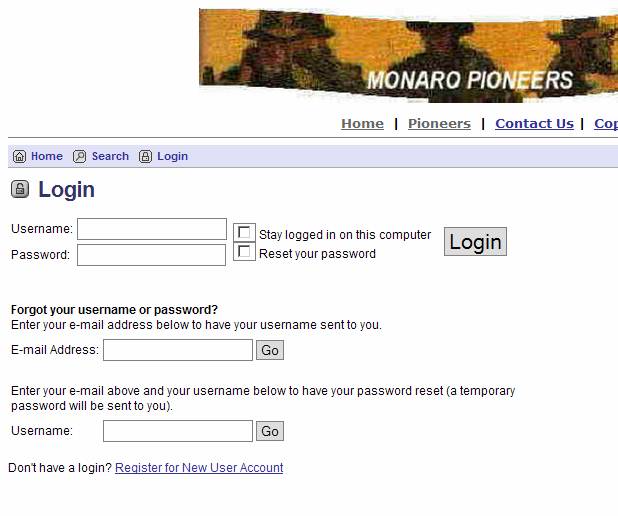 <![endif]>
Cheers
David Knox
Newsletter Editor
Monaro Pioneers
Hi Michael,
If you wish to add photos to the MP site you will need to send them to me so I can do the necessary processing to add them to appropriate individuals concerned.
Regards, Ian
Ian (and David),
Many thanks for your assistance.
We will forward the photos in the near future.
Regards, Michael & Susan HURLEY
---
SCHLICK/HERBERGER/FEILEN
From: Allen Gibbon
Sent: Thursday, 12 December 2013 2:14 PM
Subject: SCHLICK/HERBERGER/FEILEN
Hi Ian,
I have been researching the above families for the past 8 years. My daughter and I have produced a book covering mainly the Feilens and Schlicks. This book was distributed to my generation of cousins.
Recently I noticed a connection to the Herberger family who settled in the Cathcart area in the early 1860's as August Schlick's wife was a Herberger from Saint Andreasburg in Germany which is also the birth place of Charles Herberger.
I know the German parents of Louisa Schlick (nee Herburger), however I have been unable to identify Charles parents.
The other problem I have is that circumstantial and/or family oral history suggests that John and Jacob Feilen, August Schlick and Charles Herberger were involved in the Kiandra Goldrush of 1860/61. However, I have found no documentary evidence to support this claim. Do you know if there any records of miners licences or lists of miners involved in the goldrush? Maybe there could be some police reports etc.
I am happy to make available information I have collected on the above families if it is of use to the Monaro Pioneers.
Regards Allen Gibbon
Merry Christmas
Hi Allen,
We don't have any information that might help you unfortunately. I would suggest the National Library or the National Archives would be your best place to check. We would definitely appreciate any additional or more complete information you can provide to assist our project. Do you know where and when the Herberger family arrived in Australia?
Regards, Ian
Hi Ian,
Thank you for your response. I have contacted the NSW Archives and I am still waiting for them to reply. I will try the National Archives, however, they generally do not have many pre-federation records.
I have attached a copy of my 2012 and 2013 update to the Feilen History book. These contain a fair bit of stand alone information on the Schlicks and Herbergers. I would like to send you the Feilen History CD. As it also contains information on all the currently living Feilens it would cause privacy problems so it would have to be edited.
On a separate Email I will send you a copy of the Herberger/Schlick/Feilen family trees. Recent generations will not be included.
I hope that this information is helpful to your project.
Regards Allen
Thank you Allen, your assistance is much appreciated.
Regards, Ian
Hi Ian,
Attached (hopefully) is a Feilen family tree. Current generations are not shown. I also have Schlick and Herberger family trees which I will send to you later. It is interesting to note that it was a German custom to recycle a name when a child died in infancy.
On another matter I am in possession of two post card albums containing about 500 post cards. These postcards have been scanned and I have them on disk. As you know post cards were the Emails of a century ago. The albums originally belonged to Mabel Feilen and cover the period 1905-12.
Regards Allen
Thank you Allen,
Regards, Ian
Hi again Ian,
Attached is the Schlick family tree. In the case of the Feilens I have deleted details of living members apart from their names. For other families they may not be complete, however none of them are alive.
Regards Allen
---
DOUCH
From: Valma44
Sent: Wednesday, 11 December 2013 3:46 PM
Subject: Proposed Change: Douch, Valma June (I207140)
Proposed Change: Douch, Valma June (I207140)
Tree: Eden Monaro Pioneers
Link: http://monaropioneers.com/TNG/getperson.php?personID=I207140&tree=MP
Description: Hello Ian,
While adding the death of my uncle Max I found that I had overlooked the death of my aunt Valma June Hunter (nee Douch) on the 23 October 2012 at Dalmeny, NSW.
Thank you. Valma
Thanks,
Regards, Ian
---
DOUCH
From: Valma44
Sent: Wednesday, 11 December 2013 3:39 PM
Subject: Proposed Change: Douch, Maxwell Graham (I281593)
Proposed Change: Douch, Maxwell Graham (I281593)
Tree: Eden Monaro Pioneers
Link: http://monaropioneers.com/TNG/getperson.php?personID=I281593&tree=MP
Description: Hello Ian,
Just a note to inform you of the death of my uncle Max.
Death of Maxwell Graham Douch on evening of 21 Nov 2013, Bega, NSW.
The work by you and your team is greatly appreciated.
Thank You, Valma
Thank you Valma,
Regards, Ian
---
MOORE/MINERS
From: Bronwyn Horton
Sent: Monday, 9 December 2013 11:25 AM
Subject: Moore Miner information email 01
Ian
Please find attached my husband's family tree and some family info the Moore /Miner side is highlighted in yellow -p spreadsheet file is Eden Monaro Info
I may need to send the photos in several emails and will add any information I have to the emails,
Louisa Moore photos from circa 1940
Bible is front of Miner family bible - unfortunately rescued from bin so hard to read transcript to my best ability also attached
Harry & Dorothy Moore circa 1918 outside 49 Barton tT Bombala - house still exists Dorothy approx. 2yrs born 1916
Harry Moore circa 1908
Harry & Louisa Moore nee Miners circa 1908
---
MOORE/MINERS
From: Monaro Pioneers
Sent: Sunday, 8 December 2013 12:36 PM
Subject: Your genealogy user account has been activated.
Hello Bronwyn Horton,
Your genealogy user account has been activated.
Ian Harvey
Ian
Thank you, as my husband is a descendant of Robert Moore and John MIners I have some family information and photos [including a wedding photo, wedding certificate for Robert Moore circa 1908] and additional information regarding the data on the web page. What is the best way to add and/or update?
I am more than happy to share
Regards, Bronwyn
Hi Bronwyn,
Please send your information and images to me and I will update our system.
Regards, Ian
More photos
Harry Margery and Gladys Moore circa 1912 NB Dorothy not yet born
Louisa Moore nee Miners and Dorothy approx. 1934 Dorothy 18th birthday outing Sydney
Louisa Moore nee Miners circa 1906
Bombala Infants School circa 1912 - now TAFE buildings
Wedding photo Robert Moore and Louisa Miners 1908
Wedding certificate front and back poor condition 1908
Marriage cert Thomas Moore and Mary Oliver 1863 parents of Robert Moore
I will forward any further information as I discover it.
Regards, Bronwyn
Thank you Bronwyn,
Regards, Ian
---
From: Patrick Edgerton
Sent: Sunday, 8 December 2013 7:43 AM
Subject: Comments
Comments: You have done a great job with the site. Now that I've found the 'Suggest' option I must try to contribute more. Best wishes & thanks!
Patrick Edgerton
Hi Patrick,
Thanks for the comments and your help. The mapping software can be a bit frustrating at times.
Regards, Ian
---
NAPTHALI
From: Colleen Hodgson
Sent: Saturday, 7 December 2013 4:57 PM
Subject: Family ID F28949 Napthali
Below are some updated info for the above tree.
ID 199124 Rachel Napthali
born 1879 Wagga.
married 1906 Temora. N.S.W. Charles Joseph Hilton (died May 1949. Bondi Sydney.N.S.W).
died 17/3/1962. Bondi . Sydney. N.S.W.
ID 199100 Alfred Napthali
born 1862 Tumut-Talbingo N.S.W.
died 21/7/1941 Mt Barker.Western Australia.
ID 199101 John Napthali
born 25/9/1862 Adaminaby. N.S.W.
married 1897 Robertson N.S.W. Ethel Davina Watson (born 1878, died 1959 Perth W.A.)
died 21/12/1938 Albany District Hospital,Albany, Western Australia.
ID 199122 Louisa Napthali
born 15/7/1876 Wagga Wagga N.S.W.
married 14/10/1909 Wagga Wagga N.S.W. Peter Moncrieff (b 1870 d 1951 Plantagenet Shire. Western Australia)
died abt 1962 Burwood. N.S.W.
Kind regards, Colleen Hodgson=
Thank you Colleen,
Regards, Ian
---
SOUTHWELL
From: Sandra McGowan
Sent: Saturday, 7 December 2013 2:56 PM
Subject: Message for Jo Chadwick (Newsletter 2013 , #11)
Hello Ian
I have just read the November newsletter and noticed that Jo was looking for information on Jabez Southwell.
I am not sure if he has a link to the following society, the Southwell Family Society (http://southwellfamilysociety.org/) but I thought I it was worth passing the information on for Jo. I am of course making assuming that Jo is not aware of this enterprise.
Is it possible for you to pass this onto Jo?
Kind regards, Sandra
Hi Jo,
The following may be of help.
Regards, Ian
---
SPROATS
From: Shirley Sproats
Sent: Saturday, 7 December 2013 1:35 PM
Subject: A book on the SPROATS Š
Dear Ian and David
I have just received your latest newsletter that reminded me to make contact with you.
I picked up a Sproats family history book from the printers last week. It is a book that I researched and wrote about the Sproats: Christopher & Elizabeth Sproats – an account of the Sproats in Australia from 1858 onwards.
All up there are 248 pages with some 160 photos. It is about the lives of the original settlers, Christopher and Elizabeth with a chapter given to each of their children – the first generation Australian born. One chapter is given to a second generation family who were also well known in the Bega District. It is also a book about community life.
The book has been crafted from births, deaths and marriage records, probate packets and other archival material both in Australia and the United Kingdom; Bega District newspapers were trawled on microfilm at the State Library 1865 to early 1940s. Every mention of the family from the big things to the small things in life is woven into the book plus family trees included. The book also includes a chapter on the Sproats name and a chapter on the search for the ancestor, Thomas Sproats' birth. The family tree is validated back to the marriage of this Thomas in 1769; we know from the age on his burial record that he was born c1740.
It is a book set in a time when idleness was not an option, social welfare was effectively non-existent and not everything had a monetary value.
There is also a high level of interest in a reunion. If doable, I was thinking early April 2014 in Bega but the groundwork is only just starting on that.
I was wondering if you would kindly publish the existence of the book on your website and in your next newsletter. Also, descendants who might be interested in the reunion, if they would please contact me on either email: ssproats@bigpond.com or mob: 0404 02 6947.
Monaro Pioneers is a fabulous website; a website that obviously requires a lot of dedication on both your parts so thank you very much for your time given.
Best wishes
Shirley Sproats (Great granddaughter of Christopher and Elizabeth Sproats)
Hi Shirley,
Happy to help you publicise your book in our newsletter. In return, we ask that you please check the information we have on the Sproats family and where possible let us know of any errors or omissions you detect. It would also be of great help if you could provide us with full BDM date and place information for as many of the family as is possible.
Regards, Ian
Hi Ian
Thank you for that. Yes, I am only too happy to review the Sproats BDM information you have but not sure if I can do before Christmas but will try. The book includes BDM information up to the first generation born in Australia and their children's BDMs – the 2nd generation. It gets too difficult from there to validate information as lives become more complex – the extended, blended etc families.
Best wishes, Shirley
---
From: granjam
Sent: Saturday, 7 December 2013 12:08 PM
Subject: Thank you
<![if !vml]>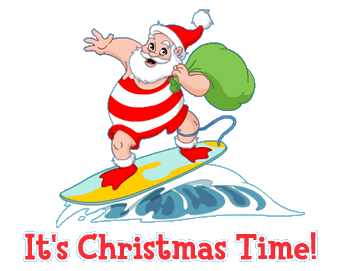 <![endif]>
Once again Ian -thank you for all the hard work you put in-we do appreciate it very much. Merry Christmas to you and yours from Judy Jamieson
<![if !vml]>

<![endif]>
The purpose of this newsletter is four-fold:
1. To let people know about all our activities including: the "Back to Nimitybelle" Book and the Monaro Pioneers Website.
2. To collect email and postal addresses of as many people as we can, so that they may be invited to contribute to this archive.
3. To collect Historical information about the Monaro District and the Families that have lived there.
4. And most importantly the newsletter is a venue for people who have an interest in the district to keep in contact with each other.
This newsletter is published by the Monaro Pioneers Editor on behalf of all those folk who are interested in the history of the Monaro.
If you do not wish to continue receiving this newsletter simply reply to this email with unsubscribe in the subject line.
<![if !vml]>

<![endif]>