Home | Pioneers | Contact Us | Copyright/Disclaimer
---
Monaro Pioneers Research pages: Index | Books/Lookups | Tracing Land | Convicts
Monaro Pioneers Newsletter
2013 Number 2
---
Announcement
Hi Folks,
The number of registered MP database users now exceeds 950 since the login process was implemented in January and continues to grow on a daily basis.
Regards,
Ian Harvey
---
REQUESTS:
WEH / HOFMEIER REUNION
A reunion to mark 130 years of the Weh / Hofmeier family settling in Woolgoolga is to be held on Saturday 31st August 2013 at Woolgoolga Bowling Club.
For all descendants of – Anna Maria Weh, her youngest daughter Anna Martha married John Adam Hofmeier.
Other siblings were John Weh, Louisa Weh. August Weh married Elizabeth Carlyon and resided in Warialda district.
For All enquiries Contact Darrell & Pat Davis 0402 022 008 or email jaycoranger@hotmail.com
Part of the Weh family settled on the north coast of NSW. But John and Louisa we know very little about other then they resided in Australia according to their mothers obituary and were still alive at time of their mothers death in 1886 according to her death certificate. We thought it was a possibility there could be somebody who might be checking your web site and have info or know of the family.
---
MARCH FAMILY REUNION
On the 18 May 2013 descendants of Thomas & Charlotte MARCH will 'march' to Gundaroo to celebrate the 175th Anniversary of their arrival in Australia on the Orontes 18 May 1838.
Thomas James MARCH & Charlotte Thomason nee PLUMMER settled in Gundaroo area in the mid 1840's after living in Newtown since arrival.
Please contact Julie Watt marchfamilyreunion2012@gmail.com for further information
Descendants names from Gundaroo, Yass, Bungendore, Queanbeyan, Goulburn areas include the following surnames - March, Kershaw, Hildred, Taylor, Cronk, Erenshaw/Earnshaw, Denyer, Burgess, Byfield, Millyn, Allen, Marshall, Cooper, Mitchell, Noyes, Locke, Gurnett, Buckmaster, Greig, Flack, Friend
From the New England Region of Glen Innes, Tenterfield, Wallangarra, Stanthorpe & Warwick surnames include - March, Turner, Dawson, Long, Wood, Hickey, Philpott, Kelly, Hodgson, Downes, Butler, Neal, Brown
---

Current correspondence:
BROWN
From: Ian Wilton
Sent: Saturday, 2 March 2013 2:48 PM
Subject: Proposed Change: Brown, Frederick Lewis (I126003)
Proposed Change: Brown, Frederick Lewis (I126003)
Tree: Eden Monaro Pioneers
Link: http://monaropioneers.com/TNG/getperson.php?personID=I126003&tree=MP
Description: Decendants of Frederick Lewis Brown : As mentioned previously Dulcie Edna Thomas nee Brown , Isabel May Casey nee Brown, Olive Elizabeth Hurford nee Brown.
Isabel married Patrick William Casey 1938 in Bombala.
Olive married William James Martin Hurford born 1909 in Forbes N.S.W. died
1986 Cooma in 1946. Olive also passed away in Cooma but I have no date.
Ian Wilton
Thank you,
Regards, Ian
---
BROWN
From: Ian Wilton
Sent: Saturday, 2 March 2013 2:26 PM
Subject: Proposed Change: Brown, D.E. (I299382)
Proposed Change: Brown, D.E. (I299382)
Tree: Eden Monaro Pioneers
Link: http://monaropioneers.com/TNG/getperson.php?personID=I299382&tree=MP
Description: Dulcie Edna Brown.Born Catcart date to be advised. Died Cooma date to be advised. Parents : Frederick Lewis Brown 1871 Bombala to 1939 Bombala married Beatrice Madeline Ingram born 1891 Bombala died Feb 23 1975 Cooma, Australia.
Madeline then re married to Arthur Ernest Thomas father of Ernest Harold Thomas becoming both mother & mother in law to Dulcie.
Dulcies children : Kevin James Cooma living Beverly Anne Oct 11 1946 Cooma Died 2009 Berridale Lionel birth & death dates to be confirmed
Ian Wilton
Thank you,
Regards, Ian
---
From: Gary Lucas
Sent: Thursday, 24 January 2013 1:18 PM
Subject: Cooma War Trophy
Dear sir,
The City of Liverpool sub-Branch of The RSL is seeking information on the WW1 German Field Gun that is in the possession of Liverpool city Council. The War Trophy in question is number 13379 was issued to the Cooma people in May 1921 for the displaying of it in recognition of Cooma's contribution to WW1. This war trophy has been in the possession of Liverpool City Council circa 1965. Why Liverpool has it is unknown therefore I seek your help in establishing as to why, how and when it came into the possession of Liverpool. Maybe this information can be obtained from yourself and the local Historical organisation to assist the City of Liverpool sub-Branch of The RSL.
Should you require further details on this matter please feel free to contact the City of Liverpool sub-Branch of The RSL 171 George St Liverpool 2170. My contact details are (m) 0417451813 or email gjlucas@bigpond.net.au
Yours Sincerely
Gary Lucas
Hon. Secretary
City of Liverpool
Sub-Branch of The RSL
---
MYERS
From: Colleen Levett
Sent: Sunday, 24 February 2013 12:08 PM
Subject: DAVID MYERS
Hi Ian,
Just a quick note re an item on page 18 of 65 for David Myers b1803. I note that for LORNA E. HARDAKER daughter of Henry J. and Elizabeth nee Myers, it is stated that she married Kenneth S. McKinnon 1930 in Waverley. I have her married to Frank Ryan 1934 Sydney and in 1943 married to Harry Peel in Randwick. Back in the late 1980's I had a lot of contact with Lorna and it was from her I received the information that I have. She had one son, Kenneth J. born to Harry Peel. I haven't located any marriage to McKinnon, however, the above marriages can also be checked on BDM NSW site.
Take care and thanks for all the hardwork you and others have put into this site. (Oh, just thought, I think from memory that you have Patricia Hayes nee Hides b1926 daughter of Emma nee Myers and Arthur George Hides as being deceased, this is also incorrect at my time of writing.)
All the best, Colleen
Thanks Colleen,
Regards, Ian
---
From: Patricia McGufficke
Sent: Tuesday, 19 February 2013 10:48 AM
Subject: Names to photo
Ian,
Sometime ago I sent you a photograph showing a group of musicians which you placed on the website under: Towns – Bombala - Musicians.
I recently "re-found" an original photograph which had the names on the reverse side. They are:
Fred Smith (piano), A. Bowtell (violin), Pres. Watson (cello), R. Elliott (clarinet), A. Champion (cornet).
Kind regards, Pat McGufficke
Thanks,
Regards, Ian
---
From: Jan and Neil Reid
Sent: 2013-02-22 18:49
To: nleditor@monaropioneers.com
Subject:
Hi David Could you tell Jade (re Girvan) that I understand the parents of Robert are on the immigration record only but that i have heard it is very fragile Thanks Jan Reid
---
McMEACHIE
From: Peter Brandon Langley
Sent: Thursday, 21 February 2013 11:10 AM
Subject: Comments
Comments: I am a decendant of Andrew Agnew McKeachie and have additional information about his family(mother, brothers and sisters)who moved to Bombala to join him and further information on his daughter Elizabeth and decendants if that is of interest. If so, please advise the best way to
relay the info.
In addition,there were a number of Langleys in the Bombala area, one who married Elizabeth in the 1870-80's period yet I see no reference to Langleys in the surname list. Perhaps they don't qualify as pioneers like the McKeachies? I can provide some info if interested.
Regards, Peter.
Hi Peter,
Thank you for the offer, we would welcome any additional information you can provide. Please send your additional/correctional information to me and I will update our records.
Regards, Ian
---
HUTCHISON/LOWRIE
From: Judy
Sent: Tuesday, 29 January 2013 2:13 PM
Subject: BDM's Wills Family Lines Hutchison and Lowrie
Importance: High
Dear Ian
I finally mailed off the USB to you today, containing the family lines of Hutchison and Lowrie . Why the separate one for Lowrie? Well, Mary Ann Lowrie, the half-sister of Christian Lowrie, who married William Hutchison, married Robert Nisbet Richardson and settled on the Monaro.
I have also included BDM's (I have more, but these will do for the minute) and Wills of Monaro folk.
There are also a few more family photos to add. Where someone else has supplied the photo, I have labelled them, such as the wedding of Cyril Rostron and Ethel Cotterill in 1920, which was courtesy Irene Ramsay, and of course Nangutta Station (I think I sent you the NLA's permission to put on the Monaro website a couple of emails ago).
Many thanks, once again, for all the wonderful work that you and the team have done and continue to do.
Warmest regards, Judy McCutcheon
Hi Judy,
I am not often stopped in my tracks with awe and amazement these days but the material you sent is amazing! I am progressively working my way through all the files selectively choosing that which I believe would be appropriate to add to the MP database. The amount of extra detail I have so far added as a result is tremendous. In particular, the birth register pages for the Bendoc and Northern Gippsland areas is a gold mine of information and I am adding each page with the appropriate links to the individuals in the MP database. The task is much bigger than I anticipated but the excitement of finding so much more information is driving me forward.
I am writing this thank you note before I have completed the task of perusing all your material simply because I want you to know how grateful I am and how excited you have made me and to ensure all the newsletter readers can know about your extraordinary material and see it for themselves.
I suggest the first thing anyone does upon reading this is to look at the "What's new" option in the MP database search facility to look for known ancestors who may have changed. The second thing to do is select the "Documents" option in the MP database search facility and search for "birth reg" which should give a list of all the Birth Registration pages you have supplied and each one will show the links to the various individuals concerned.
Thank you Judy once again for your wonderful support, it is people like you who make this whole thing so worthwhile.
Regards, Ian
---
BAILEY
From: Sandra Campbell
Sent: Monday, 18 February 2013 4:01 PM
Subject: alteration to information Ethel Maud Bailey
Hello,
My maiden name was Sandra Campbell and I am the granddaughter of Ethel Maud Bailey. I have tried for some time to find out more information about my great grandparents Thomas Henry Bailey who married Emily Jane Piper in Tumut in 1891. I was thrilled to locate my family tree on your website.
I would like to make an alteration to your extremely valuable and important information. You list that Ethel Maude Bailey died in 1941. This Ethel Maude Bailey is not my grandmother. Please note that the spelling of my grandmother is Ethel Maud Bailey.
Ethel Maud Bailey was born in July 1897 in Tumut. She married Daniel George Campbell in Tumut in 1918. They had 6 children:
Christina Esme Campbell – 1 daughter: Yvonne Brown
Dorothy Campbell – no children
Sylvia May Campbell – died by burns as a baby around 1925
Lindsay Daniel Campbell – no children
Neil Joseph Campbell – 3 children: Sandra Campbell, Kevin Campbell, Brenda Campbell
Dallas James Campbell – no children
All the children are now deceased.
Ethel Maud Campbell (nee Bailey) died in Shellharbour hospital 12th January, 1990 aged 92 years. She is buried in the Catholic section of Gerringong Cemetery with her husband, my grandfather George Daniel Campbell.
Thank you. Sandra Crofts (nee Campbell)
Thank you Sandra,
Regards, Ian
Hello I an,
I now know, from your website, that Thomas Boyd is in the Tumut Pioneer Cemetery. I forgot to mention that I am planning to go to Tumut Cemetery this month to view the grave of my great x 4 (I think) Thomas Boyd who came to Australia for high treason. My grandmother told the family that Annie Boyd was the first Australian. I can only see from your website that Thomas Boyd's daughter was Elizabeth Boyd. So I can only assume that the name her family called her was Annie.
Thank you again so much for putting this information on the web for me to find. Sandra Campbell-Crofts
Thank you Sandra, we are glad our humble website was helpful. I look forward to seeing the photos of the graves so we can add them to the database.
Regards, Ian
---
DEVINE
From: Nancy Bozzetto
Sent: Sunday, 17 February 2013 3:25 PM
Subject: Adding information
I am the grand-daughter of Elizabeth Agnes D. (which stands for Devine) Schumacher and wish to add some information to her info that is already on your site. She was born on the 19th of Jan in Bombala, N.S.W., as per her birth certificate. She married William Cuthell Gray, son of William Cuthell Gray and Maria Hughes on the 28th of Dec 1904 in Bombala as per their marriage certificate. She died in Charleville in Qld., on the 11th of Nov 1959. This bit of info came from my mother, Dorothy Evelyn, Elizabeth`s youngest daughter, as she was present at the time.
Elizabeth`s first child, Samuel Linden Schumack was born out of wed-lock on the 14th of Oct 1901 in Bombala. There is no mention of his father on his birth certificate and NOTE the shortened surname from Schumacher to Schumack. Samuel (or Linden as my mother new him), died in Heidelberg in Vic., in 1966.
Elizabeth and William had four children of their own. They are....Irene Daisy Gray b. 1907 in Bombala
d. 1943 in Lithgow in N.S.W. This info given from my mother.
William Cuthell Gray b. 14-Apr-1910 in Goulburn. Info from copy of birth cert.
d. 22-Jun-1981 in Sydney. Info from copy of death cert.
Una Maria Gray b. 27-July-1912 in Goulburn. Info from birth cert.
d. 18-Jun-1985 in Ayr, Qld. Info from personal knowledge.
Dorothy Evelyn Gray b. 10-Oct-1919 in Temora. Info from birth cert.
d. 17-Dec-2008 in Ayr, Qld. Info from personal knowledge and death cert.

I would appreciate it if you could add this info to my grand-mothers info already on you site. Much thanks in anticipation.
Yours sincerely, Nancy P. Bozzetto, Ayr, Qld.
Hi Nancy,
Thank you for the information, I have amended our records.
Regards, Ian
---
SILK
From: Tricia Kernahan
Sent: Sunday, 17 February 2013 12:32 PM
Subject: Birth and Marriage Certs. Mary Ann Silk
Dear Ian,
I am a novice at this scanning caper. The birth cert. photocopy I have is very dark so if the images are not clear I am more than happy to have them professionally copied and send them to you by mail.
Kind regards, Tricia Kernahan
Hi Tricia,
Thank you for the copies of those certificates, they were fine. You can now see them attached to Mary Ann Leal nee Silk in the MP Database.
Regards, Ian
---
From: sepy
Sent: 2013-02-09 12:11
To: David Knox
Subject: RE: MONARO PIONEERS NEWSLETTER - 2013 Number 1
No David still can't login..keeps coming up ''Login failed ''
Hi Vicki,
I can see from your Userid information stored on our website that you successfully logged in on the 7th of February. If you are still having a problem, it will be because you are not entering either the correct Userid and/or Password you provided when you registered. If you have forgotten what either or both are, you can either follow the procedure you will see on the failed login screen to receive your details via email or I can delete your ID and you can re-register.
Regards, Ian
-------Original Message-------
From: David Knox
Date: 9/02/2013 6:55:50 AM
To: sepy
Subject: RE: MONARO PIONEERS NEWSLETTER - 2013 Number 1
Hi Vicki,
Were you able to log into the website ?
Cheers
David Knox
Newsletter Editor
Monaro Pioneers
From: sepy
Sent: 2013-02-07 11:58
To: David Knox
Subject: RE: MONARO PIONEERS NEWSLETTER - 2013 Number 1
David,
I answered all the questions and registered except one question because I'm not sure what to put for ''Web Site'' as I do not have my own web site , I submitted it but didn't put a website .
Vicki.
-------Original Message-------
From: David Knox
Date: 6/02/2013 7:48:23 PM
To: sepy
Subject: RE: MONARO PIONEERS NEWSLETTER - 2013 Number 1
Hi Vicki,
Yes there has been a slight change in the way you access the Pioneers information. You need to create a suitable username and password to gain access. The details of the username/password that you use is entirely up to yourself when you create.
When at the Login page just navigate to the bottom and you will see a link to "register for new user account", just click on it and follow the prompts.
Cheers
David Knox
Newsletter Editor
Monaro Pioneers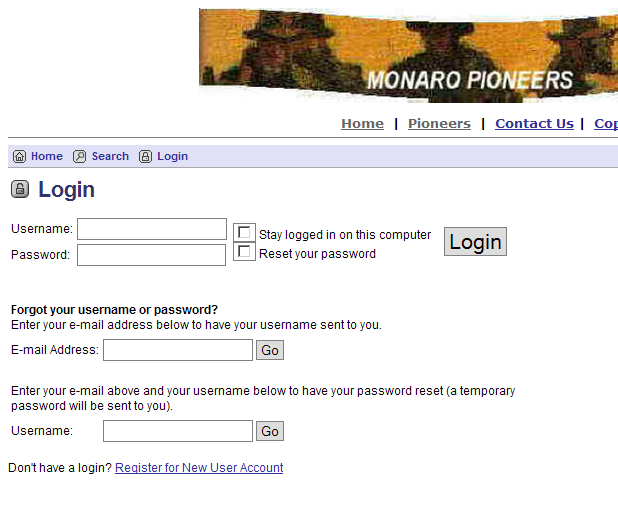 From: sepy
Sent: 2013-02-05 13:19
To: David Knox
Subject: Re: MONARO PIONEERS NEWSLETTER - 2013 Number 1
Hi David,
Tried looking up my relations from Bombala '' the Kavanagh family'' but its asking me to sign in etc... I don't remember registering before so I don't know my username & password.
Can you please help.
Regards, Vicki.
---
MURPHY
From: Chris Allport
Sent: Friday, 15 February 2013 5:37 PM
Subject: William A Murphy
Thanks so much for your website . I have been able to trace my Irish roots thanks to your contributors . I am the grandson of William A Murphy born at Bombala NSW in 1900 through his only child Gloria Allport (nee Murphy ) . I can only add a little information passed down from my grandmother . William Amos Murphy was killed in 1925 ( see bdm NSW) when my mother was just three . I was told he was working on road works as a foreman of some sort and went into an undercutting to inspect it . The work collapsed on him and killed him . After his death my grandmother Dorothy May (nee Watson) moved to Sydney with my mother and later remarried . I bare his middle name Amos .
Christopher Allport
Thank you,
Regards, Ian
---
SILK
From: Tricia Kernahan
Sent: Thursday, 14 February 2013 11:03 AM
Subject: Descendants of Joseph Walpole Silk
Dear Ian,
As a new member I hate to be difficult, but I have some new information for you. When researching the children of William Henry Silk (Gen.2 No.4 of the descendants of Joseph Walpole Silk) I have seen that WH Silk's wife is supposed to be Elizabeth Marshall. All the ancestry.com family connections have this information. I had him married to Eliza Holdsworth and I couldn't figure out why. (My research started about 13 years ago and has been very spasmodic, and working with four families, husband's and mine, information didn't always stick in the mind.)
This morning I unearthed a birth certificate for my grandmother Mary Ann Silk born 17th November 1873 at Square Range, Nimmitybelle (sic) showing her parents as William Silk, Carrier and Eliza formerly Holdsworth. One of the witnesses was Mrs. M. Holdsworth.
I also have a marriage certificate for my grandparents Alfred Archibald Leal and Mary Ann Silk showing her parents as William Henry Silk and Eliza Holdsworth. What would you like me to do? I am happy to photocopy these certificates for you, provide any information I can and do whatever you need me to do to help.
Sorry for the disruption.
Kind regards, Tricia Kernahan
Hi Tricia,
Thanks for the input, I will amend our records. The NSW BDM marriage index shows William Silk marrying Elizabeth Marshall. Did Elizabeth Holdsworth marry a Marshall before William Silk? If you can send me scanned copies of the certificates I can add them to the individual's records in our database to support the facts you have told us.
Please don't apologies for helping us establish the true facts, we encourage additional information and corrections.
Regards, Ian
---
JONES/YES
From: connie stevens
Sent: Thursday, 14 February 2013 12:09 AM
Subject: Comments (Jones, Ivor J. d. Yes, date unknown)
Comments (Jones, Ivor J. d. Yes, date unknown): HI my grandmothers was eileen clare stevens(Jones) her father was Ivor Thomas jones (you have him as IJ Jones) he died on my first birthday which was 8 feb 1956. Just thought you might like to know, have been having a great time loking up all the other things I didnt know about my fathers family. My grandmother's nickname was bub stevens it seems she married her cousin Albert John stevens, her mother was evelyn c stevens. Recently I was told of a grave that is on Clyde Thomas's property at Kiah apparently it was the farm that belonged to thomas stevens snr, the grave is supposed to be that of Jane Stevens and she was supposed to have been murdered, I dont know how true that is but it came from a person that has had a lot to do with the cemetary's in the area. I have seen that there were two jane stevenses one by birth the other marriage I was wondering if you people would have any idea if this is true.Thank you for all the info I have been able to access from your site.
regards connie stevens
Thank you for the information, we have no other details on Ivor Thomas Jones and perhaps you could assist us by supplying the details of his birth and parents? The same would be helpful for Albert John Stevens.
We have no information regarding the grave of Jane Stevens unfortunately but the following might be able to help you....
Bega Valley Genealogy Society -
http://thebegavalley.org.au/bvgenealogy.0.html
Research Officer is Pat Raymond ra80122@bigpond.net.au
Regards, Ian
---
VENABLES
From: Michelle
Sent: Monday, 11 February 2013 10:58 AM
Subject: Proposed Change: Venables, Victor N. (I222057)
Proposed Change: Venables, Victor N. (I222057)
Tree: Eden Monaro Pioneers
Link: http://monaropioneers.com/TNG/getperson.php?personID=I222057&tree=MP
Description: Northern Standard (Darwin, NT : 1921 - 1955) Friday 6 September
1940 page 9 VIC VENABLES DEAD SUICIDE SUSPECTED Victor Venables, 30, a native of Cooma N.S.W. was found dead near the water tower at the rear of the Victoria Hotel early Thursday morning.
The discovery was made by the yardman at the hotel.
The body was taken to the mortu- ary at the Darwin Hospital. Police found a note on Venables addressed to "Phyl" which said, "If I cannot see you I shall do away with my- self."
It is thought that the note was addressed to a girl with whom the deceased
had had some differences recently.
Police said that death which was instantaneous must have been caused by a 40 fall or jump from the water tower.
Several friends of Venables said that he appeared to be despondent on Wednesday night.
He awoke his camp, mate Mr. Proberts at their camp on Foster's beach in the early hours of Thursday morning and asked him to have a drink.
Venables later left the camp and was not seen alive again.
The deceased was well known in Tennants Creek where he was a partner with Alan McDonald in a mining venture.
Lately he had been engaged in carrying out a painting contract on the water tanks for John Waygood and Co .
A coronial inquiry will be held in to the cause of his death.
Michelle
Thanks,
Regards, Ian
---
CAVANAGH
From: Trish Burgess
Sent: Sunday, 10 February 2013 7:12 AM
Subject: Proposed Change: Cavanagh, Ann (I209577)
Proposed Change: Cavanagh, Ann (I209577)
Tree: Eden Monaro Pioneers
Link: http://monaropioneers.com/TNG/getperson.php?personID=I209577&tree=MP
Description: Ann Cavanagh White (widow of Charles White) married Patrick J Langan 20/1/1851 died 12/5/1864 Children Thomas A 1853 - 1855, John 1855, James 1856 Thomas 1858 - 1860 , Mary A 1861
She also had a child called Jane or Janett from marriage to Charles White
Trish Burgess
Hi Trish,
Thank you for the information.
Regards, Ian
---
DUMMETT/PERRY
From: Judy GILL
Sent: Saturday, 9 February 2013 6:55 PM
Subject: Emailing: William & Esther family 1898 Wattle Farm
Hello Ian,
Actually it is a photo of William Dummett & wife Esther Elizabeth nee Perry & their children taken on their farm at Quaama.
I hope it is OK as a bit faded.
Judy
Hi Judy,
Thanks, the photo "touched" up OK.
Regards, Ian
---
SILK
From: Tricia Kernahan
Sent: Thursday, 7 February 2013 10:44 AM
Subject: Re: Your genealogy user account has been activated.
Dear Ian,
Just a word to thank you for all the hard work you and others have obviously done to set up and maintain the Monaro Pioneers Register. I have been doing my family research on and off for about 10 years and am getting very close to 'publishing'. Only on Tuesday did I discover a huge mistake in my research. My paternal grandmother's (Mary Ann Silk) grandfather was not the Joseph Silk I thought he was, grandson of William Silk 'rebel and convict' but Joseph Walpole Silk who married Maria Thompson at Bungonia in 1841.
Your website has been invaluable in correcting my research and has also awakened an interest in visiting the Monaro area. I see 'Boco' is a
recurring name in the area. I am also in touch with the Hill End and Tambaroora Gathering Group through my husband's side of the family and have great admiration for all the volunteers who keep our history alive.
Many, many thanks again
Kind regards, Patricia Kernahan
Thanks Tricia,
We are delighted our humble site was of help to you.
Regards, Ian
-----Original Message-----
From: Monaro Pioneers
Sent: Wednesday, February 06, 2013 2:23 PM
To: triciakernahan
Subject: Your genealogy user account has been activated.
Hello Patricia Kernahan,
Your genealogy user account has been activated.
Ian Harvey
---
HALL/LEGGE
From: Judy GILL
Sent: Tuesday, 5 February 2013 8:16 PM
Subject: Change info
Hi Ian,
I sure I asked this before but I find it hard to work the new way Monaro Pioneers are updated.
I checked my Hall & Legge descendants and all needs updating but what is the easiest way to sent to you plus I have a lot of info in notes of families that is added information given to me & not the world to see.
As you know I have been researching for years but some of on Monaro Pioneers is not correct. People have asked me why this & that and I have not added what they asked.
One that showed out to me instantly was Amy Eva Smith she was not born Bega but in Goulburn, parents William SMITH & Sarah Elizabeth Rose Ann JONES. They are also the parents of Elma Maude SMITH who married David LEGGE. Plus lots of other siblings.
Amy Eva birth index is 14728/1893. Birth date is 30-Apr- 1893 and died Melbourne but buried in Tweed Heads Cemetery. Her first marriage was to Archibald Hamilton Joseph William Legge 10 July 1912.
2nd marriage was to Harold Holt and they are both in the Tweed Heads Cemetery under HOLT.
Elma Maude SMITH WAS BORN 19-March-1889 also in Goulburn and married to David Legge. Her birth registration is 14107/1889.
I receive the newsletter and from month to month amazing some connecting names of families.
Thanks for all your work and the other members of the team. Happy 2013 to all.
Regards, Judy
Hi Judy,
Happy and prosperous 2013 to you too.
I have corrected the database with the information you provided, thank you for sending it to me. If you have further changes and or additions you wish to make, just send the information to me in whatever format suits you and I will update the database. Please don't include any information you don't want shown.
Regards, Ian
---
GOODWIN
From: Kaye
Sent: Monday, 4 February 2013 3:49 PM
Subject: Goodwin Family
Hi Ian
Just read the latest newsletter and I noticed there was correspondence from Cheryl Miller who is connected to the Goodwin family. Could you put me in
contact with her or can you give her my e-mail address. I would very much like to connect with someone else in the Goodwin family. Her Harold Edward Goodwin is a cousin to my great grandfather, Edward Arthur Goodwin who is the son of William Goodwin and Emma Ward.
Edward Arthur Goodwin moved to Western Australia in the late 1890's and the WA family do not know anything about the other families in Victoria, only what I have learned through the Monaro site. It would be nice to connect personally with someone.
Regards, Kaye
Hi Kaye,
The email address is ,,,,,,,,,,,,,,,,,,,,,,,,,,,
Regards, Ian
---
BEASLEY
From: Maureen Upton
Sent: Monday, 4 February 2013 6:31 AM
Subject: Mavis Legge[John Beasley family]
Dear Ian , I was looking at the Beasley family file and noted no death date for Alfred Roy Beasley . Ryerson give 9 May 1999 Candelo. His wife Mavis Legge is still alive and living in Merimbula. She is the only surviving child of John Frederick Legge[Fred] and Constance jessie Woodger[ my Grandparents]. She is 94. All 4 boys and three girls have gone. The men died early and all girls in the family have lived into their nineties.
Maureen Upton.
I will send an update on my family later this year.=
Thank you Maureen,
Regards, Ian
---
From: Council@Cooma [mailto:council@cooma.nsw.gov.au]
Sent: Monday, 4 February 2013 6:24 AM
To: 'iansharvey@bigpond.com'; 'nleditor@monaropioneers.com'
Subject: FW: History of Michelago's name
Good Morning,
Council has received this email requesting information on the town name of Michelago. I have been requested to forward it on to you.
Kind Regards,

Ashleigh Pimm
Records and Information Coordinator

Direct: (02) 6455 1727
Phone: (02) 6455 1777
Fax: (02) 6455 1799
Web: www.cooma.nsw.gov.au

81 Commissioner St
(PO Box 714)
COOMA NSW 2630

IMPORTANT NOTICE REGARDING CONTENT

The views expressed in this e-mail are not necessarily those of the Cooma-Monaro Shire Council unless otherwise stated. The Council does not warrant that this message is free from viruses or any other defect or error.

IMPORTANT NOTICE REGARDING CONFIDENTIALITY

This electronic message is intended only for the addressee and may contain confidential information. If you are not the addressee, you are notified that any transmission, distribution or photocopying of this e-mail is strictly prohibited. The confidentiality attached to this e-mail is not waived, lost or destroyed by reasons of a mistaken delivery to you. The information contained in this e-mail transmission may also be subject to Government Information (Public Access) Act, 2009. If you have received this e-mail in error please contact the author of the message, as soon as practicable.
From: Emily Stehr
Sent: Friday, 1 February 2013 6:01 PM
To: Council@Cooma
Subject: History of Michelago's name
Dear Sir/Ma'am,
My name is Emily Stehr. I currently live in Rhineland, Germany. My husband works for the US Federal Government. I am researching a book on interesting place names. I am interested in the history of Michelago's place name in Cooma-Monaro Shire. My book's focus is on the stories behind place names. Any information you could provide on Michelago's place name birth would be greatly appreciated. Please feel free to forward this email to anyone who can assist me in my research.
Thx! Emily Stehr emilystehr@hotmail.com
P.s. My mailing address is CMR 469 Box 1504, APO, AE 09227, USA, if you need to snail mail info to me. Thx!
Emily Stehr
Rhineland, Germany
Hi David,
I am unable to assist but maybe our readers can.
Regards, Ian
---
SINCLEAR
From: Neil Martin
Sent: Sunday, 3 February 2013 4:24 PM
Subject: Re: Archibald MacDonald family tree
Ian,
Your current newsletter has an item from a Margaret Martin regarding Hugh Lyndsay Sinclair who lived in Temora.
If Margaret would like to contact us at temorafamilyhistory@bigpond.com we can supply some details.
Also if any of your readers have Temora connections we would be pleased to help.
Sincerely,
Neil Martin
President - TFHG
Thank you Neil,
We seem to be accumulating a lot of families from your area now.
Regards, Ian
---
RYRIE
From: Margaret Denney
Sent: Sunday, 3 February 2013 4:23 PM
Subject: Ryrie family
Ian,
I am compiling my side of my families ancestral tree.
My grandmother was a daughter of Donald Horne Ryrie born in Windsor, England about 1863 and left England with parents and family for the epic voyage to Australia when only 3 months old - story has it that their departure was delayed as according to my mother the birth should have taken place in Australia -on delving into records her name is not shown as part of the family but have found recently an entry is on record that the family arrived in Melbourne around that time but no date. My grandmothers name was Margaret Mary Ryrie - I am writing to let you know that there was this daughter of which there doesn't appear to have any record in your jottings of her existence.
If you can spare some time I would like to know when the family arrived back in Australia for it seems they lived out here earlier and went back to England for awhile, and their place of residence in Australia, I do know that my grandmother went to a girls school called 'Roseneath' or similar in name and gather it was in Victoria, and married at an early age to a Robert Cooke, who changed his name to Stuart, shortly afterwards.
I am also interested to see any family photos that may be in existence.
Would like to hear from you sometime,
Regards, Margaret Denney.
Hi Margaret,
All the information we have is already displayed on our website.
Regards, Ian
---
From: granjam
Sent: Sunday, 3 February 2013 2:48 PM
Subject: 300,000
Congratulations Ian-a job very well done and a great resource for many people-Judy Jamieson
Thank you Judy,
Regards, Ian
---
REID
From: Susan
Sent: Sunday, 3 February 2013 2:45 PM
Subject: Proposed Change: Reid, Robert (I53094)
Proposed Change: Reid, Robert (I53094)
Tree: Eden Monaro Pioneers
Link: http://monaropioneers.com/TNG/getperson.php?personID=I53094&tree=MP
Description: Dear Ian,
Robert Reid was born in Lisburn, Antrim, Northern Ireland, in 1798. (Family Search Records).
On the 17th November, 1828, he married Ellen Walker,(V18284409 3B/1828).
Ellen died in Parramatta, 12th April, 1829 (V182922 102/1829), aged 40. She was born in Yorkshire, England in 1790.
I couldn't find any children for them, or how either of them came into the country.
Susan
Thanks Susan,
Regards, Ian
---
From:
Sent: 2013-02-03 18:19
Subject: Extra Certificates
Hi David,
You received mail from Judy McCutcheon re extra certificates she has.
http://ausbdm.ucoz.org/tblCertificates.pdf
I have been using a site for some years where certificates can be listed, and the owner contacted for sharing of certificates. This is a free service, organised by Gordon Beach.
I submitted my correct certificates, and those I have acquired in my research that did not fit my family. I have had contact from several people and I have copied and shared information.
Hope this information can be shared via your newsletter.
Regards, Beth Forshaw
---
The purpose of this newsletter is four-fold:
1. To let people know about all our activities including: the "Back to Nimitybelle" Book and the Monaro Pioneers Website.
2. To collect email and postal addresses of as many people as we can, so that they may be invited to contribute to this archive.
3. To collect Historical information about the Monaro District and the Families that have lived there.
4. And most importantly the newsletter is a venue for people who have an interest in the district to keep in contact with each other.
This newsletter is published by the Monaro Pioneers Editor on behalf of all those folk who are interested in the history of the Monaro.
If you do not wish to continue receiving this newsletter simply reply to this email with unsubscribe in the subject line.