Home | Pioneers | Contact Us | Copyright/Disclaimer
---
Monaro Pioneers Research pages: Index | Books/Lookups | Tracing Land | Convicts
Monaro Pioneers Newsletter
2013 Number 3
<![if !vml]>
<![endif]>
REQUESTS:
WEH / HOFMEIER REUNION
A reunion to mark 130 years of the Weh / Hofmeier family settling in Woolgoolga is to be held on Saturday 31st August 2013 at Woolgoolga Bowling Club.
For all descendants of – Anna Maria Weh, her youngest daughter Anna Martha married John Adam Hofmeier.
Other siblings were John Weh, Louisa Weh. August Weh married Elizabeth Carlyon and resided in Warialda district.
For All enquiries Contact Darrell & Pat Davis 0402 022 008 or email jaycoranger@hotmail.com
Part of the Weh family settled on the north coast of NSW. But John and Louisa we know very little about other then they resided in Australia according to their mothers obituary and were still alive at time of their mothers death in 1886 according to her death certificate. We thought it was a possibility there could be somebody who might be checking your web site and have info or know of the family.
---
MARCH FAMILY REUNION
On the 18 May 2013 descendants of Thomas & Charlotte MARCH will 'march' to Gundaroo to celebrate the 175th Anniversary of their arrival in Australia on the Orontes 18 May 1838.
Thomas James MARCH & Charlotte Thomason nee PLUMMER settled in Gundaroo area in the mid 1840's after living in Newtown since arrival.
Please contact Julie Watt marchfamilyreunion2012@gmail.com for further information
Descendants names from Gundaroo, Yass, Bungendore, Queanbeyan, Goulburn areas include the following surnames - March, Kershaw, Hildred, Taylor, Cronk, Erenshaw/Earnshaw, Denyer, Burgess, Byfield, Millyn, Allen, Marshall, Cooper, Mitchell, Noyes, Locke, Gurnett, Buckmaster, Greig, Flack, Friend
From the New England Region of Glen Innes, Tenterfield, Wallangarra, Stanthorpe & Warwick surnames include - March, Turner, Dawson, Long, Wood, Hickey, Philpott, Kelly, Hodgson, Downes, Butler, Neal, Brown
---
DESCENDANTS OF SAMUEL TIVEY
From: research@joinedup
Sent: Thursday, 28 March 2013 8:07 PM
To: Ian Harvey
Subject: RE: MEDIA ENQUIRY: "Who's Been Sleeping in My House?" (ABC TV) RE: Descendants of Samuel Tivey
Who's Been Sleeping in My House?" is a television program broadcast nationally on ABC TV at 8pm on Friday night (ABC1) : http://www.abc.net.au/tv/whosbeensleeping/
We are currently researching a home in Inglewood, Victoria which was built by Joseph Tivey in 1881. We wish to find out as much as I can about Joseph Tivey, his life, his family, descendants and his home. If possible, we would also love to find a living descendant that might be able to shed some light on the home and their lives, either through personal letters, stories, photos or even myth/legend!
If you know of anyone or any material that might help fill in the blanks, we would greatly appreciate hearing from you.
Please contact:
Adam Collins
Researcher
Joined Up Films
PH: (02) 8333 3305 (my ABC office in Sydney)
Email: research@joinedup.com.au
---
MARY GRACE HIGGS
From: dot
Sent: 2013-03-03 16:01
Subject: family researxh
Hi al . I am hoping someone maybe able to point me in the right direction.
For some time now I have been trying very hard to locate the birth detail on a child born in 1940. This child was born to an Arthur paul & Dulcie Gladys pearl higgs . who lived in the bright district in the north east victoria.
her birth name was mary grace/ higgs . she lived for two years dying 13 Jul 1942 in bright victoria aus . so hoping some one can help me.
Thank you kindly Dorothy collins
<![if !vml]>
<![endif]>

Current correspondence:
HIGGINS
From: Susan
Sent: Friday, 5 April 2013 1:31 PM
Subject: Proposed Change: Higgins, Thomas Alexander (I72954)
Proposed Change: Higgins, Thomas Alexander (I72954)
Tree: Eden Monaro Pioneers
Link: http://monaropioneers.com/TNG/getperson.php?personID=I72954&tree=MP
Description: Sorry, hit the wrong button before.
I am think that Thomas Alexander Higgins & Alexander Thomas Higgins are the same person. (I72954 & I107274).
You have Thomas dying in 1969, with the parents of Charles & Amelia, the same parents as Alexander.
Hope this makes sense.
Susan
Brilliant, what great detective work. I believe you are correct and I will adjust the database accordingly over the next few days.
Regards, Ian
---
GORDON
From: Michelle
Sent: Wednesday, 3 April 2013 3:43 PM
Subject: Proposed Change: Gordon, Lillian Mavis (I218433)
Proposed Change: Gordon, Lillian Mavis (I218433)
Tree: Eden Monaro Pioneers
Link: http://monaropioneers.com/TNG/getperson.php?personID=I218433&tree=MP
Description: Hi Ian
Lillian was born c 1914 at Crookwell to Edward Hone & Ethel M Johnston .
She married
1.STANLEY HERBERT GORDON (birth & death unknown) at Goulburn 1938.
2.LESLIE JOHN MINERS (son of Samuel John Miners and Edith Caldwell) at Goulburn in 1948 3. MERVYN STANLEY MINERS (younger brother of Leslie and who later married ALMA WALLACE ) in 1955 at Goulburn Lillian died 19 November
1958 at Goulburn Base Hospital and is interred in the Goulburn General Cemetery.
I do have a death transcripton but it notes all her children who may still be living in 2013.
Regards, Michelle
Thanks Michelle,
Regards, Ian
---
JAMIESON/BRAIDON
From: Neil Jamieson
Sent: Tuesday, 2 April 2013 8:24 PM
Subject: Alexander Jamieson (1) County Monaghan, Ireland.
Hi Ian,
I have contributed in the past and continue to search, I have an Irish researcher looking at church records now for Alexander Jamieson and Sarah Braidon.
I seek info on Bob Gollam (?) and his book "The Jamiesons in Australia" are you able to suggest where I might see/find a copy, Pls.
Regards, Neil R Jamieson.
Hi Neil,
I personally have no knowledge that might help, have you tried the major Libraries? We can include this email in our next newsletter and perhaps one of our readers can help.
Regards, Ian
---
THOMPSON
From: Charles Cervone
Sent: Friday, 29 March 2013 4:59 PM
Subject: Sale Victoria, not Spain.
Dear Ian,
While checking my ancestors, as I do now and then, I saw that my grandparents are correctly recorded as buried in Sale, Victoria but strangely a map now appears indicating that they are buried in Spain. They are James John Thompson and his wife Maria Elizabeth Thompson, nee Collins, 1881-1957 (Group sheet F18612). I was looking up her individual information in the Collins line when I discovered it. Please fix this glitch in your computer program.
Thank you for all your wonderful work.
Eleanor Cobain.
Hi Eleanor,
I have done what I can but both Google and Bing maps make some very strange interpretations of places and I hope it won't happen again.
Regards, Ian
---
TIVEY
From: research@joinedup.com.au
Sent: Thursday, 28 March 2013 5:45 PM
Subject: Fwd: MEDIA ENQUIRY: "Who's Been Sleeping in My House?" (ABC TV) RE: Descendants of Samuel Tivey
Hi Ian,
Please see my email below. My email to Paul Witts didnt work - you don't happen to have an up to date one for him?
Also, if you happen to be able to help with my research for the program, I'd be very grateful.
Thank you, Adam
-------- Original Message --------
Hi John/David/John & Paul,
I found your contact details at this site: http://www.monaropioneers.com/nimmitabel/pioneers/tivey-s.htm
"Who's Been Sleeping in My House?" is a television program broadcast nationally on ABC TV at 8pm on Friday night (ABC1) : http://www.abc.net.au/tv/whosbeensleeping/ You can watch past episodes online on the "iview" link on this site.
The program explores social history through the intriguing questions people ask about their homes. Our presenter, archaeologist Adam Ford, sets out to answer those questions and reveal a past that isn't always in the history books. I am currently beginning to research a home in Inglewood, VIctoria. The name of the home is "Nimmitabel" (23 Verdon St) and was built by Joseph Tivey:
"After having purchased three allotments of land in 1879, Joseph Tivey contracted local builder W. Garland to build this fine home in 1881 at a cost of £1300. The house was built with thirteen rooms to accomodate the fourteen Tivey children and had a lavish and extensive garden. Joseph was the propietor of a general merchandise and liquor store in Brooke Street. Following his death the house was occupied by his son, Sam Tivey." (from a plaque on the home)
The new owners of this home are very keen to learn more about it's history and I'm currently trying to find out as much as I can about Joseph Tivey, his life, his family, descendants and his home. I'm also trying to draw links between his experiences (and his home) to the broader social history of the area at the time. Any information will help!
Although it's unlikely, I would also love to find a living descendant that might be able to shed some light on the home and the their lives, either through personal letters, stories, photos or pure myth/legend!
If you know of anyone or any material that might help fill in the blanks, I would greatly appreciate hearing from you.
Thank you for your time.
Adam Collins
Researcher
Joined Up Films
PH: (02) 8333 3305 (my ABC office in Sydney)
Mob: 0402 292 028
Email: research@joinedup.com.au
Hi Adam,
The only email addresses we have are displayed on our website. You email will appear in our next newsletter and perhaps one of our readers can assist you.
Regards, Ian
Hi Ian,
Thanks great and much appreciated but would I be able to rewrite it for publication? I think I'd change a few things if I knew it was going into a newsletter.
Thank you, Adam
Hi Adam,
You can send your material to our Editor, David Knox, but you had better be quick as the next newsletter will be distributed (by email) next week.
Regards, Ian
---
GAME
From: The Thomas family
Sent: Wednesday, 27 March 2013 8:28 PM
Subject: Monaro Pioneers query - Thomas Game descendants
Dear Ian
Not sure if you can help with this query. I am researching descendants of Alfred Joseph Game (born 1872 Liverpool NSW died 1962 Bega NSW).
The Monaro Pioneers website has given me some useful leads, but I'm wondering if you have any family contacts you can put me on to?
I believe that Alfred had a third child Basil Henry Allan Game (NSW BDM index 1646/1911), but I haven't been able to find anything about Basil.
Whilst I am not a descendant of this family, I believe that Basil was born in a cottage that we recently purchased and that his siblings Maisie and Frederick grew up in the cottage. I am hoping to track their descendants to see if they have any information or photos about our cottage.
Kind regards, Heather Thomas
Hi Heather,
Unfortunately we don't have any contact information for that family. I did some further research and discovered that Basil Henry Allan Game was in fact Vassil Henry Allan Game, the NSW Birth Index has his first name misspelt. His WW2 service record shows Vasil but the Electoral roles show Vassil. He married Rena Lee Squire in Bega in 1937. His residence listed on the Electoral roles is Springvale, Bega, NSW. Rena Lee died November 17, 2008 in Bega but I cannot find any death reference for Vassil. Perhaps the Bega Historical Society can help you? This email will appear in our next newsletter and perhaps one of our readers may also be able to assist.
Regards, Ian
Thanks so much for your help Ian, it is much appreciated.
Cheers, Heather
---
RAYNER
From: Bruce Bolton
Sent: Thursday, 28 March 2013 8:13 AM
Subject: Re: MONARO PIONEERS NEWSLETTER - 2013 Number 1
Hi David
please find attach some details that you may want to use.
Regards, Bruce
Thank you Bruce,
Can you please tell me who the parents of Katrina Rayner are?
Regards, Ian
Hi Ian
Katrina's mother is Isabel Rayner nee Buckley I looked on the web under John Patrick Buckley and found a photo of Mount Emerald. This was Isabel's home until just recently when she retired with Barry to Merimbula.
Barry Rayner is part of the William Charles Rayner the 'Sawmilling Rayners'.
kind regards, Bruce
Thanks Bruce,
Regards, Ian
---
JENNINGS
From: Steve & JO
Sent: Wednesday, 27 March 2013 3:47 PM
Subject: Ralph David Jennings
Afternoon Ian,
Just a short note to let you know that Ralph David Jennings passed away on Saturday.
Ralph David Jennings, twin of Reginald George Jennings 29th July - 23rd. Mar. 2013
Ralph's wife Aunty Phil, is still with us.
Regards Johanna
Hi Johanna,
Sorry to hear that sad news, thank you for letting us know.
Regards, Ian
---
OWEN
From: Genie
Sent: Tuesday, 26 March 2013 3:32 PM
Subject: Re: ernest john owen
Hi Ian,
I had to correct the news item so there could be a few mistakes in it, I use the name Pronto on Trove. I didn't like to give you the church record as I feel these are private but a newspaper item is not. I hope this is of some interest and help to you. I have found so much on Trove, still looking too. Judith Long.
Goulburn Evening Penny Post Thursday 26 July 1917
WEDDING Mr. Ernest John Owen, son of Mr. and Mrs. Henry Edward Owen, of Mogo Mogo, Charleyong, Braidwood, was married by the Rev.Canon Carver in St. Saviour's Cathedral on Wednesday morning to Miss Lilian Venetia Evelyn Bill, daughter of Mr. and Mrs. M. Bill, Bell Vale, Goulburn. The bride, who was given away by her father, was attired in ivory crepe de chine, with silk ninon trimmings,, wore a wreath and veil, and carried a shower bouquet, a gift of the bridegroom. The bride's maids were Misses Gladys and Mona Bill, sisters of the bride. They wore white voile dresses, with pink streamers, and black hats, relieved with pink posies. Their pink shower bouquets were gifts of the bridegroom. The bride's present to the bridegroom was a pair of gold sleeve links, the bridegroom's to the bride a gold bangle,, and the bridegroom's to the bridesmaids gold brooches. Mr. Lance Blake, cousin of the bride was best man, and Mr. Arnold Bill, brother of the bride, groomsman. The breakfast was held at the Joplin Tea Rooms. Subsequeintly the newly married couple, who will live at Tarlo, left for the Blue Mountaitns. The bride travelled in a mole grey cloth coat and skirt, with black hat. The numerous wedding presents included cheques.
Thank you,
Regards, Ian
---
PRESTON
From: Coral Oliver
Sent: Sunday, 24 March 2013 10:16 PM
Subject: Proposed Change: Family: Preston, Arthur Richard/Mead, Edith Divine (F20878)
Proposed Change: Family: Preston, Arthur Richard/Mead, Edith Divine (F20878)
Tree: Eden Monaro Pioneers
Link: http://monaropioneers.com/TNG/familygroup.php?familyID=F20878&tree=MP
Description: I would like to add some more children to Arthur and Edith
Ida May, Dulcie Ellen, Gladys Rebecca, Myrtle Isabell and Reita Janette
I ALSO HAVE HUSBANDS FOR THESE
THANKING YOU CORAL
Hi Coral,
Thank you for the information, if you could supply their spouse names and dates we would be most grateful.
Regards, Ian
---
PARKER
From: Charles Parker
Sent: Friday, 22 March 2013 4:54 PM
Subject: Round Plain Cemetery.
Hello Ian, I am writing to you to ask if you would please enter the following information into the round plain cemetery web site.
My wife, Veronica Gail Parker. date of birth 21.12.1949 Died on 14.4.2012 and was interred in section 6.28 on the 19.4.2012. Veronica was the daughter in law of Francis Hedley Parker, Granddaughter in law of William Rankin Wallace and related to all the Biilmanns interred there.
I would be indeed grateful if her burial details can be included in the information available on this site.
Thanking you in anticipation.
Yours faithfully.....Charles Parker
Hi Charles,
I am not able to add your wife's details to the Round Plain Cemetery web site as I am unaware of any such site. However, I have added her details to our database which now shows she was interred in the Round Plain Cemetery.
Regards, Ian
---
From: Barry and Margaret
Sent: Friday, 22 March 2013 3:14 PM
Subject: Snowy mountains
For several years now I have been trying to find a placement for a map I had of the Snowy Mountains leases & Permissive Occupancies.
I found the map amongst my parents effects & as it contained the names of all those who had a lease or Permissive Occupancy around 1955 I had it restored & framed.(My grandfather Amos Williams had a Permissive Occupancy lease) I guess this how it came to be in the family. I checked with my family but as it is quiet large nobody had the space to hang it, hence my decision to loan it to a museum.
In January I was referred to the Snowy Scheme Museum in Adaminaby, at that time I felt it was not applicable to that museum but took a photo of the map with me .Upon talking to the assistant curator I found we were on the same wave length that the history of the district was being forgotten .She is most enthusiastic about creating a section prior to the Scheme so I returned last week with the map & I was also able to provide her with a selection of small black & white photos of the men in the mountains with the sheep, grandfather only had sheep so no photos of cattle She is arranging to have copies made to add to what is a very small display at this stage.
With this in mind I wondered if you had a space on your website that we could advise people that there is a section being created to show the history prior to the 1947 when the Scheme started. What Tracey is looking for is old photos of the Snowy Mountains districts i.e. Berridale, Adaminaby, Jindabyne & surrounds. They can be farming, old building anything that would give an insight into what life was like.
They are also very short on volunteers so if anyone has a spare hour or two their time would be greatly appreciated.
For further detail Tracey can be contacted on:
Phone:
Mobile:
Email:
Kind Regards, Margaret Parker.
Hi Margaret,
We can add your email to our next newsletter and that might help your cause. I can also put a notice on our home page if Tracey wants to send me the wording.
Regards, Ian
---
McGUIGAN
From: Judy McCutcheon
Sent: Friday, 22 March 2013 3:05 PM
Subject: Proposed Change: McGuigan, Susan (I5354)
Proposed Change: McGuigan, Susan (I5354)
Tree: Eden Monaro Pioneers
Link: http://monaropioneers.com/TNG/getperson.php?personID=I5354&tree=MP
Description: Susan McGuigan died Wangaratta Base Hospital, Wangaratta, Victoria, 16 Sep 1942 (Vic BDM's 28661/1942) aged 82 years. Father Patrick McGuigan, Grazier, Mother Ellen Unknown Usual residence Harrietville, Victoria. COD Cardiac Failure and Senility. Informant looks like Robert Handley, Authorized Agent, Wangaratta. Stated 70 years in Victoria, 12 years in NSW. Spinster, no issue.
Judy McCutcheon
Thanks Judy,
Regards, Ian
---
David the attached is for the paper to use to ascertain what happened to the not only the gun but the large mortar as well. The date of the pic is not known. Maybe someone will advise in due course.
Regards, Gary Lucas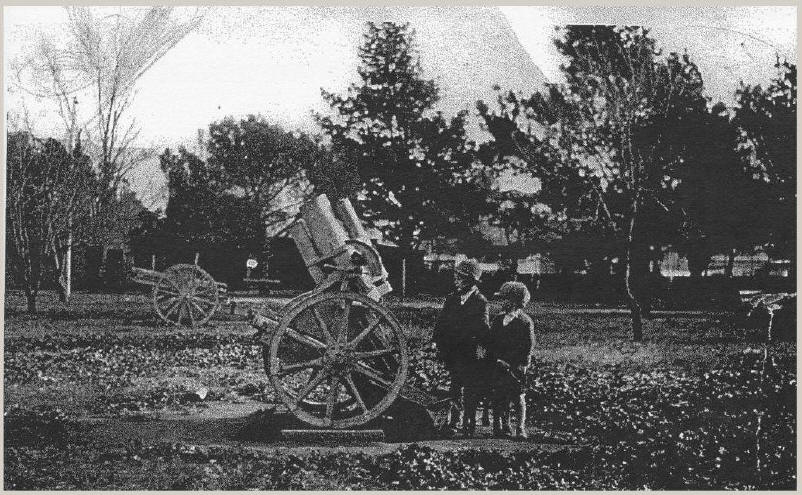 David,
Once received I will forward the picture to you.
Cheers, Gary
From: David Knox
Sent: Friday, 22 March 2013 6:56 AM
To: Gary Lucas
Subject: Re: Cooma War Trophy
Hi Gary,
A photo always attracts interest so if you can supply a couple I will include them in the Newsletter.
Cheers, David
On 21/03/2013, at 6:31 PM, Gary Lucas wrote:
David,
Thank you for the advice on the War Trophy. I have emailed the Cooma RSL seeking their help today as well. Would a pic of the war trophy whilst at Cooma help? Once again thank you.
Gary Lucas
From: David Knox
Sent: Thursday, 21 March 2013 6:02 PM
To: Gary Lucas
Subject: Re: Cooma War Trophy
Hi Gary,
Your request has appeared in the last two Monaro Pioneers Newsletter and to date I have not received any responses at all.
The link below will take you to the Newsletter repository within the Monaro Pioneers website.
http://www.monaropioneers.com/Newsletter/MP%20NEWSLETTER%20-%202013%202.htm
I am happy to keep your request listed in the Newsletter for a few more editions in the hope someone who reads the newsletter has some information.
Cheers
David Knox
Newsletter editor
On 21/03/2013, at 10:41 AM, Gary Lucas wrote:
From: Gary Lucas
Sent: Thursday, 21 March 2013 10:34 AM
To: 'nleditor@monaropioneers.com'
Subject: FW: Cooma War Trophy
Dear Sir,
Could you please advise of the status of the request sent on the 24th January 2013?
Regards, Gary Lucas
Secretary
City of Liverpool
Sub-Branch of The RSL
From: Gary Lucas [mailto:gjlucas@bigpond.net.au]
Sent: Thursday, 24 January 2013 1:18 PM
To: 'nleditor@monaropioneers.com'
Subject: Cooma War Trophy
Dear sir,
The City of Liverpool sub-Branch of The RSL is seeking information on the WW1 German Field Gun that is in the possession of Liverpool city Council. The War Trophy in question is number 13379 was issued to the Cooma people in May 1921 for the displaying of it in recognition of Cooma's contribution to WW1. This war trophy has been in the possession of Liverpool City Council circa 1965. Why Liverpool has it is unknown therefore I seek your help in establishing as to why, how and when it came into the possession of Liverpool. Maybe this information can be obtained from yourself and the local Historical organisation to assist the City of Liverpool sub-Branch of The RSL.
Should you require further details on this matter please feel free to contact the City of Liverpool sub-Branch of The RSL 171 George St Liverpool 2170. My contact details are (m) 0417451813 or email gjlucas@bigpond.net.au
Yours Sincerely
Gary Lucas
Hon. Secretary
City of Liverpool
Sub-Branch of The RSL
---
ELLIOTT/ GIRVAN/ STANDEN/ ULRICH/ RAMSDEN
From: n3
Sent: Wednesday, 20 March 2013 2:15 PM
Subject: Monaro Pioneersan
Good Afternoon Ian

I have been looking at your site for some time now, as I am originally born and bred in Bombala and have found the site to be very interesting with notes about my family being Elliott, Girvan, Standen, Ulrich & Ramsden.

I have noticed that you can have a log In now and was wondering when you log-in what sort of information is available to you.

Many thanks for your time.

Regards , June Ceretti
Hi June,
The Login gives you direct access to the database to search and use the features thereof.
Regards, Ian
---
LATIMER
From: Pamela Laurie
Sent: Sunday, 17 March 2013 9:06 AM
Subject: Proposed Change: Latimer, Charlotte (I217197)
Proposed Change: Latimer, Charlotte (I217197)
Tree: Eden Monaro Pioneers
Link: http://monaropioneers.com/TNG/getperson.php?personID=I217197&tree=MP
Description: Charlotte Latimer 1853-1933 married John (Jack) McDonald
1858-1944 in Bega in 1880. John was a Cheesemaker in Bega. They had 7
children:
Alfred Ernest 1881-1963
Arnold 1882-1885
Elvyn Arthur 1884-1917 KIA Messines, France 21/2/1917 Ronald Lane 1886-1968 Charlotte Edith 1889-1989 Harold John 1894-1992 Dorcas Ellen 1895-1990 Have their families' names if you wish.
Pamela Laurie
Thank you,
Regards, Ian
---
GILLEN
From: simpsons
Sent: Friday, 15 March 2013 7:03 PM
Subject: Gillen Family Tree
Hi Ian,
My name is Cheryl Simpson I am the Great Great Grandaughter of Thomas Gillen & Jane Anne Brosner, attached is my grandfathers (James Gillen son of Thomas & Jane Gillen) family tree I have put together,this is my mothers side.
I could not beleive it when I came across the Monaro Pioneers site just wonderful.
Will keep intouch.
Cheers, Cheryl.
Thank you Cheryl,
Regards, Ian
---
BISHOP
From: R Heinz
Sent: Wednesday, 13 March 2013 10:15 PM
Subject: Re Thalia Bishop
Dear Ian,
I am trying to find where my great great grandmother Thalia Bishop is buried
She died 17th January 1910 at Moruya
She was married to Henry Parbery, and their second son Richard was my father's grandfather, Henry drowned and she married Jeremiah Bishop, I see where her Bishop family line is involved with The Coolangatta Estate at Shoalhaven
I still have to buy the book Thalia's Way about the Pioneers there in the early days, I hope the book will contain a photo of Thalia
I am 71 and still learning how to get around all this
Hoping to hear from you,
Regards, Jan Heinz
Hi Jan,
All the information we have is already available on our website.
Regards, Ian
---
From: Ian Harvey
Sent: 2013-03-13 05:48
Subject: for the newsletter
Hi David,
The following article has been generously supplied by Judy Richards and I have added it to the Bega page under Towns ….
Regards, Ian
BEGA AND THE BEGA DISTRICT.
Australian Town and Country Journal
11 November 1871
BEGA means, in the aboriginal tongue, "beautiful,' -and the word is most truthful as well as expressive, it proves,' like many other native names, that the blacks were by no means destitute of taste and feeling In fact many of their names show a keen appreciation of scenery, and express, in a Single word, the Characteristic features of the locality designated. All visitors concur in the opinion that no place in the colony so nearly approaches in its external features and scenic peculiarities the beautiful-English county of Kent. View it from any of those neighbouring hills and the scene is striking. Here are rivers whose courses are marked by rows of trees surrounding it on three sides ; lanes leading to the town from all points ; and churches on the hills. Beyond the river, on one hill - is Captain Campbell's fine-looking house and the Yarraning property. On another – is Daisy Bank, Mr John Dawson's and other buildings, with Tarraganda between. Dr. Lang, after visiting this district; truly said: "The Bega country is decidedly the finest I have seen in New South Wales. It is beautifully diversified with hill and dale; lightly wooded in its natural state, and the trees of an umbrageous character, quite unlike the spindle-shanks we find about Sydney. It is equally adapted for pastoral as well as agricultural purposes, the soil, even to the tops of the hills, being of first-rate character. On the whole, the Bega country has more of an English aspect than perhaps any other part of the colony and the only thing wanting to complete the resemblance is the squire's house and grounds every mile or so. But this will all come in time, for to use tho tailor's phrase, 'there is the makings of a regular English county in Bega, and no mistake.' "This opinion was given by Dr. Lang nearly six years ago, and the last prediction has partially come true.
The township of Bega was formed about seventeen years since, when tho first land sale took place. Allotments forming a township on the southern side of the river were sold before this, but the northern side was soon considered the most desirable, and soon became the most populous-only a few houses being erected on the first site. As Bega is so little known in the other parts of the colony, I must first state that the town is situated on the Bega River, about 250 miles south of Sydney and the sea coast is about eight miles distant in a direct line. The population of the town, according to the last census, was 887, but this includes a few houses in the suburbs. However there has been a wonderful natural increase of the population since, for which allowance must be made, and which would possibly bring the population up to a thousand, or very near it.
Bega has four churches, two schools, two newspapers, a School of Arts, a bank, a court-house, and a dozen magistrates, a lawyer, a licensed surveyor, a doctor, a telegraph and post-office, three hotels, five stores and two tanneries. The principal streets of Bega are Church, Auckland, Carp, and Gipps streets. Of the churches there are two wooden, one stone, and one brick building. The Church of England is a wooden building, in the centre of the town. The want of a new church is very much felt, but I am given to understand that it is the intention of the church wardens, and the present generally-respected and indefatigable incumbent, the Rev. A, D. Faunce, to shortly make a move by raising subscriptions, which will undoubtedly be crowned with success, as the congregation, or perhaps I should say, the inhabitants, generally will respond. It is worthy of remark that all four churches in Bega were erected by the joint subscriptions of the Episcopalian, Roman Catholic, Presbyterian, and Wesleyan bodies, who cordially assisted each other; so in the erection of the new Church of England much assistance, it is confidently anticipated, will be given by the other denominations. About a mile from the centre of the town there is already, in connection with the church, a very well built brick parsonage, erected by subscription. It is situated on a commanding position, and the glebe land consists of about sixty acres, the gift of Mr. T. S. Mort, whose benevolence was further extended by a substantial subscription to complete the building.
The Roman Catholic Church is in the best position -almost on the top of the bill-overlooking the town ship below, and at the Eden, Merimbula, Candelo, and Kameruka road entrance. It is, however, but a plain wooden structure, and beside the church services on Sundays, it is used as a Roman Catholic Denominational School during the week. A new church is urgently required. The Rev. P. Slattery officiates throughout this extensive district. At the side of the Catholic Church there ÎB a capital presbytery just completed. It is built of brick, is well-furnished throughout, and a garden is being formed in front,
The Wesleyan Church is a brick building, rather small, but neat in appearance. It has only been completed (free of debt) a short time since, at a cost of £450. The Rev. Matthew Maddern is the Wesleyan clergyman of the district.
The Presbyterian Church is built of stone, with shingled roof - also of recent erection - at a cost of about £500. It is a pretty edifice, and is situated on the slope of the hill in Church Street. Mr. Thomas Moorhead was tho contractor for the erection of this building. The Rev. W. Thom is the minister for the town and district generally. This "parish" of the Bega clergy men is another immense one, and may be said to extend from Cobargo to Genoa (or Jenoa) over 100 miles in length, and over thirty-five in breadth.
Next in importance come the schools, which often deserve so much and receive so little attention from the public There are certainly exceptions, as in Bega, but tho majority of masters may work and slave for year after year in a school without the slightest interest being taken or encouragement being given. None require it more, therefore I endeavour to give the inspector's reports the widest circulation by publishing them as often as possible. By the present unwise arrangement, these reports are seldom seen by the teachers, and never by the parents. It must be interesting to the latter to hear how the school in which their children attend is spoken of by those whose duty it is to report upon it. The majority of the schools in the colony are now being conducted in a most satisfactory manner. Teachers, who take a pride in their schools, invariably feel honoured by the visits of strangers, and delight to prove the superiority, and show what their pupils can do. In Bega this is particularly the case.
The Public School is a brick building, looking rather old and mouldy, and having a perfectly disgraceful residence for the teacher attached. This condition of the residence is owing it is alleged, to the low state in which the school had fallen in the estimation of the public by the misconduct of a previous teacher, whom the impartial inspector condemned in a manner which 'elicited the approval of the community. This incompetent, and by an inspector's report, "brainless individual," resigned and left the Council's employment some months since, and in his place came a gentleman under whose management, I am happy to state, a glorious revival has taken place, giving the inspector an opportunity of reporting most highly of the new management, and as it should do, awakening up the people to a sense of importance of keeping a good master. On the occasion of my visit, there were seventy-four children in attendance, and the number on the roll was eighty-six. The average attendance was also represented by the first number, which is thus shown to be very high. Mr. Oswald Welby is the head-master, and he is assisted by Miss Welby. The pupils, who presented a most pleasing appearance, were examined in grammar, including reading and analysis, arithmetic, geography, geometry, and algebra. In all these branches the pupils were remarkably proficient, and I admired very much the practical nature of the instruction. The writing also was clean and the figures were commendably neat. In the infant and smaller class-rooms I found Miss Welby taking any amount of pains with the little ones, who were exceedingly anxious to excel each other in their - simple lessons. The discipline of the whole school was well maintained, and the children were very orderly. Where the whole of the pupils acquitted themselves it is impossible to do anything but give the names of those whose proficiency came immediately under my notice in one or more of the subjects in which they were examined. They were :-Masters Gowing, Thomson, O. Herne, Percy Berne, Frank Jones, Robert Sharpe, George Moon; and Misses Esther Prescott, Isabella Prescott, Helen Thomson, Ann Galli, Eliza Anderson, Jane Underhill, Edith Braine, and Alice Britten. W. McIntyre, Esq, the inspector of schools for the district, at the conclusion of a severe examination held at the beginning of the year, reported as follows: "The proficiency of the third class ranges from very fair to excellent, and the general management of the school has been much improved since last inspection, held in January, 1870." The report of last inspection under a former master may be judged from tho following extract:-" The attainments of the pupils in all the classes are much below the standard of proficiency required. The pupils are disorderly, and the school-room floor is in a filthy condition. The apparatus and books are not kept in an orderly manner. The general management of the school requires immediate attention." Contrasting these reports, the result of a change of masters, must be gratifying to the general public. The following gentlemen are the members of the local board:- -Messrs. W. D. Tarlinton, J.P., F. Berne, J.P., J. Heady, W. Heath, E. E. Bligh, and D. Gowing.
Since writing this I have learnt that the local board has deemed it necessary to apply for increased accommodation, and accordingly a girls' school has been granted in connection with the Public School, and will be held by Miss Welby in the wooden building at present used for the services of the Church of England
in the town.
The Roman Catholic Denominational School held in the church, is under the management of Mr. O'Grady, a gentleman of considerable ability, and the presence of a number of children of other denominations receiving instruction, shows how highly the education there received is appreciated. There were seventy-two children on the roll and over fifty in attendance, when I visited the school. The examination in grammar, arithmetic, geography, &c, was very severe, and the children's' replies to every question showed how well grounded they were in the subjects taught. Amongst those who distinguished themselves during the examination by answering difficult questions, I noticed the following:-Mesdames Heady, McNamara, O'Neil, and Leonard; masters D'Arcy, Beck, Brown, Manning, Underhill, and Kirby. The writing was excellent. The following gentlemen comprise the local board: The Rev. P. Slattery, Messrs John D'Arcy, J.P. W. D. Tarlinton, J.P. P. Kirby, and M. McNamara.
The School of Arts is a credit to the town. It is built of brick. The interior is decorated with mouldings, and a stage and gallery are also erected within the building. The work has just been completed and the total cost was about L700.
The court-house is also of brick, but it is a poor building, although the Government have lately been patching it up a little. The gaol is at the back of the court-house, but it is wanting in both security and convenience. The court day of Bega is every second Tuesday. Curiosity prompted me to attend on one occasion during my visit, and there were four magistrates on the bench. The small court-house was filled by the inhabitants listening to a sly grog-selling case. The case resulted in a fine of L30, though the defendant maintained that he was merely having a social party at his house, and invited a few, whom he thought friends, and he only charged them for cakes and lollies, not for the drinks. The discussion of this case was kept up for a week or ten days, so unusual was it. Sergeant Cleary is in charge of the local force, but they number only three.
The post and telegraph office is nearly opposite the School of Arts, and is a very small building for the large amount of business transacted by Mr. Baker, assisted by Miss. Baker, the latter exceedingly clever as a sorter of letters, and reputed to be the most correct lady telegraphist in the colony. Mr. Baker has been many years in the Government service; but his health is failing, and in consequence, as I was given to understand he will shortly cease his connection with the postal department. I hope this may be avoided, for the whole district speaks well of him, and I have been generally requested to bear testimony to his courteous and obliging disposition. At all hours - night and day, this gentleman and his daughter have readily delivered letters to your correspondent, and the general public; and with bad mail arrangements, their patience must have been severely tested.
There are a number of societies in the town flourishing, among which are the Oddfellows, a branch of the Holy Catholic Guild, and the Sons of Temperance.
The Bega Jockey Club hold annual race meetings and prizes to the value of two hundred sovereigns have been run for at each of these. A country race meet is well worth seeing, and I have never enjoyed myself so much at Randwick, as I have at Bega. People all seem to know each other, and come from the district in twos and threes on horseback. The ladies are all good horse women, and the course presents a very pleasing appearance on race days. The people, too, are very free and jovial in their manners, and at intervals during the advertised races, hurry sourrys, and private matches come off, W. D. Tarlinton, Esq., J.P., is president, Dr. Shiels, vice-president, Mr. Fred. Berno is hon. treasurer, and Mr. W. Ellis, hon. secretary; and Messrs. C. T. Stiles. J.P., K. E. Bligh, J. Tarlinton, W. Allen, and John Heady, are on the committee.
There is a branch of the Commercial Bank in the town, and Mr. Walker is manager. I believe that a fair amount of banking business is done.
The principal stores are those of Messrs. E. M. Broad, J.P., Fred. Berne, J.P., W. Ellis, James Thomson, and A. Sattler. There are only three hotels in the town, viz., J. Rixon's Commercial, Underhill's Bega Family Hotel, and Mrs. White's Victoria Inn. There are two chemists, Mr. W. H. Hopkins, and Mr. Hearne; two tanners, Mr. Spence, in particular, doing a large business; two saddlers, Messrs. J. W. Lenehan and J. McPhee; one plumber and tinsmith, Mr. C. H. Anderson; three butchers, Miller, Underhill, and Powell; and, curiously enough, no baker; though the want of the latter is said to be much felt. Writing, of butchers reminds me that game in the shape of wild duck, teal, &c., was so plentiful this year that it is said to have made a difference of a bullock a week to the butchers. Before the hotel door I was staying at, in the centre of Bega, at sundown one evening, my attention was called to a paddock, not fifty yards off, in which were feeding two or three hundred wild ducks, which had roamed up from a lagoon lower down. The paddock was literally swarming with them.
In this young township of fifteen years growth, land has become very valuable, and I know that for a half acre allotment £200 was refused. Suburban lands realize from £2 to £4 per acre.
Every town has its wants, but the more important in Bega is the want of a municipality. The streets in wet weather are very bad indeed. Efforts have been made from time to time, but in almost every instance without any satisfactory result, as counter-petitions from persons who fear taxation are always got up.
Before concluding a description of the township I append the following official directory for public information:- Magistrates : Henry Wren (chairman), Edward Haslingden, Robert Ritchie, John D'Arcy, Charles F. Stiles, W. J. Lane,, William McGregor, R. T. Kirby, Fred. Berne, R. M. Broad, John Jauncey, Esquires. John Davis, Esq., is Clerk of Petty Sessions, and Crown Lands Agent. Clergy: Church of England, the Rev. A.' D. Faunce; Roman Catholic, the Rev. P. Slattery; Presbyterian, the Rev. W. Thom; Wesleyan, the Rev. M. Maddern. Dr. Shiels is the only medical practitioner, and he is also coroner. Mr. Thomas Rawlinson is the only resident solicitor; and Mr. John Heady is the licensed surveyor of the district.
I next started for Tathra, the nearest shipping port of the district, about nine miles off. After getting out of the town I passed; the parsonage and a few farms. Going down a slope a scrubby rise opposite was pointed out as Murdering Range; so named in consequence of the murder of a stockman, by a blackfellow, for stealing his gin or lubra. A little further on was pointed out the spot where, years ago, a blackfellow, not believing in the effect of a gun-shot, foolishly exposed his open breast, and invited a whiteman to shoot. The gun was presented and fired, and the blackfellow made a jump in the air, and fell dead."
A few miles beyond this I turned to the left, and at the end of a quarter of a mile found myself at Warragubra, the property and residence of Messrs. Allen and Woods, who are, without doubt, two of the largest agricultural producers in the district. Their properties at Warragubra, Jenkins's Flat, and Taraganda, comprise about 3000 acres, principally a rich agricultural land, having a river frontage on every farm. The Warragubra Farm is one of the best, and consists of nearly 1200 acres of land. A large amount of work has been done here by these true yeomen, and they have changed a heavily-timbered and scrubby flat into beautifully clear fields. This year 220 acres have been placed under maize, and forty acres under grasses at Warragubra, and about 120 acres of maize and 60 acres of grasses have been sown at their other farms at Jenkins's Flats and Tarraganda. Near the comfortable house of Mr. Allen there are capital farm buildings, including a large barn and milking-shed, dairy, dray house, stables, &c. About 120 cows are being milked on the farm this season. The great feature of the place is the immense piggery, and an idea may be formed of the trade done with Melbourne when it is known that Messrs. Allen and Woods have sent over 1100 pigs to the Melbourne market by boat from Eden this year. These were valued at considerably over £2000. The fattening operations may be judged from the large quantities of corn that are grown and consumed. Passing through some meadows where four or five Millionaire foals and a Vanquish filly were kept, I came to a vineyard of about five-acres. The whole of the vines are on wire trellis work. It is under the care of a person who thoroughly understands vine cultivation.
About a mile and a half from Allen and Woods's I again turned to the left into Mr. Gowing's farm - an estate acknowledged to be worked on the most approved farming principles. Mr. Gowing ranks among the few in the district who have had experience in the home country. He has also been farming in New South Wales since 1841. He possesses altogether 3000 acres of good land, of which there are nearly 1000 acres of rich alluvial soil. This year 400 acres are under maize, and he is also a large pig-breeder, having dispatched between 600 and 800 pigs to Melbourne during the past season. Mr. Gowing has suffered most severely by floods which swept a fine residence away, and caused serious damage to fences and out buildings. About a quarter of a mile from the house he has a substantial mill erected, and nearer still stone, stables and store-rooms. The most prominent feature of the place is the nice garden which is immediately before the present residence. It is artistically arranged, and had in it camellias in bloom, roses of every kind, "French May" hedges, and other nice shrubs and flowers, while rising in the centre was a fine Norfolk Island pine. Below the garden was an immense orchard, having every kind of fruit. My time did not permit of a visit to Mr. Gowing's saw-mills, though samples of the -sawn timber spoke for themselves. This estate is called Jellat Jellat.
About half a mile further, I again turn off the road, this time to the right.- to visit an equally fine estate, the property of Robert Ritchie, Esq., J. P. Spread before the eye are hundreds of acres of rich, alluvial deposit, and the scenery is in reality splendid. Skirting green field sown with prairie grass and clover, and meadows, in which quiet cows were grazing, was a fringe of low hills, which bounded tho estate, and lent a pleasing effect to the scene. Over two hundred acres are under cultivation this year, and large dairying and fattening operations are carried on. While accompanying Mr. Ritchie over these rich fields, it came under my notice, and is deserving of mention, that he is a thorough believer in good drainage, and before us were results; for large sums of money had evidently been expended in constructing these capital drains intersecting the lands. A large extent of land in artificial grasses had also been sown, which was springing up wonderfully. Passing some capital stock, the increase of imported bulls, we next visited tho dairy which is a well-constructed building, fifty feet by twenty, and has a shingle veranda all round, to secure fresh draughts of air. In the milking season there are from one hundred and fifty to two hundred and twenty cows milked daily. The churn is on the box principle, worked by horse-treadle motion. A fine barn, perhaps the best in the district, next occupied my attention. It is eighty feet long and about twenty-five feet wide, so constructed as to admit of a loaded dray passing through it. Huge pillars and posts support it throughout, and the pillars are driven six feet in the ground. Farming implements, on the most recently improved principles, next claimed attention, foremost among which were Horne's Coulter ploughs, maize sowers, &c, imported direct from England to Mr Ritchie's order. I should mention that this farm sent over a thousand pigs to Melbourne during the past season. Altogether, the visitor could not fail to admire the pluck and energy of the spirited owner, and his brothers.
Leaving Jellat Jellat, and Mr. Robert Russell's farm a little farther on, a smart ride, through rather a barren country, for five or six miles, brought me to the port of Tathra.
Tathra harbour is the property of the Crown, but is under the control of trustees : Messrs. D. Gowing, W. Allen, F. Berne, John D'Arcy, and John Jauncey. The harbour is nearly two miles across, and exposed to the north-east winds; consequently, excepting in fine weather, vessels cannot call. The pier is sixty feet long, and about fourteen feet across, and the draught of water in fine weather is sixteen feet. lt was erected about eleven years ago, at a cost of £800. The moorings, including anchor, buoys, and chains, cost another £500. There is also a receiving store here, having upper and lower floors forty by twenty feet ; but neither of these are water-tight, for the sea breaks over and into them in almost every gale of wind. Mr. Henry Sargeant is the storekeeper, and he is a most indefatigable "Old Salt," and for a good yarn can be backed against the world. A new store is urgently required at Tathra, but the trustees complain that they have no money to lay out; not even to repair the road from Bega, which is in a disgraceful state in some places.
Tathra is a free port-that is, it has no wharfage duties, and no rules or regulations are in existence. Persons often monopolize the wharf, and store for weeks and months with their goods, until it pleases them to take them away; but, "first come first served," and others have then to leave their goods outside for want of room. Two schooners, the Gipsy and Ellen, visit the place about fortnightly, and the I,S.N. Co.'s steamer every week, weather permitting. The principal export during the past twelve months has been wattle bark, at the average rate of bags per week; and cheese, 200 per week, beside small quantities of butter and bacon.
If Tathra is to be kept up, it would be advisable to at once put tho wharf and store in serviceable condition, and to make a better approach, or teams will tumble into the sea in wet weather. I am certain that a few more stiff gales will carry away the store, which is already much undermined.
---
FITZPATRICK
From: nerida hoy
Sent: Tuesday, 12 March 2013 7:19 PM
Subject: Dr Louis John Fitzpatrick
To whom it may concern,
As part of the Walcha District Historical Soociety, we have been researching World War One Soldiers from Walcha distict. This includes Noel Fitzpatrick only son of Dr Louis Fitzpatrick. The information on your site about Dr Fitzpatrick has been most helpful. During W W 1, while Noel was in the Australian Flying Corps where he received the Military medal, Dr Fitzpatrick travelled to England via USA to presumely serve as a medical officer. He lived on a property called "Aberbaldie", Walcha. Dr Fitzpatrick's name, as well as Noel's, is on the Walcha Memorial in recognition of his service.
We are looking for a photograph and/ or picture of Dr Louis John Fitzpatrick and wondered if you had one in your records which you could scan and send to us.Any costs of course would be reimbursed. Our book is being published in the next twelve months.
Sincerely, Nerida Hoy on behalf of Walcha District Historical Society.
Hi Nerida,
Unfortunately we have no images of Louis or Noel.
Regards, Ian
---
GOODWIN
From: Jan Kociumbas
Sent: Tuesday, 12 March 2013 3:14 PM
Subject: Family of William Goodwin "Jr" (1828-1909)
Dear Ian,
I have just read the contribution by Kate in Newsletter No.2, 2013 on the descendants of Edward Arthur Goodwin (1865-1939), son of William Goodwin (1828 -1909) and Emma Ward (1840-1915). I would very much like to contact Kate since, as you may recall, for some time now I have been trying to solve the mystery of unmarked graves on my property, which was formerly part of William Jr's "Tumbledown" run. Of course what I am hoping is that Edward Arthur, prior to his departure for Western Australia in the late 1890s, might have left some family records or correspondence which might cast some light on the mystery. A slim hope indeed, but not impossible, for during the period from about 1892 to 1908, William Jr and some of his younger sons did live and work on the "Tumbledown" holding, including right by the site of the graves, I believe as both farmers and fossickers.
Thank you so much for your assistance,
Regards, Jan Kociumbas
Hi Jan,
The email address you seek is … Kaye <removed for privacy purposes>
Regards, Ian
---
WILSON/ ROBINSON & Co
From: MARIAN HASSETT
Sent: Monday, 11 March 2013 3:36 PM
Subject: Manero Convicts
Hi
I have a Eliza Wilson whom you have listed on your convict page which reads:-
Eliza Wilson Age 26 Ship Andromeda Year 1835 Master Robinson & Co.
I want to try and find out more about Robinson & Co as Eliza was there.
I know Eliza's story after she married (approval was never given)
What I am trying to find out is what she may have done at Robinson & Co. employ and the name of the property, also when she would have left.
Thanking you in anticipation, Marian Hassett – Mildura.
Hi Marian,
All the information we have is already available on our website. If you cannot find the information you seek then it is because we have no information on Robinson & Co as yet.
Regards, Ian
---
From: aus-german-bounces@rootsweb.com
Sent: 2013-03-11 16:37
Subject: [AUS-German] New newspapers to be digitalised
Hi all!
Here is a link to the newspapers that are to be digitalised and put onto Trove:
http://www.nla.gov.au/content/new-titles-coming
Chris.
---
DOWLING
From: Jan Paemaa
Sent: 2013-03-05 11:10
Subject: Dowling, Martin (Michael) - ID 19009
Thanks for all your efforts. The site is great! Here is some more information about Martin (Michael) DOWLING. It would appear that he was known as Martin except on his Shipping Record where he is shown as Michael.
Here is his story ... Martin and his wife, Sarah James, arrived in Van Diemans Land in November 1832 as gardener and housemaid to Captain and Mrs Swanston. They arrived on the "Thomas Laurie" which left London on 21 June 1832. Their eldest daughter, Louisa Jane, was born on 28 Dec 1834 in New Town, Van Diemans Land. Their movements after that date are unknown but at some stage, presumably before November 1837, they returned to England.
Their second child, William (ID 19008) was born on 14 Nov 1837 either at sea, in London or Nottingham and I have not been able to trace his birth record. Martin and Sarah had two more children, Sarah, b. 1841, and John, b. 1844, both born in Shiplake, Oxfordshire, where Martin was employed as gardener at the large house "Holmwood".
Martin (Michael) and his family embarked on the "Thomas Arbuthnott" from Plymouth on 6 October 1848, arriving in Sydney on 17 January 1849.
Sarah DOWLING (nee JAMES) was born about 1811 in Usk, Monmouthshire, Wales, and died on 10 April 1874 in Woolloomooloo NSW.
Martin(Michael) DOWLING was born about 1812 in Clonmel, Tipperary, Ireland, and died on 22 May 1884 in Pedu Street, Bega. He was buried in Bega Cemetery on 23 May 1884.
Martin(Michael) and Sarah were married about 1830, in London.
Their children were :
Louisa Jane b. 28 December 1834, New Town, Van Diemans Land.
William (ID 19008) b. 14 November 1837, at sea, London or Nottingham.
Sarah b. 1841, Shiplake, Oxfordshire
John b. 1844, Shiplake, Oxfordshire
I am attaching a copy of Martin's Death Certificate as well as photos of William and Emma Dowling's headstone in Pambula Cemetery.
Regards, Jan Paemaa
Thank you Jan,
Regards, Ian
---
ROBINSON
From: diane clifton
Sent: Friday, 8 March 2013 4:57 PM
Subject: Proposed Change: Robinson, Edward George (I102476)
Proposed Change: Robinson, Edward George (I102476)
Tree: Eden Monaro Pioneers
Link: http://monaropioneers.com/TNG/getperson.php?personID=I102476&tree=MP
Description: Children of Edward George Robinson & Annie Agnes Lawliss:
Edna Robinson-Female-Birth 1914 Cooma-Marr-30.12.1939 Penrith NSW-Spouse-Stephen Dennis Byrnes.(B.16.4.1914.
Rita Robinson-Female-B-1917-Spouse-Noel Duncan.
Verdon (Bob) Edward Robinson-info on website.
Phillip (Paddy) Robinson-Male-B-1920-Cooma.
Clifford (Toggy) Robinson-Male-B-1922.Cooma Esme Robinson-Female-B1924.Cooma Keith (Copper) Robinson-Male-B-1926.Cooma James (Jimmy) Robinson-Male - 1928. Cooma Jean (Jeanie) Robinson-Female-B-1930 Cooma-D-19.3.2010-Spouse-Graham McKell
diane clifton
Thank you Diane,
Regards, Ian
---
From: Joye Walsh
Sent: 2013-03-08 05:04
Subject: Re: MONARO PIONEERS NEWSLETTER - 2013 Number 2
Hi David
Just a note to express my thanks once again for the wonderful work you continue to do. I can't imagine the amount of time you must spend going through/adding to the master file. A note in this newsletter hints at many hours of work resulting in some extra info.
It is great to see others also expressing their appreciation.
My husband & I are currently travelling OS for several months so it is great to have emails like yours to keep us in the loop.
Cheers, Joye
---
O'NEILL
From: Annie O'Keeffe
Sent: Thursday, 7 March 2013 3:18 PM
Subject: Proposed Change: O'Neill, Matthew (I5207)
Proposed Change: O'Neill, Matthew (I5207)
Tree: Eden Monaro Pioneers
Link: http://monaropioneers.com/TNG/getperson.php?personID=I5207&tree=MP
Description: Line 30 - James O'Neill
You are missing their eldest child - my grandfather.
EDWARD THEODORE "theo"
born 24 February 1914
died Bega 10 October 1993
Buried Cooma Mittagang
Married Alma Elizabeth Isabella nee Kennedy Jan 12 1946 Queanbyan
They had five children
Jeanette Margaret
Peter Michael
Susan Maree
Dianne Thea
Matthew b1953 d1953
Annie O\'Keeffe
Thank you Annie,
Regards, Ian
---
MARCH
From: Julie Watt
Sent: 2013-03-07 07:01
Subject: Re: MONARO PIONEERS NEWSLETTER - 2013 Number 2
Thank you very much David for advertising our March Family Reunion in all your newsletters - I appreciate it very much
You do a wonderful job every month
Thanks again
Kind regards
Julie Watt
---
From: C2 road
Sent: Tuesday, 5 March 2013 1:06 PM
Subject: Dalgety Cricket Reunion
Dear Ian
I am trying to organize a Dalgety Cricket Club Reunion & was just talking to Wayne Mugridge who told me about Monaro Pioneers. I thought that you might be able to help by running an add in your news letter, if this would be okay I have a add drafted for the Monaro Express, could I forward that add onto you
Kind regards, David M Sellars
Hi David,
We are happy to help, please send your announcement text to David Knox (copied on the email) who is our Newsletter Editor extraordinaire and he can added it to our next publication.
Regards, Ian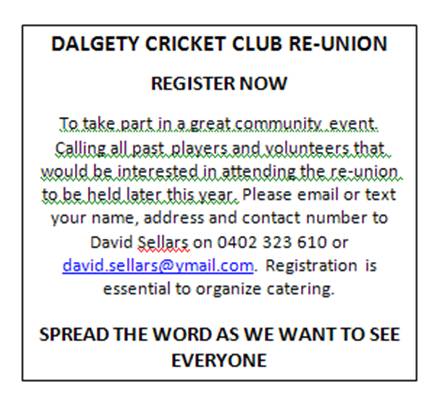 ---
OSMOND
From: Beverley Hicks
Sent: 2013-03-04 11:43
Subject: RE: NEWS FOR THE MONARO NEWS
Hello David I am in Canada and will be coming to Australia in June of this year.
I am very, very interested in tracking down some of my relatives and ancestors. My Grandfather was Frederick Osmond who went to New Zealand as a young man about 1897 and his youngest daughter was my mother. I know his parents were James Osmond and Emily Sturt of Tumut. We know quite a lot about my great grandmother Emily Sturt because that side has been fairly well researched. I had always thought the James Osmond my great grandfather was a lone adventurer but I have recently discovered, through your wonderful site, he was in fact part of a family who came to Australia from Kent, England in 1838 aboard the William Metcalfe. Once established another seven children were added to the family; Robert, Philadelphia, Eliza, Thomas, William, Albert, and John.
I know very little about these although I have been in touch via email with one or two of them. But I would love to hear more from anyone of these "cousins". The common ancestor would be my great, great grandparents John and Mary Osmond. They are the ones who arrived in Australia in 1838 with 18 month old James my great grandfather then subsequently had the further seven children already named. While I am in Australia in mid June I would love to meet as many as possible of these relatives.
Thank you so much, Beverley Hicks
I can list your email in the Newsletter and this may result in some interest from our readers.
Regards, David
David thank you. I think I need to make a correction I think that John Osmond's wife may have been Fanny Wickenden and I think she was a second wife. It is a bit confusing as you know.
Thank you Beverley
---
From: yvonne jarman
Sent: 2013-03-03 19:34
Subject: Re: MONARO PIONEERS NEWSLETTER - 2013 Number 2
Thanks so much Ian. What a great resource! I have just began researching my family and it is all a bit overwhelming.
Yvonne jarman
---
SOUTHWELL/ GOSLETT
From: Leonie
Sent: Sunday, 3 March 2013 4:07 PM
Subject: alteration to information
Reading through the information on the Monaro Pioneers I noticed some errors for:
1. My father MERVYN SOUTHWELL, he died on 20 August 2002, at Gininderra Gardens nursing Home in Page Belconnen ACT
and is buried in the HALL CEMETARY.
2. My Grand father John J GOSLETT died at the Canberra Hospital 8 July 1968 and is also buried in the HALL CEMETARY.
If you need confirmation to this effect please contact me on.
Leonie dÁrx
Thank you Leonie,
Regards, Ian
---
MYERS
From: Colleen Levett
Sent: Sunday, 3 March 2013 4:04 PM
Subject: TREE OF DAVID MYERS
Hi Ian,
Sorry to be sending several emails to you re the above tree, I am just going through it and double checking entries.
Could I just let you know that the parents of RUBY LAURA JANE RICHES b1900 Bega and married ERIC STANLEY MYERS were GEORGE and SARAH JANE JONES not ALBERT as is given on the MP site.
Take care, Colleen
Thanks Colleen, I will correct our records.
Regards, Ian
---
HIGGS
From: dot
Sent: 2013-03-03 16:01
Subject: family researxh
Hi al . I am hoping someone maybe able to point me in the right direction.
For some time now I have been trying very hard to locate the birth detail on a child born in 1940. This child was born to an Arthur paul & Dulcie Gladys pearl higgs . who lived in the bright district in the north east victoria.
her birth name was mary grace/ higgs . she lived for two years dying 13 Jul 1942 in bright victoria aus . so hoping some one can help me.
Thank you kindly Dorothy collins
---
RIXON
From: Faye Taylor
Sent: Sunday, 3 March 2013 10:58 AM
Subject: Irene Rixon
Dear Pt
When scrolling through Monaro Pioneers,I was amazed to see a listing for my maternal grand mother Cordella Myra Rixon as the mother of Irene Martha. ( Cordella born 1883 to parents James Rixon and Sarah Spears)
The listing is for the birth of IRENE MARTHA RIXON Born 1899
ID no 112222
mother Cordella Myra Rixon
Irene married Arthur O'Conner in 1928
Irene died 28.10.1980 Windang N.S.W.
I have been unable to find birth registration for Irene, I would be grateful for any information, and would be delighted to have contact with any members of Irene's family, if any, it is certainly a mystery to our family, as a lot of research has been done, Irene doesn't seem to exist in Joy Walsh's book. All I can think is that Irene must have been adopted out, I would love any information connected with Irene.
I know this is rather a big ask, I hope you have time for a reply, or could forward my email to anyone who could help.
Many thanks, Faye Taylor
Hi Faye,
All the information we have is already displayed on our site. Joye Walsh has been a major contributor to our project and it must be understood that a lot more research has been undertaken since Joye's book was published. I have copied Judy Richards on this email because Judy is also a major contributor and has been the source of much of the Rixon information and she may be able to help you.
Regards, Ian
Hi Ian
Thanks for you quick reply, do hope Judy can shed some light on Cordella, she would have been 16, so it is not impossible to have had a child and adopted it out, big secret to us.
Thanks, Faye
Our records show Irene married as a Rixon so if she were 'adopted' it was within the family.
Regards, Ian
---
McKAY
From: Vicki Smith
Sent: Sunday, 3 March 2013 1:47 PM
Subject: re Heather Lorraine McKay who married CALLAGHAN
Hi
I am the 'lookup chick' for a number of years for RYERSON Index.
While assisting a Ryerson query re Heather Lorraine Bender/Binder nee McKay - I obtained info about Heather Lorraine Callaghan nee McKay.
See attached - thought you might like to add to your file.

I still cannot find Heather Lorraine Binder nee McKay - married Edward Binder 1947 - parents were Kenneth & Viva Edith McKay (his first wife).
Amazing there being TWO Heather Lorraine McKays eh!

Regards, Vicki Smith
Hi Vicki,
Wow, thank you so much, that information was very helpful. If only every name was unique, how much easier our lot would be … boring but easier.
Regards, Ian Harvey
Monaro Pioneers Project.
<![if !vml]>
<![endif]>
The purpose of this newsletter is four-fold:
1. To let people know about all our activities including: the "Back to Nimitybelle" Book and the Monaro Pioneers Website.
2. To collect email and postal addresses of as many people as we can, so that they may be invited to contribute to this archive.
3. To collect Historical information about the Monaro District and the Families that have lived there.
4. And most importantly the newsletter is a venue for people who have an interest in the district to keep in contact with each other.
This newsletter is published by the Monaro Pioneers Editor on behalf of all those folk who are interested in the history of the Monaro.
If you do not wish to continue receiving this newsletter simply reply to this email with unsubscribe in the subject line.
<![if !vml]>
<![endif]>