Home | Pioneers | Contact Us | Copyright/Disclaimer
---
Monaro Pioneers Research pages: Index | Books/Lookups | Tracing Land | Convicts
Monaro Pioneers Newsletter
2014 Number 11
<![if !vml]>

<![endif]>
REQUESTS:
HENRY GRANT REUNION
From: John [mailto:haylockjohn@netspace.net.au]
Sent: 2014-12-02 4:44 AM
Subject: Grant Clan of Wydham NSW
Dear David,
A reunion of the descendants of Henry Grant Snr 1815 - 1881 is currently being planned (finally) for 2015 over the long weekend in October in Wyndham.
The year is significant as it turns out as it will be the 200th birthday of Henry Grant Snr Is it possible to have some information on this event included in the newsletter? I do have dates and events for that weekend if appropriate.
For your information and reference, I am the youngest child of Clyde and Annie Grant from Wydham.
In anticipation of a reply.
Regards
Maree Haylock (Grant)
---
WW1 DECENDANTS
From: Bill Hyland
Sent: Friday, 7 November 2014 3:30 PM
Subject: WW1 Decendants
Good Afternoon all,
Can I draw your attention to the ACT RSL website www.actrsl.org.au
It now has a entry for Operation R&R where the RSL is trying to identify direct descendants of ACT WW1 servicemen prior to Anzac Day next year.
Could I ask you to alert your members and if they are interested please to advise the RSL in ACT of their interest.
Bill Hyland
Belconnen RSL
---
WILLOUGHBY
From: Sue Zammit
Sent: 2014-09-26 7:28 PM
Subject: WILLOUGHBY REUNION 2015 AT BRAIDWOOD NSW
Hello David
I would like to introduce myself. My name is Sue Zammit and I live in Gisborne, Victoria. My fathers mothers family were the Smith family from Braidwood NSW. The father was Joseph Smith Born in 1843 in Pinxton, Derbyshire England. He married in 1867 in New Zealand to Mary Jane Granger She was born in 1853 in Surrey, England. They went on to have 16 children. The moved to Braidwood New South Wales, Australia in 1891 and Mary Jane went on to have another3 children, one of which was my grandmother Ethel Dorothea Louisa Smith. One of the Smith girls married into the Willoughby family that was settled in Braidwood. That is where the reunion starts. The Willoughby reunion is to be held at the RSL Club in Braidwood on 26,27,28 Sept 2015 There is a Facebook page under Willoughby reunion. I was wondering if you may be able to put a notice on your web site adverting for any descendents of John Willoughby and Mary Ann Mills. She was a half cast aboriginal. I have loads of information on the whole family if your are interested. I can be contacted at email suzyq14@bigpond.com There should be a very healthy turnout as the Willoughby clan is huge.
Many thanks for your time, hope to hear back from you .
Kind regards Sue Zammit (Gisborne, Victoria)
<![if !vml]>

<![endif]>
Current correspondence:
BOBBIN
From: jim walford
Sent: Friday, 5 December 2014 11:44 AM
Subject: Nancy Elaine Bobbin times Married
Hi Ian,
a mystery if you can help
i have Nancy Elaine Bobbin in my tree the same as you she marries
1.Eric Charles Severs in 1954 Certificate No 17995/1954
2. Clive Wilbram Ingram Certificate attached,
3. Robert Leslie Burton date unknown but a Nancy Elaine appears in the electoral roll in 1968 living with Robert ,
also have her death as 15 Jun 2011.in the ACT
Can you help is she the one and only can not find her living with Clive in the Electoral rolls
regards jim walford
Hi Jim,
You appear to have more information than we do so I am not able to add to your conclusion.
I don't think the absence of Nancy from the electoral roles between 1960 and 1968 means a whole lot. Clive Wilbram Ingram is missing from the roles between 1958 and 1980. Perhaps he was moving about a lot or just trying to be invisible.
My guess is the marriage to Clive Wilbram Ingram was terminated before 1968 when Nancy first appears with Robert Leslie Burton. We will have to wait for 4 years for the marriage index to cover that period to be sure unless one of the Newsletter readers can fill in the blanks.
Regards, Ian
---
FALLON
From: Lesley Egen
Sent: Wednesday, 3 December 2014 8:53 PM
Subject: Emailing: img159
Hi Ian,
I am helping a distant relative research his FALLON Family. We obtained this transcript for Anne/Ann Brassill (nee Fallon).
The information does not marry up 100% with the Thomas Brassil, Yass 1844 you list.
We are having trouble finding all the 'birth's' on NSW BDM (under any spelling of Brassill).
The info you have on MP - is that your own research or does it 'belong' to someone else?
If so could you approach that person and see if they would communicate with me, please.
We are led to believe Anne and her brother Patrick Fallon came from Ireland on the Palestine 6.3.1842
I take this opportunity to wish you and the team a happy and safe Christmas, plus a healthy & happy 2015.
Regards,
Lesley (Qld)
Hi Lesley,
We have no contributor details for the Brassil family unfortunately. However, I did some further research and the website now shows what I believe is the family of Thomas Brassil and is more consistent with the death transcription you provided. The Familysearch website does have some information about this family.
As the death information was provided by her brother, there could easily be discrepancies regarding her offspring. Do you have a death transcription for Thomas Brassil? That should be more definitive as Ann would most likely have been the informant.
Below is the only birth registrations for Thomas and Anne that I can find, I hope this helps …. (surname search Br*l 1844-1865)
<![if !vml]>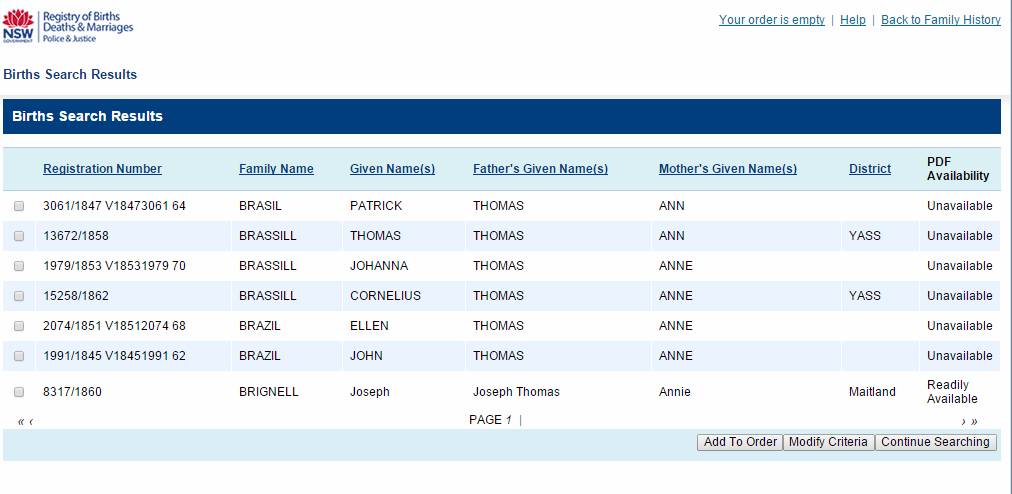 <![endif]>
Regards, Ian
---
LLOYD
From: Margaret Hartnell
Sent: Tuesday, 2 December 2014 10:44 PM
Subject: Comments (Lloyd, S.L.)
Comments (Lloyd, S.L.): Hi Ian
My Aunty, Shirley Lorraine Hurn Nee Lloyd passed away on 13 December 2013 in Newcastle NSW.
Buried 20 Dec 2013 Sandgate Cemetery Newcastle NSW She is under George Alfred Lloyd Tree, Could you please update for me. Thanks & keep up the great work you all do.
Margaret Hartnell
Thank you,
Regards, Ian
---
COLLINS
On 02/12/2014 14:16, Valma Hick wrote:
> Proposed Change: Collins, Albert (I172691)
> Tree: Eden Monaro Pioneers
> Link:
> http://monaropioneers.com/TNG/getperson.php?personID=I172691&tree=MP
>
> Description: Albert Collins - later Hunt was the eldest child of my
> grt grand aunt Edith Collins & Stephen Hunt he was born on 25 Sep 1891
> at Bendoc, Victoria.
> Name: Albt Collins
> Father's Name: Collins
> Mother's name: Edith Collins
> Birth Place: Bendoc, Victoria
> Registration Year: 1891
> Registration Place: Victoria
> Registration Number: 30241
> Edith was 15 yrs of age at the time.
> Edith and Stephen (Steve) married in the Bombala area in 1898. Albert
> was known as Albert Hunt on the Electoral Roll in 1943
>
> Australia, Electoral Rolls, 1903-1980
> Name: Albert Hunt
> Gender: Male
> Electoral Year: 1943
> State: Victoria
> District: Gippsland
> Subdistrict: Orbost.
>
> Cheers, Valma
Thanks,
Regards, Ian
---
COLLINS
On 02/12/2014 14:37, Valma Hick wrote:
> Proposed Change: Collins, Myrtle Mary (I40685)
> Tree: Eden Monaro Pioneers
> Link:
> http://monaropioneers.com/TNG/getperson.php?personID=I40685&tree=MP
>
> Description: Hello Ian,
> Myrtle Collins was the second child of my grt grand aunt Edith (Eddie)
> Collins and Stephen Hunt, she was born on 3rd December 1893, Bombala
> area. She married Albert Ernest Brotherton in 1912. She retained her
> mother's maiden name Collins.
> Australia Birth Index, 1788-1922
> Name: Myrtle Collins
> Birth Date: 1894
> Father's Name: Collins
> Mother's name: Edith
> Birth Place: New South Wales
> Registration Year: 1894
> Registration Place: Bombala, New South Wales
> Registration Number: 6924
> Unknown who at this time reared her. We do know she was cared for by a
> Collins family member until her marriage, possibly by Edith's elder
> sister Emma Margaret Mustard.
> Cheers, Valma
Thanks,
Regards, Ian
---
TOZER
From: John Tozer
Sent: 2014-12-01 2:37 PM
Subject: ONE MORE FOR THE WW1 PARTICIPANTS LIST
David,
I wonder if you could add to the WW1 participants list Ernest Joseph Tozer (aka Tozser), son of Albert Edward and Catherine Tozer, # 6871 of the 20th reinforcements, 17th Battalion. His service is recorded under the Descendants listing but not in the WW1 Register.
Regards, John Tozer
Hi John,
I will fix that problem for you.
Regards, Ian
---
APPS
On 01/12/2014 13:59, Michelle wrote:
> Proposed Change: Apps, Ronald Kenneth (I341378)
> Tree: Eden Monaro Pioneers
> Link:
> http://monaropioneers.com/TNG/getperson.php?personID=I341378&tree=MP
>
> Description: Hi Ian
> I don't believe that Ronald Kenneth Apps was the son of Berchur Apps
> and Lillian Atkin. Berchur & Lillian did have a son, Ronald , who was
> born in 1913 and died at Goulburn .
> APPS Ron Death notice 04JUN2002 Death 89 late of Goulburn Goulburn
> Post 05JUN2002
>
> Ronald Kenneth Apps was born to Thomas Reuben Apps and Ruby Dora
> Seales. Ruby was later involved with Alfred Irwin after Thomas Apps
> death in 1938. Ronalds' next of kin on his WW2 enlistment shows "R
> Irwin"
>
> Cheers, Michelle
Thanks Michelle,
Regards, Ian
---
HEINECKE
On 28/11/2014 22:27, Pauline Newell wrote:
Proposed Change: Heinecke, George Thomas (I66852)
Tree: Eden Monaro Pioneers
Link:
http://monaropioneers.com/TNG/getperson.php?personID=I66852&tree=MP
Description: George Thomas Heinecke (My Great Grandfather) was born on
4 Dec 1866 in Beechworth. The date you have is the same as his
brother, Herman. It is an error.
The Tumut and Adelong Times (NSW : 1864 - 1867; 1899 - 1949) 28 Jan 1946 Obituary PASSING OF A PIONEER MR G T HEINECKE The death of Mr George Thomas Heinecke at his home in Tumbarumba a few days ago removed one of the pioneers of this pretty mountain town. Aged
79 at the time of his death, Mr Heinecke, who was the eldest son of the late Mr and Mrs Charles Heinecke, was born in Tumbarumba and resided there all his life. For some time before his death he had not enjoyed the best of health and his end when it came was not unexpected by his family and friends. Because of his generous disposition during his long life he had made many friends.
The Heinecke family, since 1866, has been intimately associated with the settlement and gradual development of Tumbarumba, and Mr George Heinecke individually was responsible in no small measure for much of this development. For 50 years of his life he was a prominent figure in the public life of Tumbarumba and was associated with every institution of public interest. He was for many years a member of the Progress Comm., a prominent member of the Mining League, trustee of the Temporary Common, a member of the P.A. & H Society and the Turf Club, and for a number of years a trustee of the racecourse and recreation reserve.
EARLY MINING DAYS Following his father's footsteps, he was keenly interested in the mining industry for many years and his first experience in the winning of gold from the soil, was when, as a lad, he fed the stampers at Nagles Pilot Reef at Meragle. In those years
there was much gold and a number of rich deposits in the gold bearing hills and gullies in the vicinity of the town. Having a fair amount of luck in winning the precious metal from these creeks, besides loving the life and being progressive, he decided to enter into a partnership with a Victorian Mining man named John Pund and buy out the Trades United Company, which at that time was operating at Murrays Crossing, just below the town of Tumbarumba. Later, Mr Heinecke bought out his partner and shifted his plant higher up the Tumbarumba creek and opposite the town.
A small company, mostly townspeople, was formed to work this latter claim, which was named the Union Jack. Used on this claim was the "Heinecke Jet", invented by Mr Heinecke, and later used all over the country, as far afield as New Guinea. Only a few weeks before his death an order came from Beechworth, Vic for one of these jets. Water for this powerful jet elevator being necessary, Mr Heinecke's company purchased from his brothers the race which today supplies the town with its drinking water. A pipeline was moved accordingly, over two miles of the creek bed and gullies on both sides being worked before operations ceased.
It is interesting to note here that during the times mentioned above the miners worked in three shifts, the wages being 8 shillings per day and the value of the gold being 3 pounds, 17 shillings and 6 pence per ounce.
Mr Heinecke's brothers, Charles and the late Frederick as well as their father before them figured largely in the goldmining industry at Tumbarumba, the name of Heinecke is synonymous with gold production in the district.
A FARMER TOO
In addition to his mining activities, Mr Heinecke also engaged in farming in a small way and purchased the blocks originally acquired by two other old pioneers in the district, the late A. Fredericks and the late A. Wolfe, and lived on the property for some years. This property situated near Union Jack School, on the Adelong Road is now owned by Mr E Friend.
Mr Heinecke who lost two soldier sons, Herbert and George, in 1917 was very keen on functions arranged for welcoming home the boys of the forces, and whenever his health prevented him from attending these worthy functions he invariably forwarded an apology and a donation to the funds.
Mr Heinecke is survived by one son, Oswell, and two daughters, Mrs H.
O'Brien and Mrs E.C. Boswell all of Tumbarumba. His wife predeceased him 18 years ago. Brothers surviving him are C.B., H.H., B.H, and R.
Heinecke all of Tumbarumba. There are two sisters, Mesdames W.
Cuttriss (Port Macquarie) and E.E. Waite (Albury). There are also 12 grandchildren and one great grandson. Two grandsons, Tom Boswell and Douglas Heinecke were serving in the islands and were unable to be home prior to Mr Heinecke's death.
Pauline Newell
Thank you Pauline,
Regards, Ian
---
FERGUS/STEVENSON
From: Paul Fergus
Sent: Saturday, 29 November 2014 10:46 AM
Subject: Photograph: James Fergus and Jane Stevenson
Dear Ian
Attached are a number of photographs of James Fergus and his wife, Jane Stevenson, and their children that you may wish to include in Monaro Pioneers.
The first 3 photographs were given to me by Cedric Fergus, probably the oldest living descendant of James and Jane. The second photograph is the eldest son of James and Jane who migrated with them, Charles, who became a gun shearer and is commemorated in Australian balladry. Cedric is the great grandson of James and Jane, being the only child of Abel, a son of their son John Adam Fergus and Mary Hilley. Cedric told me he received these photographs from his father.
My father, John William Edward Fergus was another grandson of John Adam and Mary, being the only child of Charles Albert Fergus. The 2 photographs of my mother, Eileen Darmody, and my father on their honeymoon and of my father about 7 or 8 years before his marriage are self-explanatory.
I have included the photograph of my mother and her older brothers, Michael James Darmody and Kevin Anzac Darmody, not for their connection with the Fergus family but because they are descended from 2 other Pioneer families, those of Patrick Maurice Brosnan and Michael Barron, their mother was Mary Barron, a daughter of Michael Barron and Agnes Bridget Brosnan.
By way of a small correction to the Pioneers Website, Michael Barron's full name was Michael Patrick.
Last year, I had the good fortune to walk the length of Cotton Street, Paisley in Scotland where James and Jane and their children lived before migrating to Australia in 1853. The street then was a location where many of the weavers of Paisley shawls lived and worked. No. 21 where they lived (from information gathered by John Richards) is now the site of a substantial apartment block. When they lived there, both sides of the street were lined with the homes and workplaces of weavers. All the buildings on the western side of the street have been demolished and included into the parkland surrounding Paisley Abbey. The Abbey was largely derelict when James and Jane lived there although all their children were baptised there. It has now been renovated and is an impressive church which incorporates some parts of the 13th century monastic buildings.
Thank you for your efforts with this excellent resource on the early history of the Monaro.
Regards, Paul Fergus
Thank you Paul, your support is much appreciated.
Regards, Ian
---
McMAHON
From: stevens05
Sent: Monday, 24 November 2014 11:06 PM
Subject: Mcmahon family
Have just stumbled on your site.
I am trying to trace my ancestors who were in the bega tathra area in the time around 1880's They were Patrick and Margaret mcmahon . Margaret mcmahon died in 1909 in bega. They had 11 children. A family member has told me that they owned a dairy in Tathra. No sure if that is a fact, or if they worked in a dairy.
Do hope you can help or direct me to some help
Thank you Rosalea
Hi Rosalea,
Unfortunately we have not received any information on this family as yet so we are unable to help you. Perhaps you could supply us with the family tree details and we can add the family to our database.
You could try the following ...
http://bvgenealogy.webhive.com.au/
http://www.begavalley.nsw.gov.au/cp_themes/default/page.asp?p=DOC-OOT-24-17-80
Regards, Ian
Hi Ian,
I would be very happy to share what little i do know of the mcmahon family.
Hopefully someone else may see it and know a little more.
This information is taken from the death certificate of my great grandmother.
As all the names seem to be so common in the Irish world I am being very careful what I accept. Would it be easier if I scanned the certificate and send it to you?
My grandmother was Margaret Ann McMahon born 3/5/1895 to Patrick McMahon born about 1861 in Ireland.
I can not find a death cerfiticate in NSW.
Her mother was Margaret Obrien born abt 1862 in Clare Ireland.
She died 20/3/1909 in Bega.On this certificate it lists the children. James
25 yrs in 1909,
Mary 23yrs,Patrick21yrs, Timothy 17yrs, Margaret 13yrs(my grandmother), Joseph 11yrs, Annie 9yrs (an uncle has told me he remembers visiting her sometime in the 40's in Paddington NSW and she did not marry,)Leo 6yrs and Delia 4yrs died in Bega in 1911 Reg.no 47777. The certificate also says she had been in NSW for 29 years.
My grandmother married William Nathaniel Mcpherson in Hillston NSW 5/6/1922.
And died 3/12/1981 in Wellington NSW.
They had 8 children.
Monica Josephine Mcpherson b 25/3/1923, d 6/10/2000, Margaret Mary b
6/6/1924 d.1/5/1995 Cecilia Agnes b 2/7/1926 Veronica b 18/2/1928 d
26/7/1946 Joan Marie b 22/10/1929 Patricia b 6/10/1931 John William Mcpherson b 6/6/1934 d 27/11/2013, Leon Francis b 12/5/1936.
On a scrap of paper my mother had written that Margaret Obrien and Patrick McMahon married in Sydney1883. I ordered this certificate and the names of their parents were different so not sure about this.
Hope this info is of some help to you and could help me in the future Rosalea.
Thanks Rosalea,
We can attach scans of certificates to an individual's record in our database if you wish to send me a copy.
Regards, Ian
---
GASCOIGNE
From: Yvonne Gascoigne
Sent: Monday, 24 November 2014 5:17 PM
Subject: Maria Prudence Whitfield Gardner?
Dear contributors,

I've stumbled on your Monaro Pioneer site by accident trying to research the ins and outs of the marriages of my husband's
great grandmother, Marie P or Maria Prudence Gascoigne, previously Norris and previously or concurrently Gardner and
nee Whitfield in Braidwood.

Your contributor might have some intriguing insights on the movements of this seemingly enterprising lady.

Maria or Marie Prudence Whitfield is the eldest daughter of Amelia B. Farley (*1826-1904) and William J Whitfield (*1823 -
probably 1899) of Braidwood NSW and probably is the index person listed on your site as ID 123567, married in 1865 to George Gardner. NSW BDM lists her as Maria P., daughter of William J and "Emma" Whitfield, born in 1848.

Apart from sons George W Gardner (*1865-1931) and Sydney A Gardner (*1868 and deceased at 5 months as per SMH), and Ernest A Gardner (*1869-1889), your site lists her as having had a daughter, Beatrice Prudence Gardner - ID 1237565 - (*1874-1957) as well as surviving progeny through her marriage to Herbert Lambert Moses (*1871). The entry for this is 369920 and has recently been updated.

The core issue is how this Maria Prudence Whitfield could have married George Gardner in Sydney in 1865, had the three sons noted above, married a Charles Norris in 1870 in Braidwood (a Charles Norris died in Gundagai in 1872??), then had the daughter your contributor has entered - Beatrice Prudence - again with Mr George Gardner in Sydney in 1874.

Subsequently she married Robert Gascoigne (*1861-1951) as a 'Marie Norris' in 1887 and eventually moved from Ryde to Wyong.

My husband's family only has knowledge of the family line through this Robert Gascoigne of Wyong and his two sons :
Robert Gascoigne (*1887-1964) and John Gascoigne (*1889-1974) who only had one son, Robert Mortimer Gascoigne (*1918-1994)

Interestingly, Marie Prudence Gascoigne somehow disappeared from the marital scene in opaque circumstances causing a huge family rift when Robert Gascoigne senior quietly repartnered. John Gascoigne, my husband's grandfather, lists his mother's name as 'Marie Prudence' on the death certificate entry of BDM, while his brother lists it as 'Marie'.

Marie Prudence Gascoigne herself is listed as dying in Wyong in 1935 as Marie P., daughter of William J and Amy on the BDM site.

Her mother, Amelia B. Farley is variously listed as Emma, Amy and Emelia and Emilia Farley. A death listing exists on BMD for an Emilia Whitfield in 1904 in Ryde, which is where Marie Prudence and Robert Gascoigne did live before moving to Wyong...

Field of Mars Cemetery in Ryde has a record of interment in 1904:
| | |
| --- | --- |
| Inscription Id: | 7562989 |
| Surname: | Whitfield |
| Given Names: | Amelia |
| Interred Date: | 28 Nov 1904 |
| Age: | 75 |
| Gender: | F |
| Portion: | Ang |
| Row: | Sec B |
| Plot: | 1149 |
| | |
| --- | --- |
| Inscription Id: | 7562990 |
| Surname: | Whitfield |
| Given Names: | William J |
| Interred Date: | ??? |
| Age: | 75 |
| Gender: | M |
| Portion: | Ang |
| Row: | Sec B |
| Plot: | 1149 |

Your assistance in passing on this message would be most appreciated.

Kind regards, Yvonne and Robert Gascoigne

There is much material about the Whitfield's on this site -
https://ninglunbooks.wordpress.com/early-last-century/about-the-whitfields/comment-page-6/

Substantial Gascoigne family history contributions are available on Susan Buck's site - https://branchesofourfamily.wordpress.com/
which include a family history written by my husband's father.
Hi Yvonne,
As you can see below, there were two Maria(e) P(rudence) Whitfields born in NSW in the 1840s. The one you refer too (Marie b1848) and the one we have (Maria b1844) who married George Gardner. Maria Prudence Gardner nee Whitfield died in 1917 (reg district Manly, NSW).
I have added the family of William John Whitfield and Amelia Bridget Farley to our database because of their Braidwood connection.
I suggest you use the search our database facility at the following for more comprehensive information.
<![if !vml]>

<![endif]>
Regards, Ian
---
IVILL
From: Mark Howard
Sent: Monday, 24 November 2014 11:32 AM
Subject: 04 Mar 1926 - The Late Mr. Edward Ivill
http://trove.nla.gov.au/ndp/del/article/109753881?searchTerm=Ivill&searchLim
its=
Thanks,
Regards, Ian
---
IVILL
From: Mark Howard
Sent: Monday, 24 November 2014 11:30 AM
Subject: 23 Apr 1942 - Obituary Mr. John Ivill
http://trove.nla.gov.au/ndp/del/article/122889006?searchTerm=Ivill&searchLim
its=
Thanks,
Regards, Ian
---
IVILL
From: Mark Howard
Sent: Monday, 24 November 2014 11:28 AM
Subject: 30 Aug 1934 - Mr. George Ivill.
Ian Hi,
Attached is a link to a newspaper obituary for one of the Ivill family and which may be of interest for the Monaro Pioneers web site.
Mark
http://trove.nla.gov.au/ndp/del/article/122884885?searchTerm=Ivill&searchLim
its=
Thank you,
Regards, Ian
---
From: Graham Campbell
Sent: Sunday, 23 November 2014 12:49 PM
Subject: Bombala Unmarked graves
Hi Ian
The following Bombala Times newspaper article, which was found at the entrance to Bombala Cemetery, may interest some of your newsletter readers.

"A commemorative wall has been established at Bombala Cemetery for people buried in unmarked graves.

wall commemorates Early Settlers and recognises those who were buried in unmarked graves, including a memorial to young babies buried in the spot under the stone in front of the wall.
The intention is to place plaques on the Memorial Wall to acknowledge the fact that these people, both young and old, were buried in the cemetery.
The Bombala Cemetery Maintenance Committee has a list of names of some of those buried without marked graves, and everyone is encouraged to peruse the list and help make arrangements to have these ancestors included on the Memorial Wall.
If you think you may have a relative buried in an unmarked grave please contact either Peter Williams on 6458 3293 or Chris Philbrick on 6458 4789 or cph21545@bigpond.net.au to get a copy of the list.
There are many familiar surnames on the list, including Atkins, Beileiter, Campbell, Collins, Dent, Hawkins, Ingram, Johnson, Manning, Niven, Peisley, Plowright, Stewart, Umback, Walker, Whitby and Yelds, just to name a few".

Peter Williams advises that the present cost of each plaque is approximately $45.00 with around 35 plaques currently on the wall.
I have added my gggrandparents William Campbell and Anne Killooley to the wall.
Thanks, Graham Campbell
---
ROBERTS
On 11/11/2014 08:43, Warwick McCall wrote:
> Proposed Change: Roberts, Charles James (I313325)
> Tree: Eden Monaro Pioneers
> Link:
> http://monaropioneers.com/TNG/getperson.php?personID=I313325&tree=MP
>
> Description: Wedding 23 Dec 1913 at Taralga
>
> The marriage of Mr. Charles James Roberts, eldest son of Mr. and Mrs.
> Joseph Roberts, of Colombo, Braidwood, to Miss Alma Geraldine Stewart,
> second daughter of the late Mr. Andrew Stewart and of Mrs. Stewart, of
> Yalbraith, Taralga, was solemnized on Tuesday it St. Luke's Church of
> England, Taralga, by the Rev. Mr. Coverdale.
> The bride, who was given away by her brother-in-law, Mr. Herbert
> Boreham, was attired in white crystalline trimmed wtih lace and
> pearls, wore the custom ary wreath and veil, and carried a shower
> bouquet of white marguerites and sweet peas. The bridesmaids were Miss
> Rose Fife and Miss Edna Boreham, the latter being a niece of the
> bride. Miss Fife wore a cream-coloured costuine, with hat trimmed with
> pink roses. Miss Boreham wore white embroidered muslin. Their bouquets
> were of pink and white roses. Mr. Colin Stewart, brother of the bride,
> was best man.
> The bidegroom's present to tlhe bride was a gold necklet with heart
> pendant. To one bridesmaid he gave a necklet and pendant, and to the
> other he gave a ring. The bride's pre sent to the bridegroom was a
> pair of gold sleeve links. The wedding breakfast was held at Miss
> North's, the Rev. Mr. Coverdale presiding, when the usual toasts were
> honoured.
> Subsequently Mr. and Mrs. Roberts left by motor for Goulburn en route
> to Sydney, where the honeymoon will be spent. Their future residence
> will be at Lower Boro. The wedding piesents formed a numerous
> collection.
> Goulburn Evening Penny Post , Thursday 25 December 1913
>
> Warwick McCall
Thanks,
Regards, Ian
---
GEE
On 11/11/2014 15:34, Warwick McCall wrote:
> Proposed Change: Gee, Ethel May (I311701)
> Tree: Eden Monaro Pioneers
> Link:
> http://monaropioneers.com/TNG/getperson.php?personID=I311701&tree=MP
>
> Description: Marriage 20 Dec 1922 Braidwood
>
>
> WEDDING
> On Wednesdey, 20th December, the Presbyterian Church, Braidwood,
> beautifully decorated with Christinas bush and pink and white
> hollyhocks, was the scene of a pretty wedding, the contracting partiys
> being Miss Ethel Gee, of Braidwood, and Mr. Harold Roberts, of
> Colombo, Braidwood, Mr. O'Dea officiating.
> The bride looked charming in a frock of ivory cashmere de soie,
> trimmed with radium lace and bugle beads, with wreath and veil, and
> car ried a sheaf of Xmas lilies, while the pretty bridesmaid, Miss
> Bessie Burke, was attired in pale pink georgette, with black picture
> hat, and carried a bouquet of blue delphiniums. The position of best
> man was filled by Mr. Lionel Dunlop, of Sydney.
> The bride groom's presents to the bride and bridesmaid were a gold
> bangle and a gold armlet respectively. As the bridal party entered the
> church the large congregation sang 'The Voice That Breathed O'er
> Eden.' and dur ing the signing of the register 'Beloved it is Morn'
> was sung by Miss Watt of Ashfield. The wedding march was played by
> Miss J. B. Hogg.
> The breakfast at the Oddfellows' Hall was attended by about twenty
> guests, Mr. O'Dea presiding, after which the happy pair took their de
> parture for Sydney and the Jenolan Caves. - The presents were both
> handsome and useful, including several cheques.
> The Braidwood Review and District Advocate, Tuesday 2 January 1923
>
> Warwick McCall
Thanks,
Regards, Ian
---
SMITH
On 12/11/2014 17:50, Michelle wrote:
> Proposed Change: Smith, John Barber (I309114)
> Tree: Eden Monaro Pioneers
> Link:
> http://monaropioneers.com/TNG/getperson.php?personID=I309114&tree=MP
>
> Description: Hi Ian
> just a few things to add here.
> Son of John Barber Smith (1) was also John Barber Smith (2) Obituary
> Goulburn Evening Penny Post (NSW : 1881 - 1940) Friday 3 March 1933 p
> 2 Article OBITUARY MR. J. B. SMITH The sudden death of Mr. John Barber
> Smith, of Glengowing, near Yass, on the morning of the 17th, came as a
> great shock to his family and friends. Mr. Smith was in his usual
> health and had a turn and passed away in a few minutes. His widow and
> two sons and four daughters
> survive him. The sons are Robert and Pat, of Glengowing, and the
> daughters, Doris, Claudie, Mrs. Versy Medway, of Kiowarrah, and Mrs.
> E. Toohey, of Eugowra. The funeral, which was largely attended, was
> conducted to the Roman Catholic Cemetery, Yass, on Saturday evening.
> Rev. Fr. J. F. Leonard officiated at the graveside.
>
> John Barber Smith(2) was married to Sarah Catherine?
>
>
> One daughter of the 2nd John Barber Smith , Doris Lillian Smith
> married Vincent Benedict Hallam (year unknown) Vincent was the son of
> Patrick Hallam & Bridget Honora Drew (this family is already on MP
> site).
> Doris died 26 Sept 1953. Goulburn
>
> Doris Lillian Smith/Hallam Obituary
> Goulburn Evening Post (NSW : 1940 - 1954) Monday 28 September 1953 p 2
> Article OBITUARY MRS. D. HALLAM The death occurred suddenly at her
> residence, William Street, Goulburn,on Saturday morning, of Mrs.
> Dorothy (sic) Lillian Hallam, aged 36 years. Her health had been
> indifferent for many years. The late Mrs. Hallam was formerly a
> resident of the Crookwell district, and moved to Goulburn in recent
> years. She is survived by her husband, three sons, Terence, Paul and
> Laurence, and one daughter, Faye, all of Goulburn. Also surviving are
> two brothers, Pat (Yass), and Bob (Bevendale), and three sisters,
> Claudie (Sydney), Anastasia (Forbes), and Grace (Mrs. V. Medway,
> Dalton). The funeral left the Sacred Heart Church, North Goulburn,
> this morning, for St. Patrick's Cemetery, Kenmore (grave 407)
>
> Goulburn Evening Post (NSW : 1940 - 1954) Monday 28 September 1953 p 1
> Article WOMAN FOUND DEAD A Goulburn railway worker, Vincent Hallam, of
> William Street, Goulburn, had a sad homecoming when he returned from
> work on Saturday morning and found his wife, Lillian Hallam, 36, dead
> in her bed.
> Hallam had left his wife at home with their four children when he went
> to work at 9.50 p.m. on Friday. Although she had previously been
> treated for heart trouble and blood pressure, she was in good spirits
> when he left her. She had apparently died in her sleep. Detective
> Sergeant Catt, of Goulburn police is in charge of enquiries.
>
> Cheers, Michelle
Hi Michelle,
I think I have managed to piece together this family, thanks to your information.
Regards, Ian
---
McCOY/HAWKINS
On 14/11/2014 13:46, John Moroney wrote:
> Within Patrick McCoy / Mary Ann Hawkins listing.
>
> ** 9th. child, Charles William - married Mary Ann Hayden 1901.
> There are ten children shown, but not Charles Alexander who
> according to his marriage certificate was born 1909.
> His age is given as 30, the date of the marriage 7th. October
> 1939. Place of birth is shown as Yamballa, Victoria.
>
> Can you confirm this, or add his name to your list.
> I am inclosing a copy of the marriage certificate. Further he and
> Irene Mary had two children, Kevin c1941 and Charles c1942.
> Kevin married , but spouses name unknown as are any children they may
> have had. Any deaths unknown.
> Charles married c1975, again spouse and one child unknown. Charles
> died c1980
>
> For reference purposes Irene Mary Walsh was my late wifes Aunt.
>
> John Moroney.
Thank you for letting us know, I was unable to access your attachment because it had an invalid file type.
Regards, Ian
---
COLLINS
On 18/11/2014 17:28, Kellie wrote:
> Proposed Change: Collins, Albert (I172691)
> Tree: Eden Monaro Pioneers
> Link:
> http://monaropioneers.com/TNG/getperson.php?personID=I172691&tree=MP
>
> Description: The info supplied by Bruce STUBBS appears to be incorrect
> as per VIC Death Indexes
>
> Australia Death Index, 1787-1985
> Name: Albert Hunt
> Death Place: Orbost, Victoria
> Age: 74
> Father's Name: Steve
> Mother's name: Edith Collins
> Registration Year: 1966
> Registration Place: Victoria
> Registration Number: 24623
> Estimated Birth Year: abt 1892
>
> Kellie
Thanks Kellie,
Regards, Ian
---
WOODHOUSE
On 21/11/2014 21:40, Darlene Simms wrote:
Proposed Change: Woodhouse, Doris Evelyn (I61233)
Tree: Eden Monaro Pioneers
Link:
http://monaropioneers.com/TNG/getperson.php?personID=I61233&tree=MP
Description: Doris Evelyn WOODHOUSE born: 18 Jul 1901
Cooma, New South Wales, Australia ,Marriage to Edward William
CRAWFORD, 19 Apr 1928, St Patricks Catholic Church, Cooma, New South
Wales, Australia- DETAILS-
NAME: Doris E Woodhouse
SPOUSE NAME: Edward W Crawford
MARRIAGE DATE: 1928
MARRIAGE PLACE: New South Wales
REGISTRATION PLACE: Cooma, New South Wales
REGISTRATION YEAR: 1928
REGISTRATION NUMBER: 5988, Ancestry.com.au
Darlene Simms
Hi Darlene,
I believe the wedding was April 16, 1928 ....
The Manaro Mercury, and Cooma and Bombala Advertiser - Monday 14 May
1928
Wedding at Cooma
CRAWFORD- WOODHOUSE
The marriage was quietly celebrated at St. Patrick's Church, Cooma, on 16th April of Miss Doris Evelyn Woodhouse only daughter of Mr. and Mrs. George Woodhouse of Sunnyside, Berridale, to Mr. Edward William Crawford eldest son of Mrs. Crawford of Cooma. The Very Rev. Dean Norris officiated. The bride who entered the church on the arm of her uncle, Mr. Amos Woodhouse, was neatly attired in a frock of cinnamon georgette with gold lace overskirt and cinnamon georgette hat to match. The bridesmaid, Miss Ruby Crawford, sister of the bride groom, wore a frock of fawn wool repp and fawn felt hat. Mr. Allan Woodhouse, brother of the bride, was best man. After the ceremony immediate relatives and friends were entertained at Dodd's hotel. Mrs. Woodhouse wore a navy crepe-de Chine dress with velvet trimmings and navy silk hat, Mrs. Cramford wore black ensemble and rose crinoline hat. The gift of the bridegroom to the bride was a gold wristwatch, and to the bridesmaid a leather handbag.
The bride's gift to the bridegroom was a xylonite shaving outfit. The honeymoon was spent at Eden, the bride travelling in a brown crepe-de-Chine frock and brown hat, and nigger fur stole, the gift of her father. The happy couple received many handsome presents, including a cheque of ?100 from the bride's father.
Regards, Ian
---
WOODHOUSE
On 21/11/2014 21:19, Darlene Simms wrote:
> Proposed Change: Woodhouse, Doris Evelyn (I61233)
> Tree: Eden Monaro Pioneers
> Link:
> http://monaropioneers.com/TNG/getperson.php?personID=I61233&tree=MP
>
> Description: Doris Evelyn WOODHOUSE and Edward William CRAWFORD had 5
> children Private (-)NEW Private (-)NEW Private (-)NEW Private (-)NEW
> Eileen Lillian Emma (1909-)NEW
>
> See ancestry.com
>
> Darlene Simms
Hi Darlene,
Eileen Lillian Emma born 1909???? Doris Evelyn (mother) was only born in 1901 so I doubt the validity of that information.
Regards, Ian
---
WALLACE
On 21/11/2014 18:35, Kevin Wallace wrote:
Proposed Change: Wallace, John (I207243)
Tree: Eden Monaro Pioneers
Link:
http://monaropioneers.com/TNG/getperson.php?personID=I207243&tree=MP
Description: Son of John Wallace (Reg #I207243)
Name: John Wallace
Born Bathurst NSW c1849 (calculated from death reg.)
Died: 27 Aug 1865 at Araluen, age 16 years
Occupation: Labourer
Cause: Pneumonia
Father: John Wallace, Labourer
Mother: Catherine Callaghan
Buried: 30 Aug 1865 at Braidwood
Marriage: not married
BDM NSW Death Reg. 3103/1865
Kevin Wallace
Thank you,
Regards, Ian
---
WOODHOUSE
On 21/11/2014 17:21, Darlene Simms wrote:
Proposed Change: Woodhouse, Ronald Charles (I61240)
Tree: Eden Monaro Pioneers
Link:
http://monaropioneers.com/TNG/getperson.php?personID=I61240&tree=MP
Description: Ronald Charles Woodhouse married Daphne Lavinia ROBERSON
in 1942 Registration place was Cooma New South Wales
They had 4 Children no names available as yet.
Daphne Lavinia ROBERSON Born-4 Apr 1924 in Cooma New South Wales,
Australia,Died: 02 Jan 2011 in Cooma New South Wales Australia
Darlene Simms
Thank you,
Regards, Ian
---
REID
On 20/11/2014 17:55, Tony Paul wrote:
> Proposed Change: Family: Reid, John Bernard Pendergast/Cann, Mary
> Ann
> (F15578)
> Tree: Eden Monaro Pioneers
> Link:
> http://monaropioneers.com/TNG/familygroup.php?familyID=F15578&tree=MP
>
> Description: Mary Ann Cann died 3 December 1899 at Wingham. She was
> the daughter of James Cann (22/7/1787 Devon, died 22 May 1834 at
> Paterson NSW) he came as a free settler on "Fame" 1822. His wife was
> Mary Hosegood (b 1801 Devon died 25/1/1869 Wingham NSW). She came on
> "Allies" 18 Sept 1823. Mary had 3 husbands.
>
> Mary and John had 14 children.
> I am happy to send a gedcom for you. One of their children was Harriet
> Mary Riley who married John Thomas Kerr (1848 to 1939). They are the
> ancestorys of my wife's family which is Rogan.
>
> Regards, Tony
Hi Tony,
Thanks for the information, I am happy add your gedcom file if you care to send it.
Regards, Ian
---
From: Judy
Sent: Monday, 10 November 2014 9:50 AM
To: Ian Harvey
Subject: Foley Quinn
Dear Ian
Just reading the latest newsletter correspondence and read a letter from the following:
FOLEY/QUINN
From: lppb
Sent: Monday, 3 November 2014 10:08 AM
Subject
I may be able to help the gentleman, as I have been slowly beavering away.
I have not been the best of correspondents as Jim has not been too chipper.
Please pass on my details to Lee and I will see how I can assist.
Warmest regards, Judy
Hi Judy,
Here is the email contact for you … xxxxxxxxxxxxxxxxx
Regards, Ian
Many thanks, Ian. I will contact him.
Just to let you know; I believe that Louisa Ernestine's Father was Henry Ernest Clarke. I think the middle name of Louisa is the giveaway. He lived at Delegate River at the time, along with his parents, Henry Clarke and his Mother, Mary Macdonald. Henry was born at Croydon, Sydney (registered Ashfield) in 1885. He was still there on the 1909 Electoral Roll when he married Charlotte Elizabeth Halmshaw 29 Dec 1909 at Bairnsdale. He resided thereafter at Bruthen and Bairnsdale, dying at the latter in 1978. Far better, I suspect as far as Mary Jane was concerned, to have a child with an unknown father than to acknowledge the father of her child was but a teenager.
Mind you, the above has yet to be confirmed (oh for a DNA test)
I am attaching the marriage registration for you, as what is on the page may be of some assistance to others; also the births of Madelaine Johnson and Norman Cameron.
Warmest regards, Judy
Thanks Judy,
Regards, Ian
---
ECCLESTON
From: Paul Fergus
Sent: Sunday, 9 November 2014 3:37 PM
Subject: Pauline Newell's newsletter of 19 October 2014
Dear Ian
I was very interested in the information set out in Pauline Newell's letter of 19 October 2014 about John Eccleston. I am the great great grandson of George Eccleston and Catherine Curtis and, if Pauline's assessment of the evidence is correct, the great great great grandnephew of John Eccleston.
Like you, I have doubts about whether John Eccleston and George Eccleston were brothers. Contrary, to what Pauline says one of the early Eccleston researchers on my side of the family, Kenneth Peter Eccleston, also doubted whether they were brothers. Ken Eccleston, who was a meticulous researcher – in part no doubt from his work with the Registrar General's Office in New South Wales – discovered fascinating press reports about the trial and conviction of Catherine Curtis's father in Gloucester in 1795. I am only now discovering the original sources for myself. I would, therefore, be inclined to accept his assessment of the evidence.
Having said that, my mother, Eileen Darmody, who was descended from other early settlers on the Monaro (Brosnans and Barrons) and at Duntroon/Queanbeyan (the Darmodys), was very interested in our families' histories and was well informed about them. She strongly believed that John and George Eccleston were brothers. Unfortunately, I never thought to ask her the source of her information to assess its reliability but I suspect she was told by my father's mother, Amelia Mary Eccleston, a granddaughter of George Eccleston and Catherine Curtis. Amelia Mary was born in 1872 at Mittagang and would have known her grandparents, George Eccleston and Catherine Curtis, although she was only about 8 years of age when they died at Adaminaby. I suspect, therefore, that my mother's information came from Amelia Mary Eccleston and this suggests that it might have been correct.
Although they themselves never settled on the Monaro, I have made some interesting discoveries over the last 18 months or so about John Curtis and Ann Moran, the parents of Catherine Curtis. Some of this information might be of interest to others researching the Curtis/Eccleston families.
The Gloucester Journal of Monday, 8 September 1794 reported the arrest and committal of John Curtis in the week beginning 1 September 1794 for coining and counterfeiting near Lawford's Gate, Bristol. The report reads: Last week was committed to Lawford's Gate, Bridewell, Bristol, by Rev Dr Small, John Curtis, for coining and counterfeiting silver. He was discovered at work in the morning about 7 o'clock without Lawford's gate and his implements seized.
The same journal and Sarah and Felix Farley's Bristol Journals of Monday, 16 March 1795 reported the conviction of John Curtis and his sentence of execution on Saturday, 14 March 1795. Another defendant, sentenced for stealing sheep, was in the words of all the reports "… taken for execution of sentence." In other words, he was marched about 50 metres down the road to the scaffold erected over the gate of Gloucester Gaol and hanged. John's sentence of execution seemed out of all proportion to an offence of counterfeiting one sixpenny piece, which is what the judge said in his submission to King George III explaining why he had commuted the sentence. However, the severity of the sentence fell into place once I discovered that counterfeiting the coinage was, in the eighteenth century, a type of treason and carried a mandatory death sentence. In John's case, the judge left him and his family to worry about what would happen during the rest of a busy court list on that Saturday morning in March 1795 before commuting his sentence to transportation for life.
Other evidence shows that John had been a successful accountant in Bristol for many years from about 1770. I have not been able to establish this with certainty but it appears that he and other business and professional people in Bristol fell into financial difficulties and bankruptcy in the 1790s as the centre of trade moved from Bristol to Liverpool. Another area in which John had been very successful was that he and his wife, Jane Purrier, raised 10 of 11 children to adulthood. This is quite extraordinary in the period when they lived in Bristol. Descendants of one of these children now live in the United States.
John's second wife, Ann Moran, was assigned to him in 1802 when he was emancipated and appointed supervisor of the Government Herd at Toongabbie. At the same time, he petitioned the Governor for permission to return to his wife and children in Bristol. This was, of course a forlorn hope, as his mandatory death sentence was conditional upon he is being transported for life. The sentence of execution would have come back into force if he returned to England. Nevertheless, he had obviously impressed influential people in the Colony including the Lieutenant Governor, his supervisor, the Superintendent of the Government Herd, Maj Johnson and Rev Samuel Marsden who supported his petition to return to his wife and children.
Much less is known about his second wife although I suspect she might have been at least as interesting. In a visit to the National Library of Ireland in 2013, I discovered from the Dublin Evening Post on Saturday, 5 August 1797 [No. 7348] that the Summer Assizes for Co Meath sat on Thursday, 7 September 1797 and that the judges were Robert Boyd and John Toler. We would not tolerate it today but John Toler was also the Irish Attorney General at the time. The Muster Roll for the Hercules transport, on which Ann Moran was transported to Australia, shows that she was sentenced at these Assizes and transported for life. An 1828 Muster states that she was transported for only 7 years but, in my view and that of Peter Mayberry (Irish Convicts to Australia – 1788-1849 (http://members.pcug.org.au/~ppmay/cgi-bin/irish/irish.cgi)), the more reliable record is that of 1802.
The Dublin Evening Post of Saturday, 16 September 1797 [No. 7363] reports a lengthy trial of a Thomas Tracey before Judge Toler for sedition on 7 September 1797. He was charged with being a United Irishman although that was not how he was described. The report is so long that it suggests the trial of Tracey took up the whole of Toler's day on 7 September. Therefore, it is unlikely that Toler would also have tried Ann Moran which leads to a conclusion that she was probably tried before Justice Boyd. If it is correct as stated in the 1802 Muster that she was transported for life, the implication is that she might have been connected with Tracey in some way. The 1802 Muster has been amended to correct her age at the time of her arrival in the Colony but it is not clear whether it had been amended from 30 years of age to 35 or vice versa.
Another researcher has discovered a death certificate issued in Queensland in 1890 which she believes is that of one of Ann Moran's children by John Curtis. This birth certificate states that the maiden family name of the deceased man's mother was Feaghan. I have doubts about whether this is the birth certificate for one of the children of John Curtis and Ann Moran children but, be that as it may, it is quite likely that Ann Moran had been married before her conviction in Trim on 7 September 1797. It is also possible that she was connected with Tracey in some way, a close friend or family member who had tried to protect him from the English authorities. Otherwise, it is difficult to explain why she would have been transported for life.
Unfortunately, I did not have time during my visit to the National library of Ireland in 2013 to see whether the Dublin Evening Post or some other paper reported on her trial. If there is such a report, it might explain why she received such a heavy penalty.
On visits to Trim, I have been fortunate to be shown the No. 1 court room by the Clerk of the Court. Even though the Courthouse has been extended and renovated, this court room still has the furnishings that were used in the late eighteenth century. About the only thing that has been changed is the paint on the walls and the leather insert in the judge's bench which has been replaced with a modern synthetic fabric.
Almost nothing remains of the Old Trim Gaol, which is just across the River Boyne, from the Courthouse. However, the brick steps to the River from the exercise yard of the Gaol and parts of one wall have been incorporated into the buildings on the site. These parts of the wall have been covered with Perspex panels but still bear graffiti (mostly crosses and other religious symbols) chiselled into them by prisoners in the Gaol.
If other researchers wish to contact me to discuss any of my research, I would be very happy for them to do so.
Regards, Paul Fergus
Thank you Paul,
Regards, Ian
---
BLACKA
From: fay Smith
Sent: Sunday, 9 November 2014 8:02 PM
Subject: carlene
Could you please put me in tough with carlene i think i can help her on William blacka thankyou faysmith
Hi Fay,
Carlene's email address is … 'Carlene Harris' xxxxxxxxxxxxxxxx
Regards, Ian
---
DELANEY
On 09/11/2014 15:58, Roberta Mary Delaney/Watts wrote:
> Proposed Change: Delaney, Edward James (I67747)
> Tree: Eden Monaro Pioneers
> Link:
> http://monaropioneers.com/TNG/getperson.php?personID=I67747&tree=MP
>
> Description: To my knowledge, James Delaney Master Mariner, and his
> wife Eliza (who are my grandparents) were not pioneers of Eden Monaro;
> I would be grateful if this claim on your site could be sourced.
> Sincere thanks,
> Roberta Delaney/Watts grandaughter of the above.
Hi Roberta,
Edward James Delaney and his wife Constance Eliza Miles are not shown on our website as Pioneers nor settlers of the Eden Monaro area. However, they are in our database as a result of a family tree supplied to us. We have many families in our database that have no direct connection with the region but may be related in some way and we are happy to include any such information provided as potential help to any researchers using our site.
Regards, Ian
<![if !vml]>

<![endif]>
The purpose of this newsletter is four-fold:
1. To let people know about all our activities including: the "Back to Nimitybelle" Book and the Monaro Pioneers Website.
2. To collect email and postal addresses of as many people as we can, so that they may be invited to contribute to this archive.
3. To collect Historical information about the Monaro District and the Families that have lived there.
4. And most importantly the newsletter is a venue for people who have an interest in the district to keep in contact with each other.
This newsletter is published by the Monaro Pioneers Editor on behalf of all those folk who are interested in the history of the Monaro.
If you do not wish to continue receiving this newsletter simply reply to this email with unsubscribe in the subject line.
<![if !vml]>

<![endif]>