Home | Pioneers | Contact Us | Copyright/Disclaimer
---
Monaro Pioneers Research pages: Index | Books/Lookups | Tracing Land | Convicts
Monaro Pioneers Newsletter
2014 Number 7
<![if !vml]>

<![endif]>
ANNOUNCEMENT: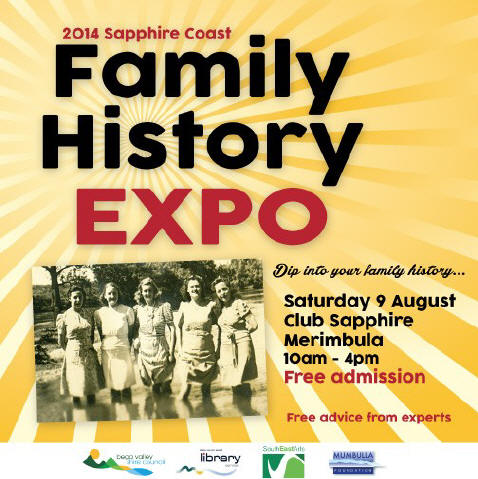 <![if !vml]>

<![endif]>
REQUESTS:
ROBINSON FAMILY REUNION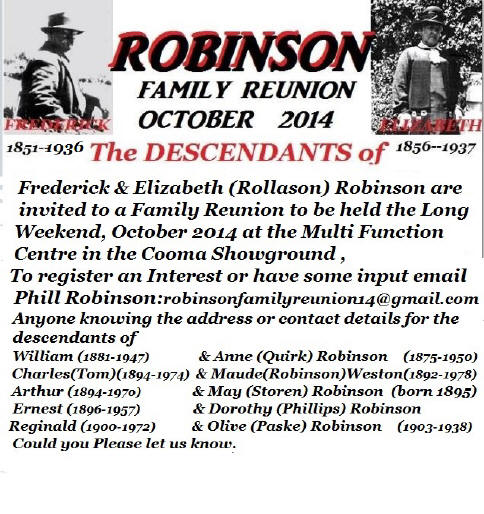 <![if !vml]>

<![endif]>

Current correspondence:
GILLARD
From: Averell Robins
Sent: Saturday, 2 August 2014 6:17 PM
Subject: Re: children list of thomas gillard and sarah budd harman
| | | | | | |
| --- | --- | --- | --- | --- | --- |
| 9344/1870 | GILLARD | ANNE S R | THOMAS | SARAH | EDEN |
| | | | | | |

I have copied and pasted the above entry from the NSW BMD so that you can see this child should not be confused as being Annie Sarah Rosina Gillard - they are two individual persons - and the latter does not belong to Thomas & Sarah.

Sent from my iPad

On 2 Aug 2014, at 5:49 pm, Averell Robins wrote:
Edwin Joseph Augustus Grey Gillard (child number 16 of Sarah Budd Harman) is not the son of Thomas (Henry) Gillard. He was born quite some time after Thomas and Sarah separated as was Rebecca, which you have recorded correctly. Neither Edwin or Rebecca are listed as children on Thomas' death certificate.

Sarah had 16 children and Thomas had 14 children. Anna Sarah Rosina is also not a daughter of Thomas & Sarah. If you change the name to Anna Sarah R. Gillard, it will be displayed correctly. Anna Sarah Rosina belongs to another family.
Kind regards, Averell
Thank you,
Regards, Ian
---
STOKES
From: Helen
Sent: Saturday, 2 August 2014 4:35 PM
Subject: Stokes Family Photo's (1)
Dear Ian,
My name is Helen Stokes.
I am the great granddaughter of Daniel & Esther (nee Dunn) STOKES who were married in 1876 at Bombala.
Their children were Bernard aka Barnabus, Eliza, Daniel, John (Jack) William, Thomas & Charles Henry Stokes.
Jack being my grandfather had one child, my father, James Francis Stokes.
I have attached family photos of Daniel, Esther their children.
Regards, Helen
Thank you Helen,
Regards, Ian
---
O'ROURKE
On 31/07/2014 19:01, Gwen Hubert wrote:
Comments: A correction is needed for the O'Rourke family.
David Daniel Digby O'Rourke is the father of David Joseph John O'Rourke and
therefore the special section for D.D.D.O'R should be amalgamated into
his son's section or deleted altogether.
That entry from the Perkins Papers transcribed by me is incorrect in
using his father's name instead of his and recording that his death
occurred at the Tuross River.His death happened at "The Creel" in the
Thredbo River.The inquiry report into David's death is available via
Trove Newspapers , Manaro Mercury 12th and 16th Feb 1923.
Thanks Gwen.
Thanks Gwen,
Regards, Ian
---
KERR
From: Stephanie Bray-Smith
Sent: Tuesday, 29 July 2014 3:53 PM
Subject: WW1 soldiers photos
Hi Ian,
I was just on the monaro pioneers website on this link about the bega valleys soldiers who joined WW1

http://www.monaropioneers.com/TNG/getperson.php?personID=I129703&tree=MP

I would like to add in a photo of my 2nd great uncle Patrick James Kerr on his horse- who died at battle in Villers Brettenaux France on 17th August 1918

I have a 3 more soldiers photos to add from the Monck family- who are all my 2nd great uncles
sons of John Francis Monck and Rebecca Jane Smith

Peter Eugene Monck- Service Number: 2184, Roll title: 55 Infantry Battalion, (Survived war), Birth 22 June 1894 in Bega
Steven Bertram Monck- Service Number: 2185, Roll title: 55 Infantry Battalion, (Survived war), Birth- 18 July 1889 in Bega
Charles (Charlie) James Maguire Monck- Service Number: 2183, Roll title: 55 Infantry Battalion, (Survived war), Birth- 31 August 1890 in Eden

Thanks, hope this helps :)
Stephanie Bray-Smith
Thank you Stephanie,
Your photos are excellent and now adorn the records of the Soldiers concerned in our database.
Regards, Ian
---
BROWN
On 30/07/2014 18:43, Patricia McGufficke wrote:
Proposed Change: Brown, Patricia (I293780)
Tree: Eden Monaro Pioneers
Link:
http://monaropioneers.com/TNG/getperson.php?personID=I293780&tree=MP
Description: Patricia Mary Brown born 1922 Canberra, ACT married 1941
Cooma, Patrick Thomas Byrne b. 17 Jun 1913 Quirindi, NSW, d. 30 May
1978 Sydney. She died 9 Jun 1988 in Royal Canberra Hospital. late of
Fenton St., Downer. Dearly loved widow of Pat, loved mother of Frank
and Brian. Aged 66 years. Children: Franklin McAlister Byrne and
Brian Douglas Byrne both born Canberra. Brian died 3 Nov 1993.
DEATH.
BYRNE - Brian Douglas. Suddenly at home on 3rd November 1993. Aged
48. Loved son of the two Pats (dec.) and brother and brother-in-law
of Frank and Noi. Loving Uncle of Ian and Andrew.
Patricia McGufficke
Thanks,
Regards, Ian
---
PETTINGELL
From: Sylvia Goodacre
Sent: Monday, 28 July 2014 5:51 PM
Subject: Joseph Pettingell buried 1852 Braidwood Cemetery
Hello Ian
I was looking at the Monaro Pioneers internet site and came across your email address. I would like to correct and add some information about the abovenamed young man who died in Braidwood in 1852. I would like to add the names of his parents, and correct and add his birth date. If you would like to update details about young Joseph, please return my email and I will relate an interesting story about him.
Sylvia
Hi Sylvia,
Thank you for the offer, yes I would very much appreciate any additional information you can provide.
Regards, Ian
Hi Ian
Thank you for your reply. Young Joseph (Joey) was the fourth child and first son of Joseph and Marrianne Linden Pettingell (nee Jones).
Joey was born 12 August 1828 at 127 Mount Street (Mayfair). He was baptised exactly on year later - 12 August 1829 - at St George (Church of England), Hanover Square, London. So Joey would have turned 24 the year he died and therefore the death notice below should say he died "in the 24th year of his age".
On 9 June 1852 the Sydney Morning Herald lists Joey's death as follows:
On Sunday, the 6th instant, at the residence of his brother-in-law, Mr. J. Roberts, Royal Hotel, Braidwood, in the 23rd year of his age, and after but a few days' illness, Mr. Joseph Pettingell, eldest son of Mr. Pettingell, of Sydney.
Mr. Roberts had married Joey's older sister, Frederica Sebright Pettingell. Freddy was the 3rd daughter of Joseph and Marrianne. I have copies of their portraits, which were painted in Goulburn in the late 1850s.
Joey and his brothers and sisters arrived in Van Diemen's Land on the "Thomas Laurie", which departed St Katherine's Docks on Monday, 17 March 1834, and arrived at Hobart on Thursday, 4 September. It was a difficult voyage and towards the end of it most of the food had run out. The supplies of coal had also run out, so they were burning what they could for cooking. Joseph Pettingell senior kept a daily journal documenting the voyage, and he also made sketches and paintings throughout the journal. The journal was donated to the National Library of Australia late last year, and there is now an on-line photographic record of every page on the NLA internet site.
I also have a photographic record of the journal and I also made a transcription of it before it was donated. It's a fascinating story.
I have gathered a lot of information about the family, and I wanted to add the above details to Joey's record. Can you tell me what plot number he is buried in? I understand the grave is unmarked. I intend giving the Braidwood Historical Museum copies of the portraits of Frederica Sebright and John Joseph Roberts next time I drive through there. Perhaps I can try to locate Joey's grave at the same time.
Thank you. Sylvia
Hi Sylvia,
Thank you for the information. I have no information on exactly where Joey is buried, only that it is an unmarked grave CofE.
Regards, Ian
---
RANKIN
From: Sheila Nairn
Sent: Monday, 28 July 2014 7:22 PM
Subject: Donald Rankin J.P. c/o Eden Monaro Project
Hello Ian,
Not sure if you are the right person to send 3 corrections to –
The reference to Donald Rankin says he was born in Argyleshire, Scotland. The spelling of Argyllshire as you will note, has 2 ll's and no 'e' in it.
Another reference I came across is under Angus Rankin, born 1745 in Lismore, Argyllshire (correct spelling). It lists wife no. 1 as Helen Cameron and wife No. 2 as unknown. Helen Cameron was wife number2 – not 1.
Under his children, namely Marjory Rankin. It lists her death at Castport House. This in incorrect. She died in Eastport House.
Angus Rankin and Helen Cameron were my 3rd great grandparents. Marjory Mitchell nee Rankin was my 2nd great grandmother. I was born in St Andrews, Fife, Scotland, and came to Australia aged 26 years.
Kind regards, Sheila Nairn
Hi Sheila,
Thank you for the information. The reference to "Argyleshire" is contained in a transcript from a book and yes it was/is misspelt. When using transcripts such as this we maintain the integrity of the original text including any errors. However, within our database where all the genealogical information is kept, the spelling is correct.
Regards, Ian
---
OSMOND
On 27/07/2014 21:25, Judy wrote:
Proposed Change: Osmond, Elsie Viola (I42935)
Tree: Eden Monaro Pioneers
Link:
http://monaropioneers.com/TNG/getperson.php?personID=I42935&tree=MP
Description: Hi Ian
Please find additional information for Elsie Viola Osmond.
Her birth date 29 September 1898.
Elsie remarried in 1944 to Joseph William Long
NSW BMD Index
15845/1944 LONG JOSEPH WILLIAM - MCPHIE ELSIE VIOLA -COOMA
Elsie died in Wagga Wagga NSW on 30 August 1995.
The link below (scroll down a little) you will find further
information relating to Elsie.
http://www.scribd.com/doc/169299700/55-Stories-of-Mission-Faith
Kind Regards, Judy
Thanks,
Regards, Ian
---
POOLE/MORRIS
From: Johnstone Poole
Sent: Friday, 25 July 2014 10:48 AM
Subject: Ancestory Search - Patricia Poole who ancestor is Nancy Morris nee Humue (Hummuch)
Dear Ian,
We are trying to research the indigenous ancestry of my wife Patricia and children. So far we have tracked it back to Nancy Humue (Bradley) who was born in July 1845, at Maneroo, Parish of Cuerindi, County of Darling near Manilla, NSW. Nancy's mother was Mary who we think was probably a tribal aborigine from the Monaro area.
So far we have produced a chart showing family relationships.
We are wondering how to access your database & web site to see if we can get further information.
Are there any other useful websites &/or databases.
Would you be able to help us?
Yours sincerely, Johnstone & Patricia Poole.
Hi,
Our website is www.monaropioneers.com you can search our database via the link on our home page. I don't know of any other website specific to the Monaro region.
Regards, Ian
---
JONES
On 21/07/2014 19:09, Judy wrote:
Proposed Change: Jones, Vera M. (I62809)
Tree: Eden Monaro Pioneers
Link:
http://monaropioneers.com/TNG/getperson.php?personID=I62809&tree=MP
Description: Hi Ian
Some updates for Vera M Jones file.
NSW Marriage Index
12715/1919 GREENTREE FREDERICK A J - JONES VERA M MARRICKVILLE
(Frederick Arthur John Greentree)
Death Index
202133/1978 GREENTREE VERA MARION - JAMES - ISABEL
Queanbeyan Lawn Cemetery Register:-
Greentree Vera Marion
Lawn Plaque Section (Concrete Headstone Area)
Section F
Row I
15
13/10/1978
There are Death and Funeral notices for Frederick and Vera on Trove
website, entering only "Greentree" in search bar, I found makes easier
to find.
Thanks again.
Regards, Judy
Thanks,
Regards, Ian
---
From: Lesley Egen
Sent: Monday, 21 July 2014 11:22 AM
Subject: Sharing information?
Dear Ian,
In recent days I have had two separate queries as to if MP are sharing information with Ancestry.
I can only answer 'I don't know'.
I wonder if you could clarify if MP are sharing or have any affiliation with Ancestry/Rootsweb, please.
Lesley E (Qld)
Hi Leslie,
MP has no affiliation with any commercial website.
I personally have an ancestry subscription and I do use that site from time to time in the course of my research. It is particularly helpful because of their affiliation with the NSW State Records Office which ensures many record images are available online such as immigration and passenger lists and Electoral rolls. Too damned expensive though!
May I ask, in what context was the question raised? Did someone think that MP was directly contributing information to Ancestry or receiving funding from them? If so, the answer is a definite NO!
I do use the Rootsweb Worldconnect site which I believe is funded and supported by Ancestry as convenient place to list a subset database to enable any "google" searchers to locate an individual's basic information and then be redirected to the MP site. The Rootsweb site is free. I say subset because I deliberately remove all notes and events etc leaving just names, dates and places. The only complete database is on the MP site. Also, the subset database on Rootsweb is only updated monthly, whereas the MP site is updated constantly.
Why use Rootsweb? I have restricted the access to the MP database information so that search engines like Google etc cannot find and index the information therein. This does protect the privacy of individuals contained therein but does make "finding" stuff by generalised searching of the internet impossible. That is where the Rootsweb site has a role, because anyone searching a name will find the rootsweb entry and if they are serious would follow the link to the MP site and register for a logon to search the real thing.
As you know, the MP site is free and the contents are available for anyone to share. It would not surprise me if researchers have obtained information from the MP site and then uploaded that information to Ancestry as part of their tree. I would also be very surprised if any information obtained from the MP site was acknowledged as such.
Regards, Ian
Thank You Ian for your reply.
I agree about the cost of Ancestry hence why I do not have a subscription. Plus the fact I much prefer MP.
A couple of people had mentioned they had seen MP 'mentioned' on Ancestry. One comment was 'are they now a part of Ancestry?'
The other comment was 'I hope they are not selling information to MP'. I have forwarded your reply to both people who raised the query.
I did say that I doubted anything would be 'sold', for as far as I was aware MP was a 'love' resource and that I had never had to 'pay' anything.
I mentioned that in the last Newsletter, you had thanked people for their 'offers' of financial support to attend the 'Expo' and that you had very graciously declined all offers etc.
It saddens me the first thing people think of these days is 'money', I guess it is just a fact of life.
I did also add that to access more detailed information on MP you do have to register, (which is free) and which I guessed weeded the 'serious' researchers out from the 'sticky-beaks'.
I have never heard of such a resource, apart from BDM, that is as wonderful as MP and FREE.
This is why I support and promote MP as much as I can. The team at MP deserve nothing but praise.
Thanking you again Ian (and David), keep up the GREAT work.
Lesley E
Hi Leslie,
Thank you for the kind words, you are the reason this task is so rewarding.
Regards, Ian
Sorry Ian I made a mistake in my previous reply.
It should have read '...........not selling information FROM MP'
I had typed 'to' sorry about that slip-up.
Lesley
---
JONES
On 18/07/2014 21:49, Judy wrote:
Proposed Change: Jones, John (I62810)
Tree: Eden Monaro Pioneers
Link:
http://monaropioneers.com/TNG/getperson.php?personID=I62810&tree=MP
Description: Hello again Ian
Thanks to Trove I have found confirmation on the death of John (Jack) Owen Jones, son of Isabella/McPhie/Jones/Warne.
He died on 23 February 1942 in private hospital Paddington. Both death notice and funeral notice are in SMH dated 24 February 1942 Page 10.
His mother Mrs Warne is mentioned as well as sister Vera.
He was also in A.I.F. his file is open and NOK is Mrs Warne.
On this file his birth is listed as Perth, WA. Have not found a birth index in WA, as yet.
NSW Death Index
477/1942 JONES JOHN OWEN JOHN ISABEL PADDINGTON
He is on 2 or three (for memory) electoral rolls, NSW Manly, and occupation a fireman.
Regards, Judy
Thank you Judy,
Regards, Ian
---
From: jx.bennett
Sent: 2014-07-14 6:03 AM
Subject: Monaro newsletter
I would very much like to receive the Monaro newsletter. Some years back I was able to access your database and found quite a few errors in the families I'm related to.
I took a break of some years from doing my family history but started up again this year and was pleased to see that access is now restricted and would like to contribute as much as I have for Monaro families. Some time back I emailed for access but received no reply and wonder about this. My father may have photos taken at Michelago on his uncle's property, Llanelly. I'll ask him about this.
Regards, Jan Bennett
Hi Jan,
Thank you for the offer, yes we would welcome any additional information and images you can provide. You can send your changes and additions to me and I will update our records.
The database search facility does now require a username and password to access and use. The registration process is quite simple and online.
Because the entire MP database is now online, it became necessary to implement additional security because the database does contain some individuals who are still living. Thus the need for the login process to prevent malicious software from accessing the information.
Regards, Ian Harvey
Monaro Pioneers Project
---
McNAMARA
From: Liz and Henry Wells
Sent: Sunday, 13 July 2014 9:08 AM
Subject: Descendant of Michael and Ellen McNamara
Hello Ian,
I've been googling and found Monaro Pioneers, which includes a mention of my McNamara ancestors, including Michael, my great great grandfather, who was an infant when he arrived on the Bussorah Merchant at Geelong in 1850. I believe his father was Patrick McNamara and his mother Bridget Quinlan. Michael married Ellen McTiernan, and among their children was Percival Edgar McNamara, my father's father's father. I see on the Monaro Pioneers info is being sought about those from pioneering families who served in early conflicts. Percival (Percy) Edgar was a private in the Boer War. After discharge from the army he joined the NSW Police, and his first posting was to Milparinka. He was born in October 1882, and the Queanbeyan Register leaves him off, but includes details of his brother Percival Patrick, who was born in 1879 and died in 1880. He was born in Burra but I think was living with his eldest sister and her husband in Toowoomba around the turn of the century when he joined up.
Service Number: 394
Rank: Private
Unit: 6 (QLD IMPERIAL BUSHMEN) CNTGNT
Conflict: South Africa, 1899-1902 (Boer War)
Native place: Queensland, Australia
Source: Murray page number - 517
My father's first cousin, Stephen Hopkin, is a grandson of Percy Edgar. He is a police officer at Cooma and has looked a little into family history. Stephen and I are in touch so you may have heard the same thing from him.
Am just getting into this McNamara history and really enjoying and appreciating what's on the Monaro Pioneers website.
Regards, Liz Wells
Thank you Liz,
Regards, Ian
---
MACDONALD
From: jo edwards
Sent: Friday, 11 July 2014 7:27 PM
Subject: Macdonald family of Cooma
I have family members who were from Cooma and wondered if there is any additional information on these families for our family history records. Any assistance would be appreciated. Regards Greg Macauley.
Australia Birth Index, 1788-1922
about Alice L Macdonald
Name: Alice L Macdonald
Birth Date: 1910
Father's Name: John L Macdonald
Mother's name: Alice S
Birth Place: New South Wales
Registration Year: 1910
Registration Place: Cooma, New South Wales Registration Number: 25561
: Marriage Index, 1788-1950
about John L Macdonald
Name: John L Macdonald
Spouse Name: Alice S Flanagan
Marriage Date: 1908
Marriage Place: New South Wales
Registration Place: Cooma, New South Wales Registration Year: 1908 Registration Number:
Australia Birth Index, 1788-1922
about Donald Macdonald
Name: Donald Macdonald
Birth Date: 1856
Father's Name: Ronald Macdonald
Mother's name: Catherine
Birth Place: New South Wales
Registration Year: 1856
Registration Place: Cooma, New South Wales Registration Number:
Australia Birth Index, 1788-1922
about Donald Macdonald
Name: Donald Macdonald
Birth Date: 1856
Father's Name: Ronald Macdonald
Mother's name: Catherine
Birth Place: New South Wales
Registration Year: 1856
Australia Birth Index, 1788-1922
about John Lancelot Macdonald
Name: John Lancelot Macdonald
Birth Date: 1879
Father's Name: Donald Macdonald
Mother's name: Catherine
Birth Place: New South Wales
Registration Year: 1879
Registration Place: Cooma, New South Wales Registration Number: 11810
Hi,
I suggest you use our database search facility where you will find the McDonald family in detail.
Regards, Ian
---
OLDFIELD
From: Jeremy Lee and Delise Oldfield
Sent: Thursday, 10 July 2014 9:15 PM
Subject: Henry Thomas OLDFIELD 1878 and Martha Ann (nee Harman) OLDFIELD
1887
Dear Coordinator
I was so pleased to find your website, I am the granddaughter of Henry and Martha OLDFIELD, I just wanted to let you know my grandmothers date of birth is incorrect. It was the 4 June 1887.
I am currently researching my family and would be very happy to provide you with any information you may need.
I am wondering if there is a book or history pamphlet that may have information about my family who lived at ATHLLON Homestead in Tuggeranong?
Would greatly appreciate a response and your assistance in any way.
Kind regards, Delise Oldfield
Hi Delise,
Thank you for letting us know, I will rectify that error.
I have no knowledge of any books available on your family unfortunately, perhaps the following organisation may be able to be of more help ...
I would be very grateful if you could add to or correct any of the information we have in our database or perhaps provide scans of any photos and or documents of the family.
Regards, Ian
---
From: Simon Williams
Sent: Thursday, 10 July 2014 4:21 PM
Subject: Coonhoongbula Station Snowy River
Ian,
I am doing some research on the Snowy River and came across an image on your web page of Coonhoongbula Station that relates to Henry Merrett.
I was wanting to know the specific location of the Coonhoongbula Station so that I can visit the location on the Snowy River. The image is one of the early images of the Snowy prior to the SMS.
Any idea of who to speak to about (i) the specific location of the image of Coonhoongbula Station (ii) gaining access to the location to look at the river.
Some of the work we are doing on the Snowy can be found at:
http://www.water.nsw.gov.au/Water-management/Water-recovery/Snowy-Initiative/Snowy-initiative/default.aspx
Cheers, Simon Williams
Hi Simon,
According to the information we were supplied, that station was near Buckley's Crossing (Dalgety) so that should narrow your search area. The Bombala History Society may be able to provide you with more detailed directions. This email will be in our next newsletter and perhaps one of readers might be able help.
Regards, Ian
---
From: Bill Hyland
Sent: Tuesday, 8 July 2014 11:34 AM
Subject: Re: WW1
Ian
Good Morning
My name is Bill Hyland and I have been looking into the people from Canberra that went to WW1 on behalf of the Belconnen RSL . At present I have around 460 names from this area mainly looking at Rolls of Honour and ACT Memorial web site. I have recently been made aware of your web site Monaro pioneers and my question is does your web site include Canberra as my list varies greatly with yours. I am starting to think that maybe you have excluded the Canberra (and I am referring to the vicinity of Canberra – Duntroon, Acton Ginninderra etc ) region from your database.
Can you confirm this please.
Regards, Bill Hyland
Hi Bill,
Yes my list does attempt to include those locations you mention. I have tried to include every individual I could identify using the "mapping our Anzacs" website and the AIF Project but I am not confident I have captured them all. I have found that some Memorials do list some individuals who were not born or raised in the Eden Monaro region. Where I have been able to access images of memorials I have attempted to cross check to make sure none were missed.
I would be most grateful if you could let me know the names of any individuals I have missed so that I can add them to our database. I would also be grateful for any photos of service personnel you may have to include with the individual's records in our database
If there is anything I can do to assist your effort, please let me know.
Regards, Ian Harvey
Ian,
I will send you my spread sheet in the next couple of days. I am presently bringing it up to date as I have discovered more names at Mapping our Anzacs. the names on the spread sheet are from ACT memorial web site and various Rolls of Honour around Canberra. It is work in progress as some names I haven't been able to confirm at the Archives or the War Memorial. It currently sits at 477 names.
Regards, Bill
Thank you,
Regards, Ian
Ian,
I have attached a copy of the spread sheet. As i said it is work in progress as I keep finding names. It is amazing how many people went. Most of the data has come from the ACT Memorial web site (this web site contains individual stories) with extra names coming from various Rolls of Honour around the territory. The spread sheet columns really refer to my needs as I am interested in where they were remembered.
The data is a first run through and it needs to be validated. If any thanks is due it should be addressed to Michael Hall (maath@bigpond.com) whose family have researched a lot of the data on the ACT memorial web site over a number of years and who I am particularly indebted too..
Regards, Bill
Thank you Bill,
Regards, Ian
---
GEE
From: petercafxt
Sent: Thursday, 3 July 2014 8:59 PM
Subject: Nathaniel Gee
This is a bit of overkill, but it's interesting. The first 2 are copies of the article, the others are the transcript.
Peter Campbell
Hi Peter,
Is it possible to obtain the text transcriptions of these articles, much easier to include in the database than images.
Regards, Ian
G'day
Text follows
Peter
Bega Gazette March 19, 1874
Accident.—One day last week Nathaniel Gee had a narrow escape. He was riding a restive horse, and was engaged in driving horses home. Suddenly his horse swerved, dashed against a tree, and flung his rider in an insensible state to the ground. When the young man recovered consciousness, he found he had been bleeding profusely, and supposed he had been on the grass for a couple of hours.
He managed to walk to a neighbouring house where he rested for the night, and returned home next day much shaken, but otherwise not seriously injured.
Cobargo Chronicle, Friday April 7 1899
The Court was occupied during the afternoon in dealing with a charge against Nathaniel Gee for discharging firearms (supposed with blank cartridges, the shot, No. 3, evidently having been taken out by Gee) at' persons who attended and were holding a Salvation Army meeting at Tarragandah. The case came on in the morning, and from information received the police arrested Michael Clarke (who was present hearing the case) as an accessory before the fact.
He applied for a remand till 2 p.m. for the production of witnesses, which was granted. The case was gone in to at 2 p.m., and both he and Gee are now out on bail till Saturday next. It appears that the army had met at Tarragandah at night, when Gee appeared on the scene, and banged off in all directions. He was arrested next day at Candelo.
Bega Gazette April 12 1899
BEFORE the P. M. on Saturday morning, Nathaniel Gee, who was charged on Tuesday last with maliciously shooting at David Sirl and Rosetta White with intent to do bodily harm, was brought up for sentence and fined £25 or seven months' imprisonment. The accessory charge against Michael Clark was dismissed.
The Evening News, Wed June 3, 1903 (Sydney newspaper)
At the Bega Police Court, Nathaniel Gee was committed for trial on a charge of maliciously setting fire to a waggon, the property of Michael Clarke. Accused, who had been before the court, charged with being of unsound mind, was admitted to bail.
The Delegate Argus, Saturday June 13, 1903
At the Bega Police Court last week, before the P.M., Nathaniel Gee, charged with causing malicious injury to property by burning a waggon belonging to Michael Clarke, and doing damage to the extent of £8, was committed to take his trial at next Bega Quarter Sessions. Bail was allowed, self in £50, and two sureties of £50 each, or one in £100.Tho case caused a lot of interest and the court was full of spectators.
The Evening News (Sydney) August 6, 1903
BEGA SESSIONS.BEGA, Thursday. — At the Quarter Sessions yesterday, before Judge Fitzhardinge, ………. Nathaniel Gee was charged with maliciously Setting fire to a waggon, the property of M. Clarke, on the Tanja road, and doing damage to the extent of £10. Accused pleaded not guilty. The jury returned a verdict of not guilty, and Gee was acquitted.
Bega Budget April 9, 1913
Police Court
Monday, 7th April,. (Before Mr. G. Shepherd, P.M.)
There was no appearance of the parties in the assault case, W. G. Maples v. A. Toms, and it was struck out. There was no objection to the granting of an auctioneer's license to Wm. Rixon for the police district of Moruya, Nathaniel Gee proceeded against Jas. Higgins for assault on 5thMarch.
N. Gee also proceeded against Wm. Bottomley for threatening language on llth March. Both the defendants pleaded not guilty, and in Answer to the P.M., complainant said he would proceed with the cases. Dr. Hyershed and Dr. Howie deposed that they examined Gee that morning, and wore both of the opinion that he was not in a fit state of mind to go on with the cases. The P.M. ordered that the cases stand over indefinitely. Nathaniel Gee was charged with being of unsound mind and wandering at large on Saturday night. Senior Constable Curtois deposed: At noon on Saturday I arrested Gee and took him to the lock-up, where I charged him with being insane and wandering at large in Bega; previously he was behaving in an extraordinary manner about the streets; he would shake hands with everyone, and on one occasion he put his arms around a man's neck and kissed him; he often stopped little girls; numerous complaints were made by householders, and children were terrified of him. F. Bland, solicitor, deposed; During the past fortnight Gee's conduct has been extraordinary; he threatened to have Mr. Richards, the school teacher, putout' of his position; Gee has frequently been in my office lately, asking me to write letters to different people; I advised him to stay at home, but it was no use; he is a menace to the town, and the women are frightened of him. Dr. Evershed deposed: Gee is of unsound mind, and I recommend that he be sent to an institution in Sydney; during the past twenty years I have examined him four times; he is a terror to the district.
Dr. Howle deposed: I consider Gee is insane, and I recommend that he be sent to an asylum.
And in a separate column under the heading "They say"
That the unfortunate Nathaniel Gee wasn't removed, to an asylum a day too soon.
Thank you Peter,
Regards, Ian
---
WARE
From: Ronda and Jeff East
Sent: Sunday, 6 July 2014 2:21 PM
Subject: Ernest H Ware
Dear Ian,
I have been asked to update the details of Ernest H Ware to KIA 11/11/1918. I have included a photo with Ernest being front 2nd from left.
No other details about him have been found. If there are any relatives of the other men in the photo who can give us more information we would really appreciate it.
Kind Regards, Ronda East.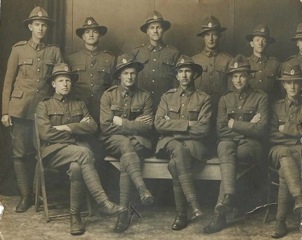 Hi Ronda,
I think you may have a problem, the men in the photo look like they were soldiers in the NZ Army. I have checked the Commonwealth War Graves site and there is no Ernest H. Ware listed. The date you show him killed in action was Armistice Day when hostilities ceased. I think that date is incorrect and I doubt he was killed in action.
Regards, Ian
---
COCHRAN
From: Judy
Sent: Sunday, 6 July 2014 4:46 PM
Subject: Proposed Change: Cochran, Neil (I62986)
Proposed Change: Cochran, Neil (I62986)
Tree: Eden Monaro Pioneers
Link: http://monaropioneers.com/TNG/getperson.php?personID=I62986&tree=MP
Description: Hi Ian
Today I found a death notice for Mary Ann (Connolly) Cochran to confirm that there was also a son born to her and Neil.
This Lachlan Valentine Cochran
NSW BMD Index
13523/1889 COCHRAN LOCHLAN V - LOCHLAN V MARY A ALBURY
and I believe it is this Lachlan Valentine Cochran who married Theresa Elizabeth Orchard in 1916.
15808/1916 COCHRAN LACHLAN V - ORCHARD THERESA E GOULBURN
They are on the Electoral Roll in Goulburn.
PHEWWW.... I hope you agree with the findings.
Regards, Judy
Thanks and well done,
Regards, Ian
---
COCHRAN
From: Judy
Sent: Sunday, 6 July 2014 4:17 PM
Subject: Proposed Change: Cochran, Lachlan Valentine (I62887)
Proposed Change: Cochran, Lachlan Valentine (I62887)
Tree: Eden Monaro Pioneers
Link: http://monaropioneers.com/TNG/getperson.php?personID=I62887&tree=MP
Description: Hi Ian
This Lachlan has confused me for some time and at last some confirmation.
This Lachlan died single.
Here is a link for confirmation.
http://trove.nla.gov.au/ndp/del/article/139009949?searchTerm=lachlan%20cochr
an&searchLimits=l-state=New+South+Wales
Theresa Elizabeth Orchard is still connected to this tree though through a son of Neil Cochran (1865) and Mary Ann Connolly.
Regards, Judy
Thanks,
Regards, Ian
---
FORSTER
From: Yvonne Jarman
Sent: Sunday, 6 July 2014 12:51 PM
Subject: Yvonne Foster
Dear Ian,
I saw the name Yvonne Foster mentioned and was wondering if she is related to the Bates Family in the Bega area. I am Yvonne Jarman, the great grand-daughter of Richard Bates 1870, son of Abraham Bates and would be delighted to contact Yvonne Foster if she feels he same.
How do I go about this?
Thank you in advance, Yvonne Jarman
Hi Yvonne,
The email address your need is .. xxxxxxxxxxxxxxxxxxx
Regards, Ian
---
HERBERT
From: Robyn Young
Sent: Sunday, 6 July 2014 12:09 PM
Subject: HERBERT
Hello Ian
Just received the June addition & came across Adrian Herbert researching the Herbert/Brown site. I am the 2nd Great Grandchild of the site in question & have been looking for further information of their children. I would be delighted to help Adrian if you could give me his email address. If not maybe you could give him mine so we could correspond. I have put the Herbert site on the Monaro Pioneers hoping to find some of their children's mystery. Thank you for all the help you have given me over the past years.
Regards Robyn Young
Hi Robyn,
The email address you need is ..xxxxxxxxxxxxxxxxxx
Regards, Ian
---
From: Forliano Email
Sent: Saturday, 5 July 2014 7:45 PM
Subject: Memorial tiles
Hello,
I was wondering if you could help me.
My father in law came from Italy to work on the snowy river scheme in 1952.
He visits cooma every year in October with 2 of his sons & his grandson.
I read somewhere that you can purchase a memorial tile/brick?
Could you please advise if this is still available & how do I purchase one please?
Thank you, Karen Forliano
Hi Karen,
Sorry I don't know of any such offer, but there is a Snowy Mountains Scheme Visitor Centre in Cooma who might be able to help you.
Regards, Ian
<![if !vml]>

<![endif]>
The purpose of this newsletter is four-fold:
1. To let people know about all our activities including: the "Back to Nimitybelle" Book and the Monaro Pioneers Website.
2. To collect email and postal addresses of as many people as we can, so that they may be invited to contribute to this archive.
3. To collect Historical information about the Monaro District and the Families that have lived there.
4. And most importantly the newsletter is a venue for people who have an interest in the district to keep in contact with each other.
This newsletter is published by the Monaro Pioneers Editor on behalf of all those folk who are interested in the history of the Monaro.
If you do not wish to continue receiving this newsletter simply reply to this email with unsubscribe in the subject line.
<![if !vml]>

<![endif]>