Home | Pioneers | Contact Us | Copyright/Disclaimer
---
Monaro Pioneers Research pages: Index | Books/Lookups | Tracing Land | Convicts
Monaro Pioneers Newsletter
2015 Number 7
<![if !vml]>

<![endif]>
ANNOUNCEMENTS:
Immigration Records
Hi Folks,
I have now finished adding the immigration passenger list images for those individuals/families that I could identify within the database and could find an entry in the Immigration indexes. You can see those images either individually attached to the relevant person(s) record or by choosing the "Media" option (see screen shot below) and then select "Immigration Passenger Lists". Over 1700 new images were added for your viewing pleasure. If you find anyone who should have an image but does not, please let me know.
Regards,
Ian Harvey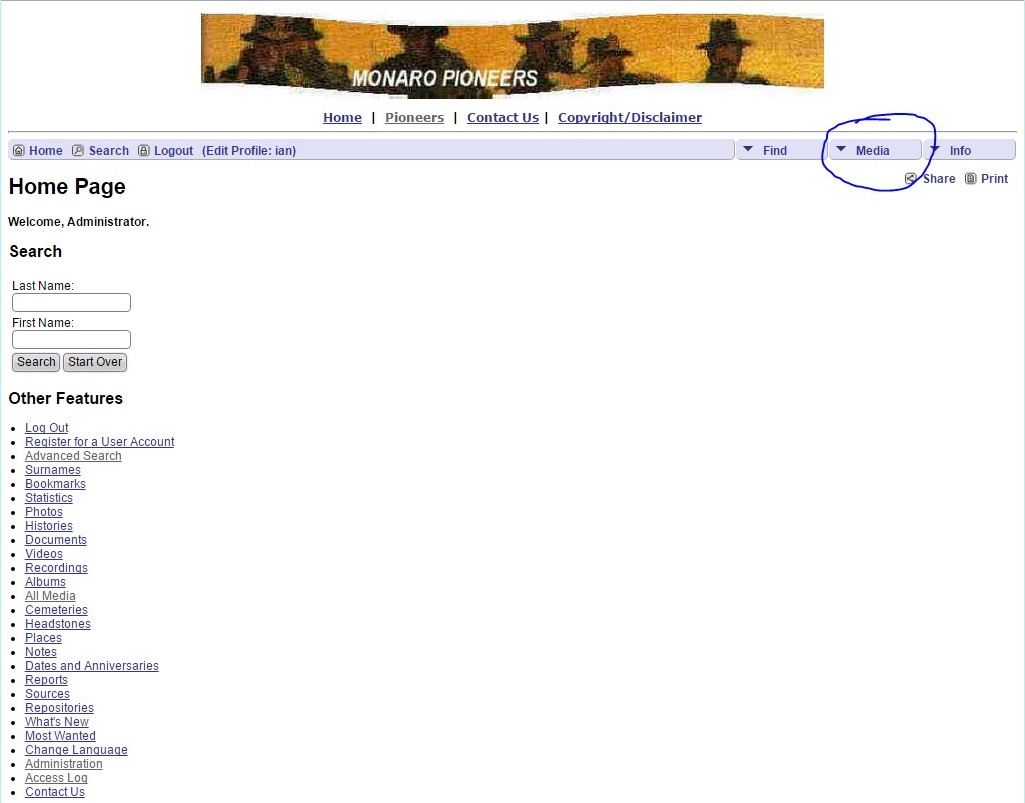 ---
DESCENDANTS OF RICHARD VENABLES (1797-1845)
My father and I have recently set up a Facebook Page "Descendants of Richard Venables (1797-1845)" to attempt to join up with fellow descendants of Richard who ended up with a lot of descendants in the Monaro area.
This year also marks the 30th Anniversary of the rededication of Richard's Headstone at Port Botany Cemetery. We are planning a get-together on Sunday 27th September to celebrate this occasion. If possible, could you please include this Facebook Page in your Newsletter:
https://www.facebook.com/groups/descendantsrichardvenables/
Advertising of the Reunion on 27th September 2015 and Botany Pioneer Cemetery would also be appreciated. Please do not hesitate to contact me if you require any further information.
Kind Regards, Kim Sannazzaro (nee Venables)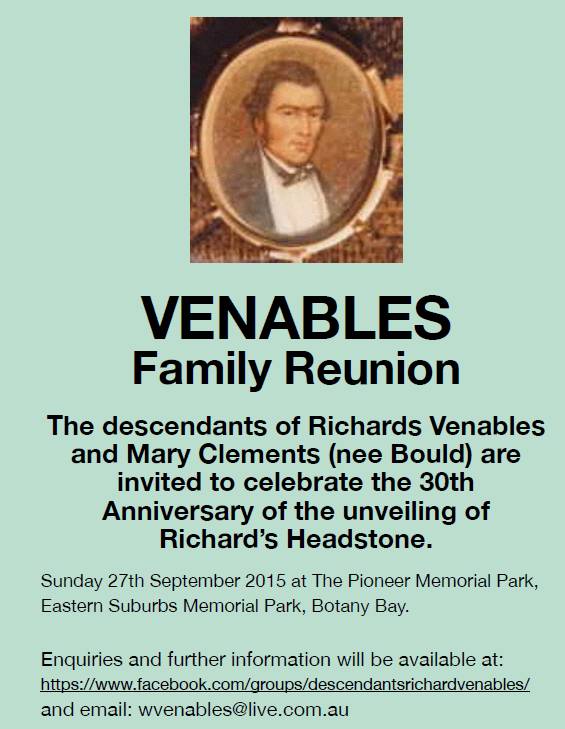 ---
ADAMINABY , OLD ADAMINABY AND DALGETY CEMETERY RECORDS
From: Bill Leane
Sent: Friday, 3 July 2015 9:42 AM
Subject: Adaminaby , Old Adaminaby and Dalgety cemetery records.
Hi,
This note is to advise that the Lake Eucumbene (Adaminaby and Old Adaminaby), and Dalgety Chambers of Commerce have agreed to a joint project to make the cemetery records of those districts available on a searchable website. This facility will have the best available council records, and a plot location tool to enable a precise location for the selected plot. We will include a capacity for corrections etc, and an associated web-page for the placement of stories, photos, and documents related to the graves and internees, for use by family reunions, etc.
We hope that this facility will enable modern generation to visit and take an interest these historic locations, and provide a depth of engagement with place and personal connection that has not been available in the past.
We have many visitors to our cemetery who are frustrated at the poor access to grave information, especially the location of unmarked graves.
I am hopeful that we may be able to reach a wider community of interest with the support of your site. You may wish to offer advice on entering this undertaking.
Thanks, Bill Leane
Treasurer, Lake Eucumbene Chamber of Commerce
(Bill Leane 0402 119 141)
---
NATIONAL LIBRARY OF IRELAND: Exciting new resource for Irish Genealogy announced
This is pretty amazing for anyone wishing to research their Irish family history. The entire collection of Catholic parish register microfilms held by the National Library of Ireland will be made available online – free – from the 8th of July 2015 onwards. On that date, a dedicated website will go live with over 390,000 digital images of the microfilm reels on which the parish registers are recorded. The National Library of Ireland has been working to digitise the microfilms for over three years under its most ambitious digitisation programme to date.

The parish register records are considered the single most important source of information on Irish family history prior to the 1901 Census. Dating from the 1740s to the 1880s, they cover 1,091 parishes throughout the island of Ireland, and consist primarily of baptismal and marriage records. For more information and update click here
---
MONARO PIONEERS now on Facebook
The Monaro Pioneers website now has its own Facebook page which is accessible at the following URL:
https://www.facebook.com/groups/893648944008345/
The Monaro Pioneers Facebook page is another source to use to gather family history information.
The MP Facebook is another tool use to help build on the Monaro Pioneers database.
The MP Facebook page is a member base Facebook page.
Once members are approved, members usually send a thank you and a brief message how they are connected to the Eden/Monaro areas.
Members can then exchange family connections i.e. how they are related to each other.
Members are welcome to add photos, exchange information or connect to new family members.
Milestones such as the number of members are posted every few weeks.
A reminder post is posted to the Facebook page for members to refer to the Monaro Pioneers website for further information and to arrange for any updates needed on the database.
Photos that are added to the Facebook page may also be added to the MP database.
Members can connect to other members directly and send messages, etc. if necessary.
---
BOOK - TOWARDS MRS KEEFE'S FARM
From: John S. Trengove
Sent: 2015-03-11 2:41 PM
Subject: Monaro history
Dear David Knox,
From one whom has a long held interest in the history of the Monaro, I have recently released a book entitled "Towards Mrs Keefe's Farm", in which your newsletter readers may be interested .
Please see attachment (Book now available.pdf) announcing the availability of the book - a PDF e-book which brings much of the history of the Monaro of New South Wales, and the life of conditionally pardoned convict Joseph Wild, together in one fully illustrated work of 424 pages.
Thanking you, and Monaro Pioneers for the excellent work you are doing.
From John S. Trengove (Author)
78 Botha Avenue, Reservoir
Melbourne, 3073
(03) 9469 2990
---
BOOK - A FAMILY BEGAN WITH LOVE - JOHN AND MARTHA LOVE
From: margaret cooper [mailto:landmdcooper@optusnet.com.au]
Sent: 2015-05-21 1:16 PM
To: nl@monaropioneers.com
Subject: LOVE FAMILY BOOK
Hi David
I still have a few copies left of the family history I wrote in 2011 - "A Family Began with Love" – John and Martha Love – 220 Years of their descendants and associated families. Plus updates as an Addendum to the book.
If anyone is interested, please contact me landmdcooper@optusnet.com.au
With thanks
Margaret Cooper
<![if !vml]>

<![endif]>
REQUESTS:

COTTERILL
From: Owen Davies
Sent: 2015-06-21 12:41 PM
Subject: Phil Cotterill school reunion invitation
Dear Ian and David
I went to school with Phil Cotterill and recall his connection with the Monaro.
It looks him in the 3rd grade photo of 1965 on you fascinating web page.
http://www.monaropioneers.com/cotterill-p1.htm
The organisers of our 40 year school reunion would like to contact him or any of his family to pass on the invitation.
Could you please forward this message if you are in contact with the Cotterills?
Kind regards
​Rev. ​Owen Davies
​PS Ian, I believe we may acquainted through Maffra church interests.​
---
BOOK WANTED - BRECON TO THE MONARO AND BEYOND
From: Storey, Susan
Sent: Tuesday, 2 June 2015 10:12 AM
Subject: Brecon to the Monaro and beyond
Good morning Ian .
I am wanting to buy a copy of Brecon to the Monaro and beyond volume two by Lynne Stevens .Would you know where I could get a copy ?
Kind regards Susan Storey
Hi Susan,
We can add your request to our next newsletter and perhaps one of our readers can help you.
Regards, Ian
---
HENRY GRANT REUNION
From: haylockmaree
Sent: 2015-05-15 6:39 PM
Subject: Grant Reunion
Hello David,
I was pleased to receive your email. Thank you for the promotion - I have received emails from descendants who accessed the information on the Monaro Pioneers website.
Are you planning to attend the reunion?

I am hoping that this reunion will afford us the chance to record details of our family lines to the present day children. We appreciate the opportunity the website affords us to spread the word so that hopefully we will achieve this task.
My apologies for the time lapse between emails but we have been refining the plans for the reunion.
I am sending two attachments with this email.
The first is the planned program for the Grant Reunion on the 3rd, 4th and 5th November 2015 at Wyndham NSW.
Please circulate this information to as many descendants as you have contact with. Also if you have any documents on the Grants, which you would be willing to share, please bring it on the weekend. We plan to have a copier (as original documents are precious) and the copies would be added to the displays.
Work on the grave of Henry Grant at the Wyndham Cemetery is planned and will be dedicated on this weekend and the second attachment is a request for donations for the cost of this work.
Is it possible to add both these attachments to the web site?
Contact details are:
Maree Haylock 0419578412 You have my email address
Nancy Grant pjncgrant@msn.com 0264942127
Barbara Grant 0264942124
If you have any further questions please email me.
Kind regards
Maree (Grant) Haylock
---
WILLOUGHBY REUNION
From: Sue Zammit
Sent: 2014-09-26 7:28 PM
Subject: WILLOUGHBY REUNION 2015 AT BRAIDWOOD NSW
Hello David
I would like to introduce myself. My name is Sue Zammit and I live in Gisborne, Victoria. My fathers mothers family were the Smith family from Braidwood NSW. The father was Joseph Smith Born in 1843 in Pinxton, Derbyshire England. He married in 1867 in New Zealand to Mary Jane Granger She was born in 1853 in Surrey, England. They went on to have 16 children. The moved to Braidwood New South Wales, Australia in 1891 and Mary Jane went on to have another3 children, one of which was my grandmother Ethel Dorothea Louisa Smith. One of the Smith girls married into the Willoughby family that was settled in Braidwood. That is where the reunion starts. The Willoughby reunion is to be held at the RSL Club in Braidwood on 26,27,28 Sept 2015 There is a Facebook page under Willoughby reunion. I was wondering if you may be able to put a notice on your web site adverting for any descendents of John Willoughby and Mary Ann Mills. She was a half cast aboriginal. I have loads of information on the whole family if your are interested. I can be contacted at email suzyq14@bigpond.com There should be a very healthy turnout as the Willoughby clan is huge.
Many thanks for your time, hope to hear back from you .
Kind regards Sue Zammit (Gisborne, Victoria)
<![if !vml]>

<![endif]>
CURRENT CORRESPONDENCE:
HAYLOCK
From: David Haylock
Sent: 3 August, 2015 12:54 PM
Subject: Haylock Genealogy
Hi Ian
My name is David Haylock and I have been researching the Haylock line for many years.
My common line with the Monaro Pioneers starts with Elijah Haylock (my Great,Great Grandfather), brother to Abner Haylock.
I have also recently met with Roger Haylock his wife and George Haylock down at Nimmitabel. (Peter Haylock was not available to talk to when I visited the area)
I recently was researching the Haylock's and came across the names of William Robert Arthur Haylock and his wife Margaret Dianne Haylock from "Woodbine" (who I believe is a contributor to your newsletter) and I discovered I have no information about them only that they feature in the Monaro Pioneers.
Ian would you be able to furnish me any information about William and Margaret to help me complete my picture of the Monaro Pioneers
I would be happy to talk to talk to any one by phone if necessary
Kind Regards, David
Hi David,
Unfortunately we do not have any information on William Robert Arthur Haylock or his wife Margaret Dianne as yet. Perhaps one of our newsletter readers may be able to help?
Regards, Ian
---
LETTE
From: Bill Leane
Sent: 2 August, 2015 12:54 PM
Subject: Re: Old Adaminaby
Phylis,

There are references to 5 Lette burials in the OA Cemetery.

Sarah Lette (D. 21/12/1889) aged 54, E Section Anglican, Plot D3, Tombstone #240
Rollo Sylvester (D. 1906) aged 9 months, Catholic , Plot F5, Tombstone #118
Margaret Fay (D. 20/03/1946) aged ?, Catholic , Plot C2, Tombstone #63
Norman John (D. 12/04/1968) aged 65, Catholic , Plot C2, Tombstone #65
Ellen Mary ( D . 06/04/1992), aged 84, Catholic , Plot C2 , no tombstone

No record of any John Maximus Lette.

We have one record for William Taylor, (D. 5/06/1944) aged 87, D- Anglican, Plot D5 Tombstone #254

When we have completed out project, it will be possible to do this search on-line , and locate the actual plot -sites with a simple tool.

Since your message yesterday, I haven't been to the actual sites of these plots, and can't confirm just what is on the ground. I will do so when next there and get back to you.

I hope that this helps with your research.

Thanks
On 1/08/2015 7:39 PM, Phyllis Dowling wrote:
Bill, good to make contact with you. I am interested in Old Adaminaby, especially the cemetery. Willaim taylor who has a headstone if my grandfather. Sarah Lette is the illegitimate daughter of my greatgrandfathers sister. 'She was born at "Watery Plains"Tasmania. She was reared as the daughter of her grandparents and this has caused a lot of problems for those doing the family history trying to locate her. She married John Maximus Lette in Tasmania. Please keep me in touch with what is happening and I am happy to help with any information I can. regards Phyllis Dowling ( nee Harris from Kiandra.) I live in Tumut
Bill Leane 0402 119 141
Thanks,
Regards, Ian
---
DONNELLY
From: Myles & Elizabeth Hannan
Sent: 31 July, 2015 4:21 PM
Subject: Suggest a change: Donnelly, Francis Albert (I14840)
Ian,
I have made two unsuccessful attempts to provide comments on Francis Albert Donnelly, through the Eden Monaro Pioneers Database.
The comments I tried to send are below:
Francis Albert Donnelly, son of Henry Arthur Donnelly and Susanna Lawless, was born on 20 Jan 1882, at Neils Creek, near Bungendore, NSW. (Transcription of Birth Certificate 26767/1882). This is the Francis Albert Donnelly who married Lillian Pearl Johnson on 18 Dec 1907 at Sts Peter & Paul's Cathedral, Goulburn. (Newspaper Article – "Goulburn Evening Penny Post", 19 Dec 1907, page 2). He is also the same Francis Albert Donnelly who died at Grenfell District Hospital on 6 July 1964, aged 82 (Transcription of Death Certificate 27956/1964).
As far as I can tell, Francis Albert Donnelly did not serve in either World War I or World War II.
The Frank Donnelly who served in the First and Second World Wars was born on either 28 Dec 1882 (World War I Records) or 28 Dec 1890 (World War II Records) at Michelago, NSW. At Time of Enlistment in WWI (1918), he was resident at Coffs Harbour, NSW, had already been married to a wife named Mary, and was the father of three children. In 1941, when he enlisted in World War II, he was still resident at Coffs Harbour. He died at Five Dock, NSW on 25 Feb 1968 (Ryerson Index – specific reference to Coffs Harbour).
It will be some months before I send you a GEDCOM file containing the details for Francis Albert Donnelly and others connected to the descendants of Joseph Hallam and Mary Harrison, married 12 Feb 1793 in Gotham, Nottingham, England
Myles Hannan
Thank you Myles, I will amend our records.
Regards, Ian
---
LINDSAY
From: Peter Willis
Sent: 31 July, 2015 3:05 PM
Subject: Mary Ann Lindsay MP58061
Dear Monaro Pioneers
Please update the previous profile provided for Mary Ann Lindsay MP58061
Mary Ann Lindsay was born in Sydney in 13th January 1852 to parents named William Lindsay, (occupation – Baker) & Catherine Wilson. BDM-NSW Baptism Certificate obtained. Her baptism date was 28th March 1852 & received at Parish of St Andrews Scots Church Sydney.
Her siblings; Margaret b.1842; John b.1845; William b.1847; George b.1850; Mary Ann b.1852. All LINDSAY siblings were born in Sydney and appear on Monaro Pioneers.
During the course of 1852 their mother Catherine passed away. On the 22nd December 1852 the four eldest children were admitted to Ormond House in Oxford Street, Paddington. Mary Ann was admitted on the 26th April 1854 and her age was recorded as 2 years and 2 months.
In 1856 both Margaret & John were apprenticed to the Rev. Thomas Druitt, of Christ Church, Cooma. William and George were also apprenticed out in the following years. Peter died of natural causes in 1959.
Somewhere between the death of Peter Lindsay in 1859 & Mary's marriage to Henry Willis in 1872, her father William Lindsay passed away. In attempting to identify her father of the four William Lindsay's who passed away & registered in that period only one gentleman – being one of three who died in 1868 has not been linked to unrelated families. However without other ancestral information of William, cannot prove whether this was Mary's father.
Mary Ann was apprenticed to the Rev Thomas Druitt in 1861 at the age of 9 years.
Although by this time Government Regulation expected that children were to be at least 12 years of age to be apprenticed out – it enabled Mary Ann to be reunited with her only sister Margaret and brother John. It also appears special consideration was extended to her in the first instance by allowing her to be accepted into the Asylum at only just 2 years of age.
ON the wedding Certificate from December 1872, her father William Lindsay is deceased. Mary is under a Legal Guardian as she is not yet 21yo. However she records her eldest sister Margaret as her Mother. No doubt, Margaret was her primary mentor for most of her life. (As noted earlier, her mother was Catherine Wilson and passed away in 1852).
Little is known about Mary Ann's life but it apparent that she faced many hurdles throughout her childhood.
Whilst conducting newspaper searches of the Manaro Mercury, there were passing references to Mrs HJ Willis mainly to do with attending social functions.
Mary Ann was on a two week visit to her Daughter Mrs Samuel (Louisa) Martin, of Eastwood at the time of her death. Her illness was of only 5 days duration. Mary Ann Died 14th September 1930. Mary Ann was placed to Rest in Cooma Mittagang Cemetery Church of England section along with Henry Willis.
Thankyou
Peter Willis
Thank you,
Regards, Ian
---
WILLIS
From: Peter Willis
Sent: 31 July, 2015 3:01 PM
Subject: Charles Willis MP128344
Dear Monaro Pioneers
To assist family researchers please find below a brief profile on Charles Willis MP128344
Little was documented on Charles (Chas) early life. He was raised in Cooma – his parents being Henry James Willis & Mary Ann Lindsay; who had married in Maitland on the 11th December 1972. His parents established a Brick Manufacturing business. Charles James Willis, was born 1884, Cooma, NSW, and died on 20 Sep 1952, Cooma, NSW (Age 68 years). He was one of nine children.
[For research purposes - Noting that on his birth registration his name was recorded as 'Charles William Willis' but subsequent to that time all references were to 'Charles James Willis' or Chas.]
After schooling, Charles entered the carpentry-building trade. In addition he was also the local undertaker for Cooma for many years. However in 1919 he was struck down by the Influenza plague. Partly due to the ongoing effects of the influenza to his health & as an impact in the growth in the carpentry business; he was unable to meet the demands of the funeral business. He sold it to "Jas F Allen" c.1921. Charles used a horse drawn hearse but the new owner introduced motorised transportation to Cooma. It is understood that Henry continued to supply coffins to the undertaker subsequent to sale of the business.
Throughout the 1920's Charles continued success as a builder but his business was soon to suffer two major setbacks. In one Cooma Council newspaper article in 1930, there were directions being given by the council to all staff to reduce costs by one third within six months. This was the start of the Great Depression. Charles business was devastated by the Great Depression.
During the 1930's Charles frequently worked in the Bermagui and Bega districts. Just when he was re-establishing his business the onset of world war 2 again impacted on his business. At the time of war outbreak he had planned to purchase a property in the Bermagui district. However the war stopped those plans although his trade was now "Ships Joiner" & the family remained in Cooma.
Charles James Willis married Alice Jane Burke 4th June 1913
That had five children. Two currently appear on the Monaro Pioneers webpage:
Enid Willis Born 1913
Charles Eric Willis Born 1918
The other three children detailed from current public information were:
· Jeanette May Willis b. 20th May-1915, died at Bowral on 11th May 2011
· Ronald Herbert Willis born mid 1920's, Died before 15th July 2010. Buried at Catholic Cemetery Wilson Road Kemps Creek Portion: Christo Row: 80 Plot: 8
· Ross James Willis born late 1920's, Died in February 1997 in Canberra Hospital. Buried in Cooma Mittagang Cemetery 17th February 1997 – Church Of England section.
Related family members will need to profile additional information at their discretion.
In his latter years the ongoing health issues related to the Influenza epidemic of 1919; where Charles heart had been weaken became more pronounced. In 1952, Charles suffered a heart condition that took his life.
Thank you
Peter Willis
Thank you,
Regards, Ian
---
KOELLNER
From: Peter Willis
Sent: 31 July, 2015 3:00 PM
Subject: JOHANN (later JOHN) PETER KOELLNER MONARO PIONEERS MP 41390
JOHANN (later JOHN) PETER KOELLNER MONARO PIONEERS MP 41390
Dear Monaro Pioneers,
John Koellner is my Great Great Grandfather. I note that there has been some recent activity concerning John, & I offer the following information which may be of assistance to other family researchers.
Johann Peter was born 21 Dec 1834, Niklashausen, Baden-Württemberg, Germany; died 20 Sep 1906, Slacks Creek, Coolringdon near Cooma, NSW.
He migrated to Australia with extended family on the vessel The "Caesar" departing Hamburg, Germany on 11th Nov 1854 and arrived at Twofold Bay (on the far south coast of NSW) on 19th March 1855. The party included JPK's Mother; His Uncle and aunty (by Marriage) and cousins; in addition to his step family. However John's mother died on passage to Australia.
John settled around Rock Flats near COOMA. He was employed by Mr Alexander Hamilton of Woolway. The remainder of the Koellner family settled in either Bega or Eden.
After 1861, John was given an opportunity to acquire a selection at Slacks Creek, Coolringdon under the Robertson Land Act. Not only did he succeed in meeting the basic criteria to retain land ownership he doubled the holding over the next forty years. The Sands Directory of Livestock ownership for 1906 indicated Horses – 20; Cattle – 20; Sheep – 1190.
In 1868 he married AGNES MCGREGOR.
On the 28th September 1871 he received the Certificate of Naturalization and anglicized his name to John Peter Koellner (facsimile of certificate located)
John was proactive with his involvement in the community and included:
· In the Manaro Mercury 19th April 1879 John Koellner is involved with the committee for building the new Presbyterian Church in Cooma
· In the Manaro Mercury 21st March 1883, John Koellner & John McGregor are the two persons managing the tender for the erecting of a school at Coolringdon.
· John was attendant to Jury service from time to time in the later part of the century at Cooma. Of interest he appeared as a juror at the inquest to his step father's death.
· Manaro Mercury Friday 11th August 1905, the Koellner family attend the GUOOF ball at Berridale to which they were active members.
Agnes died in 1903. John died in 1906 & was 71 YRS. On around the 8th September 1906, John came down with an acute case of rheumauam but over the next 12 days heart disease supervened which proved fatal passing away on the 20th September 1906.
The children born to Johann & Agnes were (as already detailed):
1) Isabella born 1868
2) Mary born 1870
3) Dorothea born 1872
4) Martha born 1874
5) Alice born 1875
6) Malcolm born 1878
7) Ada born 1880
8) Ethel born1890 (believed to have been adopted)
His step father George Nuss & step siblings also settled in the Cooma area & I note they have been detailed by their descendants elsewhere in Monaro Pioneers
Thank you
Peter Willis
Thank you,
Regards, Ian
---
WILLIS
From: Peter Willis
Sent: 31 July, 2015 2:58 PM
Subject: HENRY WILLIS – MONARO PIONEER REFERENCE MP 58060
HENRY WILLIS – MONARO PIONEER REFERENCE MP 58060
Dear Monaro Pioneers
Please find below the story of Henry James Willis, Brickmaker of Cooma who passed away in 1929. There are two parts. Firstly what Henry achieved in his life and secondly what we don't know about his ancestry.
Due to a couple of significant errors recorded on his Death Certificate, much of what has been subsequently recorded about his Ancestry is wrong. Hoping another family researcher has picked up on the error & is able to collaborate my findings. Here we go:
PART 1 WHAT HENRY WILLIS ACHIEVED IN HIS LIFE!
Henry arrived in New South Wales as a young boy. Whether he was orphaned or his mother was estranged from his father in unknown.
Henry commenced his working life as a "boy-worker" for Fowlers of Sydney. Initially, Henry learned the art of Pottery but following the introduction of Brickmaking from 1860, he also learnt the Brickmaking trade.
Fowlers manufactured pottery, clay pipes and bricks. When the factory first started it was located on Parramatta Road Sydney. In 1844 it relocated to Glebe initially with 5 boy workers gradually extending to 25 boys. The business expanded to other sites around Sydney.
Henry left Sydney in the 1860's to seek his fortune. Heading for the Southern Highlands of NSW, he initially worked in Goulburn, then NAAS Station (north west of Bredbo) and finally Cooma. It was in Cooma that Henry was to meet his future wife, Mary Ann Lindsay.
The calling of work found Henry moving to Maitland. However, on the 11th December 1872 he married Mary at the St Pauls Anglican Church at East Maitland.
In October 1873, Mary gave birth to their eldest son Thomas Henry Willis (Henry Jnr) and soon after the young family returned to Cooma where they remained throughout their lives.
Initially Henry worked in the store of PD Murphy & Co as a labourer. It was a time when the first stage of Cooma Gaol was under construction. Whilst much of the gaol was built in stone, there became a need for the supply of Bricks.
In January 1875 Henry established his first Kiln at Dairyman's Plains near to the property of Joseph Hain. It was during a firing of the Kiln in January, that an Employee of Mr Hain called by on his way to collect fire wood. It was Patrick Murphy and he set up his buggy a short distance away. About 2 hours into Mr Murphy's wood collection, the horse reared causing Mr Murphy to be crushed to death. A young girl witnessed the accident & reported it to Henry.
This report in the Manaro Mercury of 22nd January 1875 establishes the approximate timing of when commercial Brick making for the purposes of building construction first appeared in Cooma. Prior to this time structures was mostly of timber or stone although some brick manufacturing had been undertaken for the purposes of footings for buildings. During the year of 1875 Henry developed his business.
This also places Henry's venture into Brickmaking earlier than indicated on the Cooma-Monaro Shire webpage on the Building Industry in Cooma; as Henry was in the forefront of commercial Brick manufacturing in the mid 1870's.
The following article appeared in the Manaro Mercury 20th November 1875:
BRICKMAKERS.
It will be seen ' that 'Mr. Henry Willis' has commenced' operation at Pine 'Valley. Served his apprenticeship to the Pottery trade as well. The bricks 'from' Pine' Valley, where the clay is good, are rare to-be of the right stamp. Success to the new industry.
Then from February 1876 the following advertisement was run regularly in the Monaro Mercury:
Bricks! Bricks! Bricks!
THERE IS N0THING LIKE A GOOD BRICK.
Pine Valley Bricks
HENRY WILLIS
WHO has served his time to the Brickmaking and Pottery trades, wishes to acquaint the public of Manaro that he is making Bricks of a superior quality, which he is willing to sell at a reasonable figure.
Send in your orders, and the undersigned will attend promptly.
H. WILLIS,
Brickmaker.
It is unclear if the Dairyman's Plains & Pine Valley sites are one of the same. However, by 1877 Henry had acquired a property at the end of Mulach Street where he not only constructed the family home known as 'The Glen" he also constructed a Kiln. Initially the property was a crown lease however on 24th July 1880 Henry secured the Purchase of Crown Lands –
Being- County Beresford — Parish - Cooma. SUBURBAN LOTS. Lot S, portion 126, five acres 1 rood 15 perches; Henry Willis, £20/12/4d (Twenty Pounds, twelve shillings & four pence)
On the electoral Roll for Cooma council 30 January 1884, H. Willis (Henry) has been registered as a voter, confirming his property ownership.
A description of the property was detailed in June 1885. It read:
A Neat and Faithfully-built Comfortable BRICK COTTAGE with Iron Roof, containing 5 Rooms, with 2 'Verandah Rooms' and Cellar. House standing on six & half Acres Land, and fronting Cooma Creek. Contains splendid Well of Water, and about 1 acre under Lucerne. Property located One mile from Post Office. [As a footnote, The house was still standing in March 1973 and the latest Google street view indicates that the property was intact as of 2010.]
In the publication "Thematic history of Cooma 1823 – 1945" produced from Suzannah Plowman of "Victoria design & management Pty Ltd" in September 2007, the following lines were extracted:
"In 1877 JJ Mawson built a pug mill for Brickmaker Willis at the end of Mulach Street, Cooma and Willis had a large slab shed for brick drying in Tumut Street, Cooma."
In an article written by Mr(s) McCann for the Manaro Mercury on 23rd November 1925 they reflected on the Willis family from the 1890's:
"Willis' brick kiln was then in full blast. And l picture Mr Willis' son's and an employee walking in every Saturday evening to do ' the block."
Further into the extensive Cooma article, the McCann's wrote of the youth of Cooma;
"In those days it was customary for the boys and girls, sweethearts, and mates, to congregate at the railway station every Sunday afternoon to see the train away, and' many a Sunday night 'meet' found its origination on that self-same platform!"
In addition to son 'Thomas Henry', Henry & Mary had two daughters and two sons between 1875 and 1884 who grew into adulthood. Sadly they also had four children later, all of whom passed away in infancy.
1) Thomas Henry Willis, .b. October 1873, Maitland, NSW, d. 7 Aug 1952, Moonbah, NSW (Age 79 years)
2) Louisa Willis, b. 1875, Cooma, NSW, d. 21st January 1947 Sydney
3) Margaret Ann Willis, b. 1877, Cooma, NSW, d. 1965, Balmain, NSW (Age 88 years)
4) Herbert Arthur Willis, b. 1881, Cooma, NSW, d. date 26th August 1979
5) Charles James Willis, b. 1884, Cooma, NSW, d. 20 Sep 1952, Cooma, NSW (Age 68 years)
6) John William Willis, b. 1887, Cooma, NSW, d. 1888, Cooma, NSW (Age 1 years)
7) Alice Gertrude Willis, b. 1887, Cooma, NSW, d. 1888, Cooma, NSW (Age 1 years)
8) Cecil A. Willis, b. 1891, Cooma, NSW, d. 1892, Cooma, NSW (Age 1 years)
9) Emma L. Willis, b. 1893, Cooma, NSW, d. 1893, Cooma, NSW (Age 0 years)
Of the children John, Alice & Cecil; it was a practice that children of 12 months of age who had not cut their first teeth had their gums lanced. Unfortunately for each of the three children they contracted blood poisoning and passed away. Emma died at birth.
Of the five children raised to adulthood:
Thomas Henry (Henry Jnr)) – Married & went on to be a sheep farmer near Jindabyne

Herbert (Bert) – Married & also established a farm near Jindabyne. Retired to Sydney c.1930

Charles (Chas) – Married and became a Carpenter (and for a time Undertaker) in Cooma

Margaret (Annie) – Married & set up a Bakery in Queanbeyan together with a real estate business. Retired to Sydney c.1930

Louisa – Married & operated 'Martin's Carriage Maker & Blacksmith' in Cooma before retiring to Sydney c.1929
Henry overcame many challenges in his early life and whilst it is uncertain whether he was orphaned at around the age of six or that his parents separated; life was however extremely tough. It is noted on his wedding Certificate that Henry signed with his mark "X". Then again during the petitioning in support of the formation of Cooma Council in 1879, Henry again signed with his mark "X".
But over the following ten years Henry learnt to write and much to the discomfort of the members of the newly formed Council, became a prolific letter writer. This was much to do with the appalling state of roads within the town proper & accessing the family home at Mulach St. In those days there was a crossing of the Creek near "The Glen" (not too far south of the picnic ground of today) that always suffered damage during high rainfall as well as the general state of both Mulach St & Mittagang Road.
Henry also involved himself in the Community and was an avid supporter of the friendly society "Grand United Order of Oddfellows". Henry was also a Juror at Cooma Court House as called.
On the lighter side, although the potential outcome could have been more serious; was reported in the Manaro Mercury on the 25th March 1885. In those pioneering days the arrival of an unscheduled visitor was to be expected. But for the children of Henry Willis, the emergence of a four year old girl from the bush was certainly the last thing anyone could consider.
"It emerged that Mr. H. Thornton of the Railway Hotel, Cooma, drove out to his selection on Friday with his little daughter, aged four years old. On arrival there, about six miles by the road from Cooma, the little one went to sleep in the house. The father went out to have a look at the farm and on returning in ten minutes, was astonished to find- "the bird had flown from the nest". Both Mr Thornton & his son made immediate search and after hunting for an hour went in to the police. Fortunately, the child had proceeded down Harry Boon's Gully, taking the nearest possible short cut from the selection to Cooma, the distance being only four miles by that route. As she climbed over the hills, she came across Mr. Willis's children at the brickyards on Cooma Creek, about a mile from town. In answer to one of the Willis's as to where she was going, the little girl replied, "Oh, I am going home. My father went away and I must not stop". Shortly after her Brother William reached the Willis property & she was escorted safely home."
The final quote from the story was "Mr. Thornton's four year old daughter ought to be 'a good explorer".
Eventually Henry retired & closed the Brickworks and with Mary settled into a home in Cromwell Street Cooma. It was here that on the 1st December 1929 that Henry was to take ill and following a short stay in Cooma Hospital passed away on 6th December 1929.
PART 2 - WHAT WE DON'T KNOW OF HENRY WILLIS
There is however a large hole in the story of Henry Willis. That of his parenting & ancestors.
During the completion of Henry's death notice in 1929, for some unexplained reason, his identity was not fully understood by his executors. There was only one Henry James Willis recorded on the NSW Birth Death & Marriages register for the period to which Henry may have been born. The executors believed that both were one of the same! However the 1845 Sydney born Henry James Willis died at Redfern in 1913. He was the son of Thomas Willis, Shoemaker and Convict and a Catherine Trainor (This has been validated). Therefore, Henry Willis, Brickmaker of Cooma, was not the son of Thomas Willis & Catherine Trainor born in 1845 in Sydney. Making the current records on Monaro Pioneers & many family research stories inaccurate.
Notwithstanding the misunderstanding of his father's identity, Henry's mother was recorded as Catherine Spong on the death certificate issued in 1929. A better understanding of Henry's correct identity may be revealed from the wedding certificate of Henry Willis & Mary Lindsay of December 1872. Key indicators include:
• Father Recorded as - John Willis (Deceased) N.B. possibly should have read William Willis?
• Mother is - Emma Catherine SPONG (but recorded as SPON). (N.B. It was recorded as Catherine Spong on his death certificate.)
• Place of Birth – Melbourne
• Henry is recorded as – 'HENRY JAMES WILLIS' on the wedding certificate
• The wedding certificate failed to record his age at the time of marriage.
• Mary required consent as she was not yet 21 but Henry appears to be of age and did not require consent.
It would be reasonable to assume that Henry would have a good understanding that his birth place was Melbourne at the time of his marriage. It also establishes that the mother of "our" Henry Willis was Emma Catherine SPONG.
The difficulty is that there are no official records of a John Willis & Emma Catherine Spong ever being married. The only recording of a 'male' Willis & 'Female' Spong to have married is that of William Willis & Emma Catherine Spong in Surrey England in 1839 & who migrated to Melbourne. The migration occurred in 1842.
Having analysed the children born to William Willis & Emma Spong, there is a strong probability that Henry was born in Melbourne in January 1851 to William Willis & Emma Catherine Spong. The boy was named 'Thomas Henry Willis'. It appears that Emma & Henry become estranged from the family after that time although there is no definitive evidence to this effect.
There is however on two occasions that 'Henry James Willis' refers to himself as 'Henry Thomas Willis' on official records. These were on the birth registrations of his two daughters in 1877 & 1881. Whereas on other occasions would refer to himself as Henry or Henry (Snr).
Between 1890-1893, there are two further occasions that he appears to be referenced on official records in a similar way. These were related to crown leases and although they may be related to his eldest son – (Henry Jnr) his son was only 17 -20 at the time & doubtful if he would have been eligible to obtain a crown lease at that age?
In addition & also referring to the Wedding Certificate, Mary recorded her mother as "Margaret" (being her eldest sister & mentor) in error. It is possible that Henry may have recorded his father's name incorrectly under similar circumstances (i.e. John instead of William).
But Henry Willis, Brickmaker of Cooma was not the Son of convict Thomas Willis & Catherine Trainor who was born in Sydney in 1845. However without collaborating evidence his father & ancestry remain unresolved.
Thankyou
Peter Willis
Thank you,
Regards,Ian
---
GREIG
From: luonieb
Sent: Thursday, 30 July 2015 9:33 AM
Subject: contribution from Leonie Fox Greigs of Fanning Island
Hi Ian ,I have just read Leonie Fox's contribution to the information relating to Captain William Greig King of Fanning Island.
Some years ago ,prior to his death I had morning tea with Davied Greig and his wife at Howick Auckland New Zealand. I was there by invitation relating to my research on my Paternal Grandfather Bruno Johannes Globke who married David Greigs Cousin, Caroline Daphine Greig daughter of Captain William Greig of Fanning Island which was a Tobacco Plantation. Capt. Greig had an audience with Queen Victoria to allow flying the British Flag. I have this information and much more in a hand written letter provided to me by New Zealand Govt.Archives.
So far what I have read on Capt. William Greig differs in all the stories. I have just tried directory for Leonie Fox's telephone number in Brisbane Australia and no luck with this.Do you have a contact for her please.
KINDEST REGARDS ,
Luonie Collie
092922023 N .Z.
Hi Luonie,
The only email address we have is … xxxxxxxxxxxxxxxxxxxx
Regards, Ian
---
DAVEY
From: David Knox
Sent: Tuesday, 28 July 2015 8:38 AM
Subject: Pioneer Photo's
Ian,
Could I ask you to associate these two photos with John Davey, Ref # MP70196.
He is buried in Bega Cemetery.
Thanks, David
Hi David,
With pleasure, all done.
Regards, Ian
---
MAIN/STANLEY
From: joanstanley
Sent: Sunday, 26 July 2015 6:51 PM
Subject: Monaro Pioneers
Ian Hello,
I wish to advise some data you are holding is not correct. Kindly amend per below
Mary Jane Main (Mein)
Born 1856 in Chippendale NSW
Married 28th October 1880 Gegedzerick, Cooma NSW to George Beverley Stanley
Died 25th August 1934 in Auburn NSW
George Beverley Stanley
Born 4th September 1850 in Sydney NSW
Married 28th October 1880 Gegedzerick, Cooma NSW to
Mary Jane Main
Died 19th January 1929 in Auburn NSW
· 1872 Greville's Post Office Directory has George listed as living in Lilly Vale, Nimmitabel, Cooma, NSW with occupation as a splitter
· 1880 in Gegedzerick, Cooma, NSW, was a shopkeeper.
They were married at St Mary the Virgin Anglican Church Gededzerick
Parents of George were:-
William Stanley
Born 29th May 1820 in Egham. Windsor, Berkshire, England
Migrated to Australia 1837 onboard Mangles
Married 7th July 1846 in Parramatta NSW to Susannah Sarah New
Died 10th September 1902 in Sydney NSW
Susannah Sarah New
Born 6th January 1828 in Parramatta NSW
Baptism at St Johns Church Parramatta 27th January 1828
Married 7th July 1846 in Parramatta NSW to William Stanley
Died 22nd March 1885 Burwood NSW
Thank you,
Regards, Ian
---
BAILEY
From: John and Jan Elder
Sent: Monday, 20 July 2015 2:12 PM
Subject: BAILEY John and Elizabeth of Cooma
Hi Ian
Looking at some old Newsletters I noticed in the February 2015 one that Ann Lopez is interested i n information on the Bailey family of Cooma. John Bailey is my 2x great grandfather and I would be happy to have her contact me to see if we can share information.
Thank you, Jan Elder=
Hi Jan,
The email address you need is ... 'Ann Lopez'
Regards, Ian
---
CAVELL
From: Vicki Cavell
Sent: Friday, 17 July 2015 4:31 PM
Subject: Goldfields HoteL, Wolumla
Hello Ian,
My grandparents Magdalena Cavell (Momsen) and George Cavell owned and ran the Goldfields Hotel in Wolumla. A couple of weeks ago I visited the site and started trying to find out what happened to the building: only the steps remain. No one in my immediate family knows, or can remember my father talking about, the fate of the hotel building. Do you know how I can find out?
Any help would be much appreciated.
Kind regards, Vicki Cavell.
Hi Vicki,
I suggest you ask the folks at the Bega Museum.
Regards, Ian
---
IRWIN
From: Lesley Egen
Sent: Tuesday, 14 July 2015 1:58 PM
Subject: IRWIN family
Hello Ian,
I am looking at the IRWIN family for a cousin. I notice you do not have a death date for Madeleine Mary CROWE (nee Irwin)
I have found on NSW BDM that Madeleine (Crowe) married in 1937 (10721/1937) to Arthur Charles DALY at Waverley, NSW
Madeleine DALY died in 1982 (104163/1982) listing the correct parents (Michael & Agnes).
Could you inform me if there is an 'owner' of the Irwin information on MP, maybe I could also contact them or you send them my details.
Trust all of the MP Team are keeping well and WARM,
Regards, Lesley
Hi Lesley,
Thanks for the information, we have no contact information for that family.
Regards, Ian
---
From: Roy Kwan
Sent: Monday, 13 July 2015 11:08 PM
Subject: Chinese Settlers in the Monaro region
Hi Ian and David,
We will be raising the Chinese national flag at Cooma's Avenue of Flags on Sharp St this Sunday 17th of July 2015, in conjunction with the Rotary markets. This event will be attended by members of the Chinese community from Canberra and possibly by representatives from the Chinese Embassy.
I was wondering if your group of historians know much about the history of Chinese settlers in the Eden/Monaro region. I found the stories of George Ah Kin, William Booshang and Charles Yen on your Monaro Pioneers website.
http://www.monaropioneers.com/nimmitabel/pioneers/ahkin-g.htm
http://www.monaropioneers.com/nimmitabel/pioneers/booshandj.htm
If you are available and in Cooma this Sunday, would you like to give a short speech about history of Chinese settlers in the Eden/Monaro region? Or know of any other historians who would be?
Many thanks, Roy Kwan
Hi Roy,
All the information we have is already available on our website. I won't be in Cooma on Sunday but I hope your ceremony is a success.
Regards, Ian
---
CHAPMAN
From: Joy Chapman
Sent: Monday, 13 July 2015 5:28 PM
Subject: Monaro Pioneers Web Update - Descendant of Henry Chapman
Hi Ian
Previously I had submitted, on behalf of my husband Ian Chapman, some of the descendants of Henry and Catherine Chapman.
The website currently has one of the sons of Lawrence and Gwendolyne Chapman, as I A Chapman. Would you please record Ian's full name being Ian Allen Chapman.
I am married to Ian so would you please record my full maiden name, being Joy Margaret Brooks.
We have 3 children:
Darren James Chapman
Yvette (nee Chapman) Molyneux
Glenn Robert Chapman
Thank you for the wonderful work you do in updating the website and responding to the emails you receive.
Great now to have a Facebook link also.
Joy
Hi Joy,
Thank you for the kind words and information. For privacy reasons, the MP database will only display surname and initials for any living person even though full details may actually be in the database. Rest assured we do have your husband's details as previously submitted.
Regards, Ian
---
RICH/STANDEN
From: Carlene Harris
Sent: Monday, 13 July 2015 3:37 PM
Subject: Extra family member for James Rich & Mary Ann Standen
1st born - William Henry Rich - born 1840 BDM NSW #V18402135 31A at Monaro (this is what Ancestry has, NSW Records have the same dates), death 1899 BDM Victoria #1882 at Genoa, marriage to Christine Clifford 1877 NSW BDM #2308 at Bombala/Delegate.
Death has William at 53 years old that would suggest he was born 1846, perhaps the original document has been incorrectly read, after all their parents were married in 1845. Also I originally had his birth at Wollongong like other siblings.
As you have probably experienced some people do have problems reading old script (letters and numbers) it would be very easy to misinterpret a 6 for 0.
Christine already appears on Monaro Pioneers, her parents are James Clifford and Mary Ann Hutchison.
See if you can find anything else.
Cheers Carlene
Hi Carlene,
The following link shows the Familysearch transcription record …
https://familysearch.org/ark:/61903/1:1:XTCP-GCQ
1845 seems to be the accepted year. Now who made the transcription error, Familysearch or NSW BDM? Neither of them are 100% reliable.
Regards, Ian
Hi Ian,
I looked at the Fiche today for NSW Pioneers prior to registration 1855 (Index to Baptisms (OLD) Records). It showed the 3 children of James & Mary Ann all together, same details shown on the Family Search doc you sent me. From his ref V1846 2135 31, I obtained microfilm no. 31 then searched and found record 2135 and there was all the original records from the baptisms. The families abode as Greenland, and his fathers occupation was Stockman. I did a quick search on 'Greenland' and found that land there was occupied or owned by the Clifford family. Also the District of Maneroo and County of Auckland was the Baptism area. From this information William and Christine, his future wife, grew up in the same area.
Thought you might like a look, all the others baptisms are in the Monaro area.

Cheers Carlene
Hi Carlene,
Wow, thanks I was able to extract some extra birth and baptism information from that image. Pity it was of such poor quality, as that is exactly the type of image I would like to add to our database. Where did you get access to those Microfilms?
Regards, Ian
Hi Ian,
I have access to these films at GSQ (Genealogical Society of QLD). I presume most of the Genealogical Societies and History/Historical Societies all over Australia have them.
You must have one near you, ask them is they keep the microfilms of Parish Records – Baptisms, Marriages and Burials Pre 1856 Registers, Vols 1 to 123. GSQ has 48 microfilms which cover the whole 123 numbers. You also probably need to ask if they have the facility to print from the film. There is also a separate microfiche which is the index for the people on the films refer to the attached page.
I'm glade you got some useful information, I thought you would. If you are having trouble reading the page enlarge it. Usually on the bottom RH side of your screen will have a function for enlarging.
In the next day or so I will look for Thomas and Mary Rich and again print them and sent them on.
Cheers Carlene
Hi Carlene,
OK, that sounds like a great resource. I have been doing a bit of sleuthing myself and I have found that the Familysearch website (Search Records) seems to have transcribed those early parish records and they are now available online and free. I first did a search of births using the place name Monaro - no success. Then I tried Maneroo and bingo - hundreds of birth and baptism records came up. I have been entering the information in the MP Database furiously all day and still no closer to the end of the list. I have been finding lots of new families and plenty of new dates.
Regards, Ian
---
COTTERILL
From: Irene Ramsay
Sent: Monday, 13 July 2015 8:42 AM
Subject: Newsletter query on Cotterill
Hi Ian, Re The Cotterill query in the newsletter, I descend from Thomas Cotterill my Grandfather John Charles Cotterill was an older brother of Joshua George Banks Cotterill, I had contact with some descendants in the 1990's and maybe able to help Joni Burling with info.
Regards, Irene Ramsay
Thank you Irene, I have copied Joni on this message.
Regards, Ian
---
HARDY/SINDELL
From: dewirehm
Sent: Sunday, 12 July 2015 12:32 PM
Subject: Monaro Pioneers
Hi Ian
I have only recently discovered the website of Monaro pioneers and have submitted for your inclusion a wedding photograph of Ebenezer Hope Hardy to Mabel Ellen Sindell on their wedding day in 1900. They were my great grandparents. Hope you will be able to use this. I have some more information on the Sindell family, however are am still collating.
Kind Regards, Helen Dwyer
Thank you Helen,
Regards, Ian
---
KEVILL
From: Deb & Mick Marshall
Sent: Thursday, 9 July 2015 8:05 PM
Subject: Inquiry about Clara Elizabeth Kevill
Hi Ian,
I am currently researching some of my distant relations, one of which is Clara Elizabeth Kevill, person ID I264430
I have noticed that there has recently been some additional data added to her family tree.
I was wondering if you would be able to provide me details of the contributor/s who have provided updates to her tree.
Regards, Mick Marshall
Hi Mick,
I added the extra information.
Regards, Ian
Hi Ian,
Thank you for your quick response. I am hoping that you may be able to help me solve a bit of a puzzle.
Clara Kelly (nee Kevill) was my great Aunt.
I have been trying to sort out her family tree for some time without much luck.
I know that she had 2 illegitimate children prior to having Frederick Eugene with Anthony Kelly . Other than that I have absolutely no idea on what became of her, apart from a few obscure leads which are unable to be substantiated.
My main interest at this point in time is Anthony J Kelly who is proving to be the most elusive of the lot as I am unable to determine exactly what his middle name is..
On Frederick Eugene Kelly's birth certificate he is listed as Anthony JOHN Kelly.
However I am unable to find other instances where a Anthony JOHN Kelly is listed. The only Anthony J Kelly that I can find who died in 1929, has proven to be a Anthony JOSEPH Kelly. This is supported via a copy of a probate document and a newspaper article from wagga in 1929. Neither of which mentions Clara as his spouse. Although this could possibly be due to the fact they may have been separated at that point in time.
Frederick Kelly's grand daughter tells me that he was either orphaned (or abandoned) at a young age.
Prior to his marriage to Clara Kevill, it would appear that Anthony Kelly was married to Adelaide Ginns. He appears on a tree within Ancestry.com, however once again he is listed as Anthony JOSEPH Kelly. Anknowledging the fact that Ancestry is extremely open to being set up without substantive evidence, I was hoping that you may have had some firm evidence to help me lock down some firm evidence with regards the kevills/kelly's.
Do you have a copy of either of the actual marriage certificate or any other sort of documentary evidence that may be able to assist in verifying any details about Anthony, Clara or their extended family.
I am also having difficulty in sourcing further information about Clara's 2nd child Frances G Kevill, I am unable to find any other record of him other than his Birth records. Do you have any suggestions as to possible avenues of research?
Any assistance you may be able to provide or suggest would be greatly appreciated.
I do have some photo's of James Kevill and Frank Kevill, (Clara's father and brother) if you are interested in these for the Pioneers database.
Regards, Mick
Hi Mick,
Sorry, I unable to be of much help unfortunately. The information we have was provided as part of another family tree (no contact details) and I have merely added Frederick Eugene via his military record. I don't have any supporting certificates to help either.
I suggest you obtain a transcription of one or both of Anthony Kelly's marriages to see if that helps.
I also suggest that Francis G. Kevill may have been adopted by another family and assumed that family name whatever it may be.
I would be interested in a copy of the photo you mentioned.
Regards, Ian
Hi again,
No worries "thanks "Ian.
I think obtaining the transcription copies will need to be my next step. I was hoping that there may have been somebody else out there with an interest in the Kevills, that may have had some extra information. They have proven to be a challenging branch of the family to research. Numerous variations in the spelling of the surname certainly doesn't help (Kevill, keevil, Kivelle, keville)
As far as I am awar, due to privacy laws, there is no way of checking the adoption theory……is that correct?
Frederick Eugene Kelly was born 18 Aug 1916……. The date on his Service docs is incorrect……I have sighted a copy of his birth certificate to support this.
I have attached 3 photo's, IMG0130 is James Kevill, father of Frank & Clara (with Eliza Dainer) and Mary Ellen "Molly"(with Catherine Gallagher).
If you have any questions please don't hesitate to contact me. Should I find out any further information regrding the Kevill family, I will pass on as it comes to hand.
Regards, Mick.
Thanks,
Regards, Ian
---
PARKER/QUILL
From: Philippa Garnsey
Sent: Saturday, 11 July 2015 12:28 PM
Subject: Monaro Pioneers
Dear Ian
I wish to make a change to the information on Archibald Parker's entry as part of this is incorrect and to add one for Jerome Henry Quill.
How would you like me to go about this?
Philippa Garnsey
Hi Phillippa,
Please send any additional and/or correctional information to me and I will update our database accordingly.
Regards, Ian
Hi Ian
I hope the attached information is useful and can be used on your website. The main problem with the information on Archibald Parker's entry is that Mary Ann who was recorded as being his eldest daughter was not. Her father was Thomas Spence an Irish convict. I'll send what information I have on Spence as he lived in the Monaro as well being employed by Captain Faunce.

So attached are family group records for Jerome Henry Quill and his wife Mary Ann Parker (Spence) and their children. Also attached is a short biography for Quill. I have another family member to consult re the entry for Archibald Parker and Martha Davidson but either he or I will send you that soon so you can update. In fact if you just adjust it and make Mary Ann the child of Spence and Martha that should be sufficient.
Regards, Philippa
Thank you,
Regards, Ian
---
McNAMARA
From: John & Ellen Owen
Sent: Wednesday, 8 July 2015 8:39 AM
Subject: McNAMARA, From: Donna Cash, Sent: Thursday, 11 June 2015 8:41 PM, Subject: Proposed Change: Family: McNamara, Michael/McNamara, Mary,(F32648)
Hi Ian
If Donna looks at the sites listed below she might find something of interest to her. There were two (as far as we know unrelated ) McNamara families in the Queanbeyan district around this time. The better known of the two was the family around London Bridge. I can't give any help with them. The other was at Burra and had, among a number of properties, the farm called "Hill Top". This was the family that came to Australia on the Sarah. The links are :
http://freepages.genealogy.rootsweb.ancestry.com/~owenjones/ojname1.html#MCNAMARA
http://freepages.genealogy.rootsweb.ancestry.com/~owenjones/ojf5.html
http://freepages.genealogy.rootsweb.ancestry.com/~owenjones/des_narrative/ind30.html
http://freepages.genealogy.rootsweb.ancestry.com/~owenjones/des_narrative/ind29.html
http://freepages.genealogy.rootsweb.ancestry.com/~owenjones/ojf4.html
http://freepages.genealogy.rootsweb.ancestry.com/~owenjones/biogind/mcnamara/mcnamara_john_0118-01.html and the other 4 pages linked from it
HTH
John Owen
--
Site : http://freepages.genealogy.rootsweb.ancestry.com/~owenjones/ojname1.html
MyHeritage : http://www.johnedowen.myheritage.com
MyHeritage : http://www.ellenowen.myheritage.com
Who Were They? : http://freepages.history.rootsweb.ancestry.com/~owenjones/
Family History Group : http://www.wyongfamilyhistory.com.au/
________________________________________
Thank you John,
Regards, Ian
---
McNAMARA
From: knoonan
Sent: Tuesday, 7 July 2015 5:22 PM
Subject: McMamara - July Newsletter
Ian,
Could I please have contact detail for Donna Cash as I would like to contact her regarding McNamara. I am a descendant of Bartholomew McNamara who was on the Sarah when it arrived Aug 1851. Also have a copy of pages containing McNamara for this date and December 1849. She may be able to help me sought out the McNamaras as I have another link to another McNamara through the Kelly family from Mt Cassidy.

Kevin Noonan
Hi Kevin,
The email address you need is 'Donna Cash'
Regards, Ian
---
COLLINS
From: Valma Hick nee Douch
Sent: Monday, 6 July 2015 8:09 PM
Subject: Proposed Change: Collins, Michael (I4987)
Proposed Change: Collins, Michael (I4987)
Tree: Eden Monaro Pioneers
Link: http://monaropioneers.com/TNG/getperson.php?personID=I4987&tree=MP
Description: This information from Ancestry.com.au - 6th July 2015.. Appears to be the same individual -
" Michael Collins
in the New South Wales, Australia, Registers of Coroners' Inquests, 1821-1937
Name: Michael Collins
Birth Year: abt 1862
Birth Place: Currawong Near Delegate
Death Year: Abt 1938
Death Place: Wallendebby Near Delegate
Inquest Date: 2 Jun 1938
Inquest Place: Delegate
Age: 76".
Thought this might be of interest Ian.
regards, Valma
Thanks,
Regards, Ian
---
SHEEHAN
On 26/07/2015 17:48, Catherine Sheehan wrote:
Proposed Change: Sheehan, James Lawrence (I267800)
Tree: Eden Monaro Pioneers
Link: http://monaropioneers.com/TNG/getperson.php?personID=I267800&tree=MP
Description: Hi Ian and Monaro Pioneers team :-) James Lawrence (Jim) Sheehan was my paternal grandfather.
His mother was actually Anne (Annie) McGrath 8303/1874 born 1874 in Braidwood to Charles and Susan, died 1947 in Captains Flat.
She married Patrick Sheehan in 1906. After his death she married Francis Couch in 1928 in Bungendore.
Happy to provide further information as required.
Kind regards, Cath
Hi Cath,
Thank you for letting us know. I would appreciate receiving as much additional information as you can provide.
Regards, Ian
---
COOPER
On 25/07/2015 14:29, Grayce Cooper wrote:
Proposed Change: Cooper, Arthur (I117658)
Tree: Eden Monaro Pioneers
Link: http://monaropioneers.com/TNG/getperson.php?personID=I117658&tree=MP
Description: Arthur was never in the army, his brother Thomas Harman was. (This is my great grandfather)
Grayce Cooper
Hi Grayce,
Arthur tried to join the Army but was rejected. You can see his record here ...
http://recordsearch.naa.gov.au/SearchNRetrieve/Interface/ViewImage.aspx?B=3407944
Regards, Ian
---
LOITERTON
On 24/07/2015 21:21, Warwick wrote:
Proposed Change: Loiterton, Charles (I23787)
Tree: Eden Monaro Pioneers
Link: http://monaropioneers.com/TNG/getperson.php?personID=I23787&tree=MP
Description: OBITUARY.
MR. CHARLES LOITERTON
One of this district's oldest, and most esteemed settlers, Mr. Charles
Loiterton, aged 88, passed away peacefully shortly after 9 o'clock
this morning. For the past twenty years he had taken thing's easily, after hard and successful toil on the land, and latterly was living with his son, James (also retired), in Queen street. A week ago deceased suffered a stroke, and thereafter at his advanced age, little hope of his recovery was entertained.
Deceased's wife died in Cootamunmundra eleven years ago, at the age of 72. Her maiden name was Ellen Sheather, sister of Messrs. Ike and Steve Sheather of Cootamundra. They married at Camden 79 years ago, and came to Cootamundra in the year 1871 '97 59 years ago. Deceased and his only brother, John, selected property known as "Lincondale" and "Rosemont," adjoining each other, at West Jindalee. Mr. Will Loiterton, one of the sons, now resides at "Lincolndale".
The family comprise-: John (deceased), Charles ( deceased) , James William Reginald (deceased) , Alice (Mrs. Jas. Manning, Stockinbingal), Anne (Mrs A. Armstrong, Cootamundra), Louisa (Mrs. R. Mutch, Cootamundra), Sarah (Mrs. C. Lines Leura), and Rose (Mrs. A. Cranfield, Cootamundra). Deceased's only brother, John, survives him, living in Hurley street, and is 83 years of age. He has two sisters surviving him - Mrs. New, of Goulburn, aged 85, and Mrs. Clayton, of Auburn, aged 80 years. A family of long livers indeed! Another sister, Mrs. Campbell (eldest) passed, away 20 years, ago, aged 69 years. Grand children number 62, and great-grandchildren, 87.
The funeral leaves Mr. James Loierton's residence at 3pm to-morrow, for the Methodist cemetery.
The subject of our notice was born in Lincolnshire (Eng.) and came to Australia, with his parents, at the age of 12. The parents settled at Camden. Present day active workers for the Show Association will be interested to learn that this "grand old man" of our district joined the association at its inception, and was a committee man for many years and remained a member all his life.
Cootamundra Herald, Wednesday 5 March 1930 page 2
Warwick
Thanks,
Regards, Ian
---
FRANKS/CRONIN
On 23/07/2015 16:17, Scott Kingman wrote:
Hello Monaro Pioneers Project Team.
I found you site a year or two back, when looking for some family info, and after a bit of a break, recently started looking for some more family info from the area, and remembered your site.
I'm a descendant of Richard Franks & Hannah Cronin
(http://www.monaropioneers.com/TNG/getperson.php?personID=I248000&tree=MP
[1] &
http://www.monaropioneers.com/TNG/getperson.php?personID=I248016&tree=MP
[2])
On my line, you have the descendants going down to Herbert Michael Franks, and Alice Maud Bevan, my great grandparents.
Are you interested in including the next level down, i.e. my grandparents, and my grandmother's sister and brothers?
My grandparents had 4 children, 2 long ago deceased (my father and an uncle still with us), I can also send you info on the two deceased as well if you are interested.
Not sure of what level of info you can include, but both Richard & Hannah were convicts, and I can send you what info I have on that part of their lives as well if you can use it on your great site.
Let me know if you are interested in any of the above, and I'll send through what I can.
Just a note on Richard & Hannah's marriage location, your site has it as Church of England, Richmond, NSW,("CE") but as the NSW BDM index search has it, it was at "CF", which was St Luke's Church of England, Liverpool.
Regards, Scott Kingman.
Hi Scott,
Thanks for letting us know. Yes we are interested in any additional information you can provide, we would appreciate your input.
Regards, Ian
Links:
------
[1]
http://www.monaropioneers.com/TNG/getperson.php?personID=I248000&tree=MP
[2]
http://www.monaropioneers.com/TNG/getperson.php?personID=I248016&tree=MP
---
AH HUNG
On 20/07/2015 18:25, ramona de niese wrote:
Proposed Change: Ah Hung, Grace (I367165)
Tree: Eden Monaro Pioneers
Link: http://monaropioneers.com/TNG/getperson.php?personID=I367165&tree=MP
Description: Grace was born 7th August 1884 to Walter Ah Hung and Ellen Jackson. She died as Grace Considine in 1956 in Orbost and was buried in the Orbost cemetery on 6th December 1956.
ramona de niese
Thank you,
Regards, Ian
---
GANNON
On 20/07/2015 16:56, Myles Hannan wrote:
Proposed Change: Gannon, Thomas (I27195)
Tree: Eden Monaro Pioneers
Link: http://monaropioneers.com/TNG/getperson.php?personID=I27195&tree=MP
Description: The Thomas Gannon who married Bridget Maloy (Malloy)was born in Couty Mayo, Ireland and was the son of John Gannon and Sarah Walsh (Transciption of Marriage Certificate 1929/1899). I had thought (on advice from another researcher) that Thomas Gannon, son of William Gannon and Catherine Agnes Hallam, married Florence Wilcox, but the marriage notice in the Sydney Morning Herald of 2 Nov 1907 states that the Thomas Gannon who married Florence Gertrude Catherine Wilcox was the second son of the late John Gannon of Princes Street, Miller's Point. At this stage I don't know who was the wife of Thomas Gannon, eldest son of William Gannon and Catherine Agnes Hallam. I propose to get a transcription of the Death Certificate for Thomas Gannon who died at Young in 1952 (24948/1952), son of William and Catherine, to find out.
Myles Hannan
Thanks Myles,
Good luck with your search.
Regards, Ian
---
GOODWIN
On 17/07/2015 23:15, Warwick wrote:
Proposed Change: Goodwin, John J. (I258484)
Tree: Eden Monaro Pioneers
Link: http://monaropioneers.com/TNG/getperson.php?personID=I258484&tree=MP
Description: THE LATE JOHN GOODWIN
The late John Goodwin, aged 82, was well and favorably known and liked by all for his kindly and honorable disposition. Born on 21st September, 1860, on Jugiong creek (near the bridge On the Hume Highway), on the 27th March, 1892, he married Sarah Manwaring, who predeceased him in 1934.
Three sons and two daughters are left. Deceased was the eldest of a family of five brothers and two sisters; remaining are Frank (Parker street), and Mrs. F. Fitzgerald (Parker Street).
The funeral, which was well at tended, left the R.C. Church for the Cootamundra cemetery. The prayers at the church and graveside were read by the Rev. Fr. McKenna, assisted by Fr. Coffey and Fr. Deegan (Bribbaree).
Wreaths were from George, Mean, and family; Bill, Mary, Sadie, and Clarry; Fred and Mollie Fitzgerald; Ann, Polly, Francis, Gus, Nell, and John; Mr. and Mrs. T. Hunter and family; Stella, Ernie, and Keith; Mr. and Mrs. Danswan and Mrs. Platton; Will, Jean, and family; Harold, May, and family; the Bellman family; Jack, Dot, and Ken; Victor, Jean, and family; T. W. Manwaring and family; Rene, Ell. Reg, and Start; H. W. Hobbs; Mr. and Mrs. Ken Corby and family; Jack and Annie; Charlie and Bertha; all at Hillside ; Charlie and Annie Manwaring and family; Mr. and Mrs Bob Holder and family, Louie.
Cootamundra Herald, Friday 5 February 1943 page 2
MR. JOHN GOODWIN
The death occurred. In the Sacred Heart Hospital, this morning, of Mr. John Goodwin, aged 82. Deceased originally came from Jugiong. He was born at Jugiong Creek, and was 10 years of age when the big flood of 1870 occurred. He always followed the land, and at the age of 14 assisted in the transfer of a big mob of cattle from Widgeongully to Cowra. Later he acquired a small property at Jindalee, but 14 years ago he shifted to Bribbaree, buying a property, 'Greenvale,' which was part of the old Moonbucca estate.
Always an active man, only last September he gave a hand at the shearing shed. His wife, nee Sarah Manwaring, predeceased him in 1934.
Sons and daughters are John (Cootamundra), William (Bribbaree), George (Cootamundra), Mary (Mrs. C. Douglas, Bribbaree) , and Sarah (Bribbaree).
The funeral will leave the R.C. Church at 11 o'clock tomorrow.
Cootamundra Herald, Friday 29 January 1943 page 2
Warwick
Thanks,
Regards, Ian
---
MANWARING
On 17/07/2015 23:13, Warwick wrote:
Proposed Change: Manwaring, Sarah Ann (I258425)
Tree: Eden Monaro Pioneers
Link: http://monaropioneers.com/TNG/getperson.php?personID=I258425&tree=MP
Description: OBITUARY
MRS. JOHN GOODWIN
The death occurred, at the Sacred Heart Hospital this morning at 9, of Mrs. John Goodwin; In her 67th year. Deceased was the wife of Mr. J. Goodwin, of Bribbaree, late of Jindalee, and leaves a husband and family of three sons and two daughters. Mrs. Goodwin was the second youngest daughter of the late George Manwaring, of Kyron. The brothers are William and George (Cootamundra), and Jack (Lithgow); sisters, Mrs. W. Fitzgerald (Kyron) , Mrs. Donoghue (Cowra), and Mrs. D. Belle (Lake Macquarie).
The remains will be interred in the Catholic portion of the local cemetery, the funeral leaving the R.C. Church at 3pm tomorrow.
Cootamundra Herald , Friday 26 October 1934 page 3
Warwick
Thanks,
Regards, Ian
---
MARSHALL
On 15/07/2015 18:37, Kevin Wallace wrote:
Proposed Change: Marshall, James (I239258)
Tree: Eden Monaro Pioneers
Link: http://monaropioneers.com/TNG/getperson.php?personID=I239258&tree=MP
Description: The Canberra Times (ACT: 1926 1995) Monday, April 16, 1979. Page 8.
DEATHS
Marshall, William James (Jimmy). April 13th at Canberra Hospital.
Late of 5 Maxwell St, Yarralumla. Beloved brother and brother-in-law of Violet and Leo Doyle. Aline and Don McDonald and Phyllis Shoobert. Loved uncle of their children. Aged 72 years.
FUNERALS
MARSHALL. The relatives and friends of the late Mr. William James
(Jimmy) Marshall are respectfully informed that his funeral will leave St Peter Chanel's Catholic Church, Yarralumla after Requiem Mass to be celebrated at 10.30am Wednesday April 18th for interment in the Canberra Cemetery.
The Canberra Times (ACT: 1926 1995) Friday, May 4, 1979. Page 14.
RETURN THANKS
MARSHALL, William James (Jimmy) Violet Doyle, Aline McDonald and Phyllis Shoobert sincerely thank Reverend Father O'Brien, Reverend Father Nickle, relatives and friends for the prayers, thoughts, care nd floral tributes received by them on the sad loss of our beloved brother.
Kevin Wallace
Thanks,
Regards, Ian
---
MARSHALL
On 15/07/2015 16:48, Kevin Wallace wrote:
Proposed Change: Marshall, Evelyn Mary (I152616)
Tree: Eden Monaro Pioneers
Link: http://monaropioneers.com/TNG/getperson.php?personID=I152616&tree=MP
Description: The Canberra Times (ACT: 1926 1995) Friday, March 20, 1964. Page 32.
DEATHS
McINTYRE, Evelyn Mary. Of 24 Dumaresq Street, Dickson. Loving mother of Mavis (Mrs. C. McFadzen), Kevin (deceased), Beryl (Mrs. B. Reynolds), Myles, Norma (Mrs. G. Grossman), and loving sister of Joe Marshall, Greta (Mrs. M. Doyle) deceased, Clair Marshall, James Marshall, Violet (Mrs. L. Doyle), Aline (Mrs. D. McDonald), Phyllis Mrs. P. Shoobert).
Requiescat in Pace.
FUNERALS
McINTYRE. -The relatives and friends of the late Mrs. Evelyn Mary McIntyre, of 21 Dumaresq Street, Dickson, are respectfully informed that her funeral will leave St. Christopher's Co-Cathedral, Manuka, after prayers to commence at 2.30 p.m. today (Friday) for interment in the Catholic portion of the Canberra Cemetery.
* * * * * * * * * * *
Kevin Wallace
Thanks,
Regards, Ian
---
MATTHEWS
On 11/07/2015 01:04, Kerry williams wrote:
Proposed Change: Matthews, John (I73513)
Tree: Eden Monaro Pioneers
Link: http://monaropioneers.com/TNG/getperson.php?personID=I73513&tree=MP
Description: You have missed Hugh Matthews son of John Matthews and Rebecca Collins. He married Millicent Rose Robinson.
Kerry williams
Thank you Kerry,
Are you able to provide more specific details on dates and places for these people?
Regards, Ian
---
GAMMON
On 09/07/2015 18:41, Matthew Cunneen wrote:
Proposed Change: Gammon, Harriet (I53138)
Tree: Eden Monaro Pioneers
Link: http://monaropioneers.com/TNG/getperson.php?personID=I53138&tree=MP
Description: Change of Date of Death to 19 August 1922.
Source: NSW BDM 13747/1922.
Matthew Cunneen
Thanks,
Regards, Ian
---
ARMSTRONG
On 08/07/2015 18:41, jim lofts wrote:
Proposed Change: Armstrong, Alice Sophia (I334382)
Tree: Eden Monaro Pioneers
Link: http://monaropioneers.com/TNG/getperson.php?personID=I334382&tree=MP
Description: alice and fred married 12/9/1892 gouldburn trove 3/10/1892 article/13881051
regards jim
Thanks,
Regards, Ian
---
ANNETTS
On 08/07/2015 18:32, jim lofts wrote:
Proposed Change: Annetts, Richard Thomas (I162990)
Tree: Eden Monaro Pioneers
Link: http://monaropioneers.com/TNG/getperson.php?personID=I162990&tree=MP
Description: Richard died 18/1/1958 Ryerson index & nsw bdms Cecilia died 7/12/1976 Ryerson index & nsw bdms
regards jim
Thanks,
Regards, Ian
---
From: David Knox
To: pqfowler
Sent: Tuesday, July 07, 2015 1:21 PM
Subject: Monaro Pioneers Newsletter for June, 2015
Dear Judith Fowler,
The June 2015 edition of the Monaro Pioneers Newsletter is now available from the Monaro Pioneers website.
Here is the link to access this edition .....
http://www.monaropioneers.com/Newsletter/MP%20NEWSLETTER-2015-6.htm
Thank you & enjoy,
David Knox
Newsletter Editor
Monaro Pioneers
Thank you David and Team for your newsletter , I and my family are so excited about the Cemetery records for Old Adaminaby etc will be online for your readers/ I have many relos buried in this particular Cemetery and I know that these records will be of a great use to me.
Thank you for the update.
regards
Judith Fowler (Casey) Goulburn
<![if !vml]>

<![endif]>
The purpose of this newsletter is four-fold:
1. To let people know about all our activities including: the "Back to Nimitybelle" Book and the Monaro Pioneers Website.
2. To collect email and postal addresses of as many people as we can, so that they may be invited to contribute to this archive.
3. To collect Historical information about the Monaro District and the Families that have lived there.
4. And most importantly the newsletter is a venue for people who have an interest in the district to keep in contact with each other.
This newsletter is published by the Monaro Pioneers Editor on behalf of all those folk who are interested in the history of the Monaro.
If you do not wish to continue receiving this newsletter simply reply to this email with unsubscribe in the subject line.
<![if !vml]>

<![endif]>