Hi Ian,

I have attached Joshua's birth record, and while I do agree that it does name Joshua as father,
I honestly have no idea why Joshua was added as the father when this is clearly Thomas and Ann's baby.
Perhaps there was confusion when they asked for "father's name", Thomas gave his own father's name?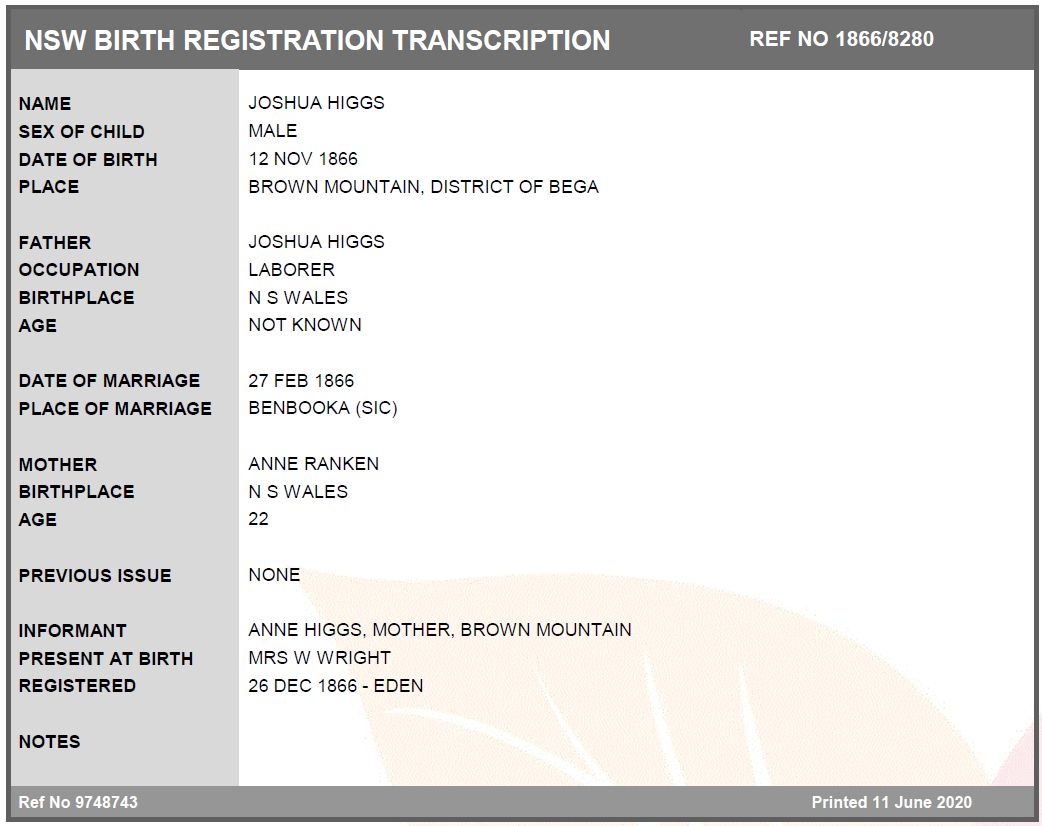 Ann Rankin was Thomas's wife, not Joshua's.
Joshua's wife was Ann Cunningham.
I will attach the the death registration of Ann Rankin which names Thomas as her husband, along with a newspaper story of her death from
Goulburn Herald and Chronicle (NSW 1864 - 1881) Wednesday 12 June 1872 page 2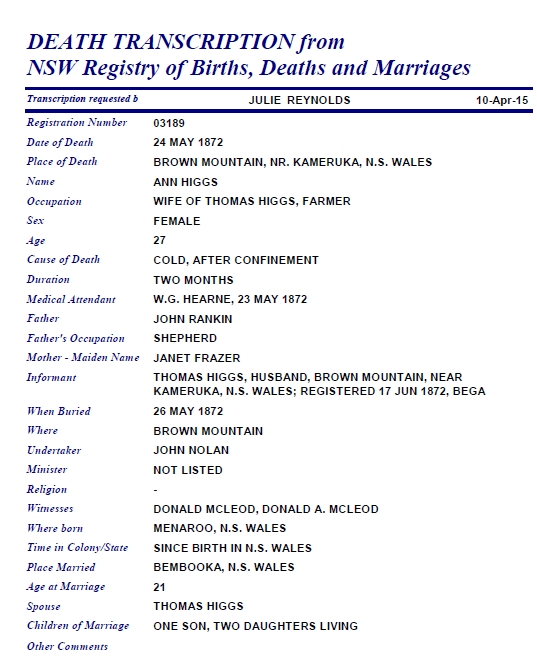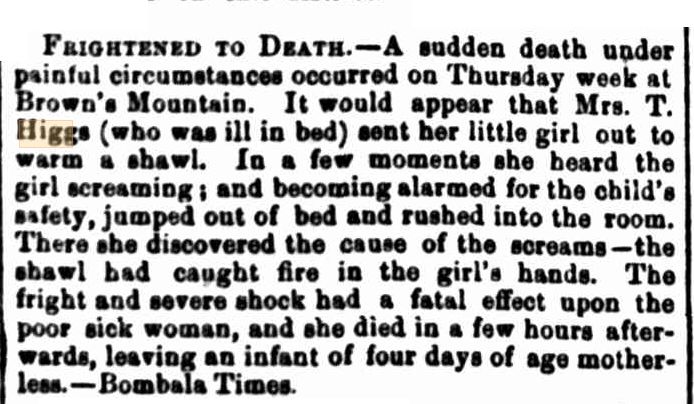 I know this really mightn't help you, but I know baby Joshua is not the son of Joshua the elder.
Since we last emailed, I have further evidence in regards to Joshua's wife, Ann Cunningham.
I have her arrival as a free person on a prison ship with her mother, although her age is listed as 7!
I thought this just had to be a transcription error, but on receiving the document, it is not. (New South Wales, Australia, Wives & Children of Irish Convicts, 1825-1840)
I find this hard to believe as within two years of arrival her mother Ellen was giving her permission to marry!
I wonder whether she was in her mid teens but very small for her age, so the mother understated her age to enable her to come on the ship with herself and her sister?
I am currently trying (unsuccessfully) to trace Ellen and Bridget Cunninham in Kings County (Offaly) Ireland.
Ahhhh, the investigations never end, do they?
Hi Julie,

The NSW BDM Indexes show his parents as we show it. Could you please send a copy of the certificate to validate the change?

Regards, Ian

On 2021-04-12 12:07, Julie Reynolds wrote:

Proposed Change: Higgs, Joshua (I1216)
Tree: SE NSW Pioneers and Settlers
Link: http://monaropioneers.com/getperson.php?personID=I1216&tree=MP

Description: The parentage for this Joshua Higgs (1866-1866) is incorrect.
I have the correct death certificate and his father is Thomas Higgs, who Joshua's son. Ann Rankin is the mother
Please advise if you would like the certificate sent :)

Julie Reynolds