Home | Pioneers | Contact Us | Copyright/Disclaimer
---
Banking Institutions
To-day four banks, branches respectively of the Commercial Banking Company of Sydney Limited, the Bank of New South Wales, the Australian Bank of Commerce Ltd., and the Government Savings Bank of New South Wales, carry on business in the Manaro district.
The earliest record of banking business being conducted on Manaro is in the thirties, when Daniel Driscoll, who kept an hotel at Umeralla (now Chakola) at what is to-day called Driscoll's Flat, conducted an agency for the Commercial Bank of Sydney. Cash was represented by I.O.U's., and Driscoll would negotiate these at 21 per cent. discount for notes, though it is not recorded that these transactions were on the Bank's behalf. In Ben Boyd's time - in the forties - notes valued at 10/- and 5/- issued by him were a common medium of exchange.


THE COMMERCIAL BANKING COMPANY OF SYDNEY LTD.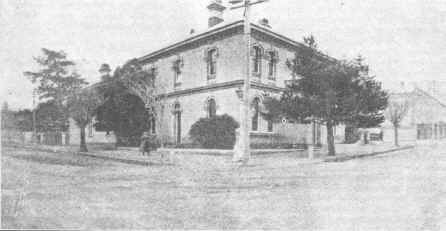 Commercial Bank c1926
The Cooma branch of this bank is situated at the corner of Sharp and Vale Streets, in the heart of the town. The site was one on which an hotel was once conducted. In 1860 the branch was opened by Sir T. A. (then Mr.) Dibbs, who was returning from Kiandra. The business was conducted in a room attached to the Lord Raglan Hotel in Lambie Street. Mr. R. C. Joplin was left in charge as first manager. Mr. James Ham was the first depositor and he records that the Bank purchased from him gold in pickle bottle containers. From Lambie Street the branch was transferred to premises in Sharp Street which belonged to Mr. Alexander Montague and are now occupied by Mr. Mitchell as offices. In 1882, Mr. J. G. Beazley being manager, the business was removed to the present building. where business operations started on 1st January, 1883. Under managers like Messrs. J. G. Beazley. E. B. Backhouse, H. L. Lovegrove and G. F. Antill, who is at present in charge, the bank's activities have increased with the growth of the district. The present staff numbers seven. A branch has been established at Adaminaby and an agency is open twice weekly at Nimmitabel.

BANK OF NEW SOUTH WALES.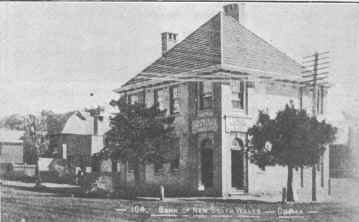 Bank of New South Wales c.1926

This bank had a branch at Kiandra during the gold rush from March, 1860, to 30th September, 1861. It was then closed down and only resumed operations on Manaro on 29th June, 1874, under the managership of Mr. Dignam, who had married Miss Dawson, a daughter of Cooma's first Police Magistrate. The premises then occupied were at the corner of Sharp and Soho Streets, and were originally built for Mr. Lipscombe, a solicitor. A well-known manager of earlier times was Mr. Hassall. When the Australian Bank of Commerce offered for auction a block on the corner of Sharp and Vale Streets adjoining their own banking chambers, the Bank of New South Wales became the purchaser and erected its present premises which were opened for business in 1914. Mr. F. N. Grose has been the local manager for the past three and a half years.

AUSTRALIAN BANK OF COMMERCE LTD.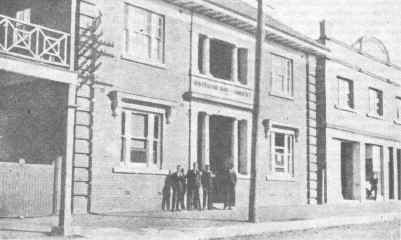 Australian Bank of Commerce c1926
As the Australian joint Stock Bank, this bank was opened by Mr. Eliot Mullens in a room in Montgomery's Buildings in Sharp Street on 1st June, 1882. Upon the vacation by the Commercial Banking Co. of Sydney of premises lower down in Sharp Street, held by it from Mr. Alexander Montague, this Bank secured a lease thereof and remained there until 1900, when it acquired land opposite the Commercial Bank, on which it erected its own banking chambers. The area proving larger than was necessary, a portion with a frontage to Sharp and Vale Streets was sold by auction and on this the purchaser, the Bank of New South Wales, built business premises and a residence. In 1917 a further change was made, the Bank building, at a cost of £4,500, the handsome building it now occupies on a block adjoining that where it carried on in 1882. Mr. W. L. Seeley and Mr. G. W. Ord will be recalled in connection with the management of this branch, which is today to clay controlled by Mr. H. Spence.

GOVERNMENT SAVINGS BANK OF NEW SOUTH WALES.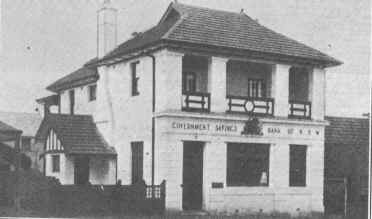 Government Savings Bank of NSW c.1926

The Cooma Branch was opened on 4th July, 1914, by Mr. C. Gunning in a room of a shop adjoining the Commercial Banking Co. of Sydney. The Bank had acquired a block of land with a frontage to Vale and Massie Streets for the purpose of building thereon, but subsequently acquired in 1917 from Mr. F. F. Mitchell, the then owner, the business premises which formerly belonged to the Australian Bank of Commerce. These it added to and entirely remodelled, and opened them up for business on 23rd September, 1922. Mr. W. Tamsett is the present Manager.
In addition to the banks named, one other bank - The Oriental -which has gone out of business for many years, had a branch at Kiandra during the rush..
Transcribed by Pattrick Mould, May 2003, from the book "Back to Cooma" Celebrations, Felix Mitchell, 1926, p101