Home | Pioneers | Contact Us | Copyright/Disclaimer
---
Chevrolet Service Station,
R. R. Fraser, proprietor.

Chevrolet Service Station, Commissioner Street, Cooma (R. R. Fraser, proprietor). R.H.F. has had a very wide experience in the motor car world since 1902, having served his time with Daimler's, England, and during his Australian career has been connected with John McGrath for five years as floor manager, country organiser for John Stewart (Vulcan trucks), and expert to Studebaker. A well-known identity on the Southern Line is Harry Fraser, who started off from scratch and has now a firmly established business.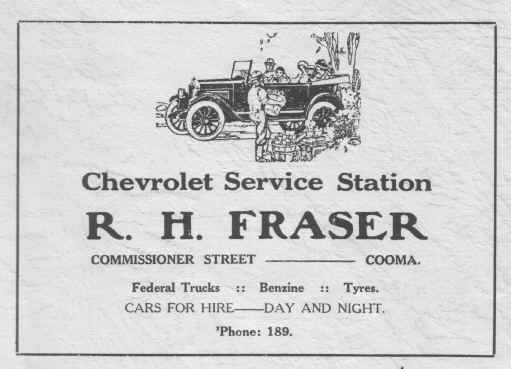 From "BACK TO COOMA" Celebrations, Felix Mitchell 1926, Page 125 - Transcribed by Pattrick Mould June 2003