Home | Pioneers | Contact Us | Copyright/Disclaimer
---
Buick Motor Service Station,
Mr. C. B. L. Hibbard

Mr. C. B. L. Hibbard is the proprietor of the Buick Motor Service Station, of Sharp Street, Cooma. He has been in the motor business since he was 16 years of age, and was, mechanical and selling country organiser for McIntosh and Co. He then started on his own account at Kempsey, where he remained for over four years. After paying a visit to Cooma he returned and opened. the Sharp Street premises, which he is now vacating for the new and commodious building at the corner of Commissioner and Bombala Streets, where a bowser will be erected under the large verandah. Repairs, etc., will be attended to by experts in his extensive workshops.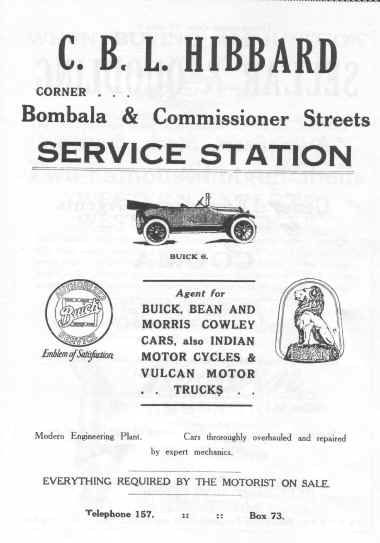 From "BACK TO COOMA" Celebrations, Felix Mitchell 1926, Page 125 - Transcribed by Pattrick Mould June 2003