Home | Pioneers | Contact Us | Copyright/Disclaimer
---
The Manaro General Stores,
Mr. C. Mack proprietor, 1891

The Manaro General Stores, corner of Vale and Commissioner Streets, Cooma. Mr. C. Mack, the proprietor, has been 35 years in business in the Manaro district in a very small way at first, then in partnership with his brother John, and finally settling down at the above address, where he has in stock up-to-date modes of ready-to-wear ladies' frocks and smart millinery to suit all tastes. Visitors are invited to inspect the stocks, during "Back to Cooma" week.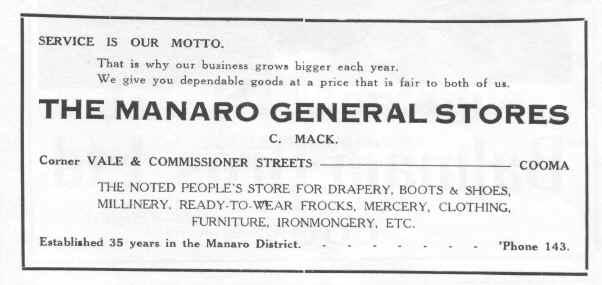 From "BACK TO COOMA" Celebrations, Felix Mitchell 1926, Page 125 - Transcribed by Pattrick Mould June 2003