Home | Pioneers | Contact Us | Copyright/Disclaimer
---
Pastoral and Agricultural Association
The first show of any kind, of which a record is available, appears to have been held in the late sixties, in the square that is now Centennial Park. The effort was not persevered with, but in 1873 The Manaro Pastoral and Agricultural Association was in existence, the secretary being in that year Mr. Benjamin Lipscombe. In 1875 the secretary was Mr. George H. Smithers, then Cooma's Clerk of Petty Sessions, and afterwards one of Sydney's Stipendiary Magistrates. Before Pastoral and Agricultural Shows, as such, definitely came into existence, ploughing matches were held at various places, such as Dairyman's Plains, Prahran, Mittagong and Adaminaby, in the promotion of which Messrs. D. Ryrie, of Coolringdon, took an active part. Prizes of £10, £5, and £2 were subscribed by the public. The principal ploughmen were Dunn, Avery, and W. Stewart. The ploughing was divided into first and second grade, men's and youths. A few years later prizes were given for pens of ewes and rams, and thus the pastoral show was born.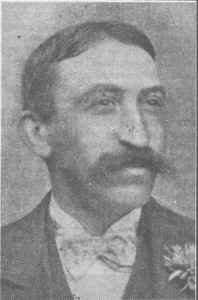 C. J. WALMSLEY,
Secretary, Cooma Hospital, Cooma P. & A. Society and Cooma P. P. Board.
The early sheep shows were held on the Mittagong Hill near where the cemetery is to-day. Mr. James Litchfield, Mr. J. J. Devereux, Mr. William Jardine, were prominent amongst the prize takers.
In December, 1883, a number of meetings, under the presidency of Mr. Ryrie, were held in connection with the formation of a Cooma Pastoral, Agricultural, and Ploughing Association. By-laws were presented and adopted, and in October, 1884, the Association held its first show. Mr. Henry Dawson, the secretary, speaking at the Show Banquet, said that some four or five years previously, a few practical men, Messrs. Feilen, Stewart and McAuliffe, called a meeting with a view to starting a ploughing association. He attended, and the proposed association was started on a very humble footing. It gradually advanced, and in 1883, the old Pastoral Association called a meeting (before referred to), and the result was an amalgamation of the two associations, and their then show.
Before the railway came to Cooma the shows were held on the site of the present station. When that land was resumed a new site of 12ac. 0r. 28p. was dedicated on 1st August, 1889, the trustees being Robert Craig, H. P. Faulkner, F. Blaxland, 0. C. Litchfield, and Geo. Kaufline. This was added to by the purchase from Mrs. M. Sands, in 1912, of 39ac. Ird. 12per, at a cost of £1,100, but in 1925 28ac Ird. 12pr. were sold to Mr. A. H. Balmain, at a cost of £805.
A considerable amount of work was Performed on the original portion of the present site. Money was expended in work providing for the support of the Creek Bank, willows and poplars were planted, the area fenced, a pavilion erected, and sheep and cattle yards put up. Later poultry coops were purchased, and a ring formed, and the annual show became a district institution. A large and substantial sheep shed has now been constructed, a handsome grandstand has been built, and lately a large luncheon kiosk and kitchen has made the appointments quite complete. New cattle pens are in course of construction, and a new ring, 440 yards in circumference, has been pegged out. The ground is used by the cricket and football clubs, and bicycle and athletic sports are held there.
The Cooma P. and A. Society has had many years of uninterrupted success. High class sheep are bred in the district, and exhibits from the studs of Hazeldean, Springwell, and Spring Plain, have held their own with sheep from well-known studs in other parts of the State. Cattle, though of late years not numerous, are of high quality, and the fats will not lose by comparison with those of so-called favoured districts. In the ring, before the days of the motor cars, a number of fine horses could always be seen keenly competing in the various classes.

In produce there is always a wonderful display and Visitors ever marvel at the size and quality of the exhibits in this section.
In 1892 Mr. Madgwick, the then secretary, took a Fruit Exhibit to the Sydney Show, and received a special certificate for the excellence of the display.
For 28 years past Mr. C. J. Walmsley has acted as secretary to the committee. The Presidents of the Association since 1899 have been:
A. J. Litchfield, 1899, 1913, '14, *15.
J. A. Sellar, 1900, '01, '02, 1908, '13.
J. C. Ryrie, 1903-'04, 1916-'17.
E. B. Backhouse, 1905-'08.
F. Blaxland, 1918-1924.
W. W. Hedges, 1925.
"BACK TO COOMA" Celebrations, Felix Mitchell 1926, Page 104 - Transcribed by Pattrick Mould, June 2003