Home | Pioneers | Contact Us | Copyright/Disclaimer
---
Transport and Mails on the Monaro
Transcribed from "BACK TO COOMA" Felix Mitchell 1926 pp31,32 by Pattrick Mould 2002



In these days when motor cars and motor lorries are practically in universal use, it is hard to conceive the difficulties which the early settlers encountered in their search for pastures, in transporting their stores, or travelling on pleasure or business from place to place.
William Glanville (Ward's Bill), recounting his experiences, says that in the early thirties roads and tracks were so bad that thirty bullocks had ,to be hooked on to a dray to bring 28 cwt. from Boyd Town to Manaro. The rate charged was Y I per cwt., whilst from Manaro to Sydney the price was 25/-per cwt. The trips of those days ,often occupied a considerable time, and bullock teams were almost the only means of locomotion. As instancing the time occupied, it is recorded 'that on one occasion two men left Manaro by bullock team for Sydney. It so happened that on the same clay the ship Great Britain left Mel'bourne for England- The vessel had returned before the men got back to Manaro.
| | |
| --- | --- |
| | Even as late as 1860 it is asserted the district knew only three buggies, owned by Mr. Maurice Harnett, Mr. Patrick Clifford, and Mr. F. Smith, of Coolringdon. |
A notable instance of the difficulties of travel is given on one occasion, when six teams from 'Gegedzerick, laden with wool and driven by Thomas Almond, Neil Cochran (Scotch Tom), Thomas Beck (Tom the Bull), Henry Napthali, and William Glanville (Ward's Bill) stuck at the Burra for 14 days. They eventually took part of their load to Queanbeyan, left some of it there, took portion on to Goulburn, and came back for the balance. On the return trip the roads were so bad that 2/8/- per cwt. was offered for loading to Cooma Creek. John Harnett and John Cullen, on the same trip, obtained 2/5/- per cwt. for loading from Waterloo Warehouse for Mr. Alexander Montague.
In 1841, unless by special arrangement, the neatest point to which mail was brought was Queanbeyan. ' Occasionally a travelling dray would bring the mail along, but this was unsatisfactory. Finally arrangements were made by which a person brought it along to Cooma for a certain sum per annum. This was the nearest or farthest point to which it was taken, and people had regularly to travel 30 or 40 miles for their mail. In the late 'seventies the trip between Goulburn and Cooma was made by coach. Two service lines were plying, one being conducted by Malone and Pooley; the other was known as the Royal Express Coach.
In 1860 the mail from Kiandra to Crackenback was, at the request of Mr. Garrett, one of the owners of the "Alpine Pioneer" newspaper; carried on horseback by William Wallace at a cost of I/- for each letter and sixpence for each paper.
The railway arrived in 1889, after years' of agitation, and the history of the events leading up to its opening are given under a special heading.
Passing over the developments of many years, when increased conveniences and more modern methods trod closely in the footsteps of increased
settlement, the most remarkable change of methods of transit dates back to 1909. In that year two young Danes, Hyalmar Petersen and Knud Gjerstrup recognised the possibilities of Manaro for motor traffic. The Hotel Kosciusko had just been opened, and, with the approval of the Tourist Bureau, these young men ran a line of charabancs between Cooma and the Hotel. The venture, which justified itself, was the pioneer of all the heavy motor ' traffic which to-day regu-larly plies between all parts of Manaro, and be-tween the tablelands and the coast. For some years Petersen and Gjerstrup carried most of the tourist traffic to Kosciusko; they extended their activities and established a motor passenger ser-vice between Cooma and Bombala and Cooma- Bega-Eden. They obtained a transfer of a mail contract between Bega and Eden, and were thus the pioneers of the motor mail traffic both on the tablelands and the coast. The firm was; floated into a Limited Liability Company, but after some years' existence in which the field of operations was gradually being enlarged, it had to cease business by reason of under capitalisation.
It was not long after Petersen and Gjerstrup came to Manaro that they were followed by Messrs. Balmain and Heyde, the former of whom. established the business of Balmain Bros., Ltd., which has developed into Balmain Bros. (Cooma), Ltd., and Balmain Bros. (Bega), Ltd., two firms
which between them for many years carried most of the Manaro and South Coast tourist traffic, as well as the mails from Cooma to Eden. Recently
Messrs. Robinson Bros., Ltd., who formerly had a large motoring business on the North Coast, have placed cars on the mountains and coast rum,
and have met with a large measure of success.
The mails from Cooma to Adaminaby, Berridale, Jindabyne and Dalgety are carried by motor by the firm of B. Asprey.
---
Evening News March 20, 1925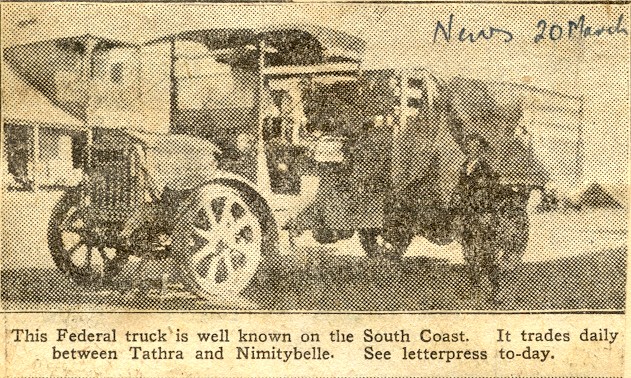 Mr. E. W. McCracken has been trading for the last 15 months in his Federal Truck between Tathra, Bemboka and Nimmitabel. During that time he has travelled over 15,000 miles and averages, despite the miles of steep pulling on Brown Mountain, 8 miles to the gallon of fuel. He attends to the whole of the mechanical section of his truck, and so far he has not even bought a spark plug. The "Evening News" motor man met Mr. McCracken at Bemboka. He is a splendid type of sturdy manhood.
Photo and article supplied by Allen Seymour (by snail mail)