The Story of George Power of Wyndham and Catherine Agnew of Cooma, NSW
and their family
---
The other stories supplied by Bryan Power [bryanp2-at-bigpond.com]
John Power Snr | Thomas Power | Mary Ann Power | Jane Power | Honorah Power | Elizabeth Power | John Power Jnr | Edward Power | James Power | Henry Power | George Power | Ellen and Charles Power | Bridget Power | Patrick Power |
---
Foreword
This is the fifth installment in the project to record the family stories of the children of John and Mary Power (nee Donovan) of Creewah and Wyndham. John and Mary's story is on the Monaro Pioneers' website www.monaropioneers.com.au
The twelve stories in stage two have now (2009) all been completed and are also on that website and they tell of the lives of George's brothers and sisters: William, Thomas, Mary Ann, Jane, Honorah, Elizabeth, John, Edward, James, Henry, Ellen, Bridget, Charles and Patrick.
Bryan Power
P.O. Box 610 Gisborne 3437 (03) 5428 2795 bryanp2@bigpond.com
Acknowledgements
The late Frank Power, the fifth child of George and Catherine's oldest son, Austin, provided me with most of the information produced in this history. I am also grateful to Mrs Mary Ann Strangwidge, Mrs Ann Marsden, Marie White, Meg Morgan-Gunnoe and Vickie Atkins-Marshall for their assistance.
George Power was born on 4 July 1848 at "Creewa", a 16,000 acre run at Bibbenluke north of Bombala on the Monaro tableland of New South Wales. He was the eleventh child (of an eventual 15) of John and Mary Power. John was the superintendent of the property (a squatter's lease) for Conlon & Ryan. John was an Irishman and almost certainly an ex-convict who had arrived in the colony in about 1822 and obtained his ticket of leave before marrying Mary Donovan at Parramatta in 1837.
John was at that time a farmer at nearby Pennant Hills but in about 1840 he and Mary set off with their two babies, Thomas and Mary Ann, into the unknown hinterland of the Monaro which was well outside the "limits of location" laid down by the Governor as areas that could be occupied by settlers.
Their family grew at the rate of almost one a year and when George was born the eldest child, Thomas, was only aged ten! (The first-born of the family, William, had died in infancy in 1838). Life must have been very difficult for the parents of such a large brood, far removed as they were from neighbours let alone a town. Feeding, clothing and accommodating the children in their primitive squatter's hut would have been a taxing daily task at the best of times but during the severe Monaro winters John and Mary must have been sorely pressed to keep the children fed, warm and free of illness.
Still, survive they did, even throughout the long drought of 1846 -1848.
By the time George was eight the family had moved down from the Monaro to farm at Lochiel near Pambula.
In 1859 the family moved to Wyndham where John and Mary were to finally settle. They died there - Mary in 1862 (when George was aged 14) and John in 1872 - and both are buried on their farm in graves on the south bank of the Mataganah Creek.
George did not have the opportunity to attend a school and, as both of his parents were illiterate, neither he nor his brothers and sisters were taught to read and write.
I have no records at all of George's life as a young man until his marriage on 5 February 1878. George married nineteen year old Catherine Agnew at St Patrick's, Cooma. Catherine was the oldest child of Edward and Mary Agnew (nee Mahoney). Catherine's younger brothers and sisters were: Edward (born 1860), Mary 1862, Annie 1864, Matilda 1866 and Adam 1868.
George's sister Honorah who married James Agnew in 1864 was the aunt of Catherine. (James and Edward Agnew were brothers.)
The Agnew Family
According to an entry on page 72 of a book published in 1926: "Back to Cooma" Celebrations, Edward Agnew ran a cordial factory in Cooma for many years and died in Sydney at the age of 89. A photograph of Edward appears on page 58 of this book.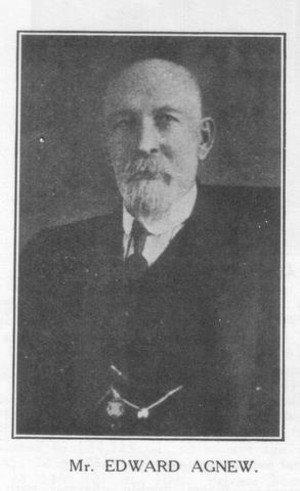 Edward Agnew
Trevor McClaughlin in his book From Shamrock to Wattle writes about the trial of Edward's father, Henry, and Henry's brother, James, in Ireland in 1836 (pages 41-46), the result of which saw Henry transported to Australia for life. However, he prospered in the colony and was able to purchase a property known as "The Corner" at Numeralla. In 1859 his wife and three of his four sons sailed from Ireland to be reunited with him.
One of those sons was James Agnew who later married one of George's sisters, Honorah.
For a fuller version of the Agnew family see The Story of Honorah Power and James Agnew on the Monaro Pioneers' website.
Children of George and Catherine Power
Austin Edward Power b 1878 Eden Reg No 12984

Elmer Hugh Agnew Power b 5 December 1880 Eden Reg No 14831

Mary Veronica Power b 1883 Cooma Reg No 23225

William Terrence Power b 1885 Cooma` Reg No 25695
1. Austin Edward Power married Sarah Jones at Cooma in 1899. Sarah was the daughter of Alan and Johanna Jones (nee Casey) and she was born at Cooma in 1878. Austin and Sarah had eight children including one set of twins (Ted and Veronica).
1. Sarah Monica A ("Mon") Power b.1900 at Cooma, married William S ("Bill") Sloan at Cooma in 1925. Bill was a master baker at Chatswood. They have three children:
Joan

(Mrs Cicolini);

Betty (Mrs Greenfield)

and

John

who did not marry.

George Austin Power

b 30 May 1903 at Cooma. He married Eva Mary Ramsey of Bega in Cooma on 24 September1924. Eva was born in Bega on 25 April 1906 and was the daughter of Charles Alfred Augustus Ramsey and Adelaide Sarah Hackett. They had one child,

Yvonne (Mrs Morgan)

who lived at El Segundo, California. Yvonne was born on 28 February 1925 at Cooma. On 17 April 1943 she married Charles Alvin Morgan at St Mary's Cathedral, Sydney. Charles had been born on 2 June 1921 at Evanston, Uinta, Wyoming, the son of Joseph Charles Morgan and Mary Ellen Myrick.
Charles and Yvonne have three children:
1. Carolyn Frances Morgan
2. Charles Robert Morgan and
3. Marion Ellen Morgan-Gunnoe
Charles died on 21 February 1991 in Los Angeles County, California and was buried at Los Angeles National Cemetery.
Yvonne died on 6 January 2000 at Gardnerville, Douglas County, Nevada and was buried at Los Angeles National Cemetery.
George Austin Power died in Gosford District Hospital on 18 May 1981
Mary Catherine Power

b 12 September 1905 at Bega. Mary married Charles Stanley Ramsey of Bega (Eva's brother) at Paddington on 16 April 1937. Mary and Stan had no children.
Stan died at Paddington in 1952.
Mary remarried in about 1985 at the age of 79 to Ian McDonald.
Mary died on 2 June 1989.
Theresa A ("Tessie") Power

was born in 1908 at Adaminiby. Tessie married Reg Gray at Wollongong in 1927. Reg was from Cessnock. He came to Granville where he had a bakery. Their four children are:

Gloria Gray (Mrs Slark),

Denise Gray

and
3&4 - two others.
Francis P ("Frank") Power

b 10 November 1911 at Adaminiby. Frank married Eva T Robinson in North Sydney in 1932. They have five children:

Lorraine Power (M1) Mrs Duffy –

divorced; (M2) Mrs Wilkinson);

Allan Power

married Dell Fielding – no chn; now separated;

Richard Power (M1) Judy Edwards –

divorced. Their children are:
1. Mark Power,
2. Neil Power and
3. Simon Power;
(M2) Marion – one daughter, Rebecca Power;
Warner Power

has not married. He lives in Christchurch N.Z.;

Sandra Power (Mrs Field)

whose children are:
1. Bartley Field and
2. Amanda Field.
Eva died and Frank married again, to Meryl Brennan.
Terrence William ("Ted") Power

was born on 11 November 1913 at Cooma. He and Veronica are twins. Ted married Elizabeth Ellen ("Bessie") Fry at Petersham in 1938. They had no children.

Veronica J Power

b 11 November 1913 at Cooma. She married George Albert Edwards at Annandale in 1939. George was a work mate of her twin brother Ted at the Colombia Pencil Co at Lane Cove. Their three children are

Robert Edwards,

Margaret Edwards

and
Bruce Edwards.

Desmond J Power

was born on 24 April 1916 at Huskisson (south of Nowra). He married Lillian Doris O'Shea at Annadale in 1939. They have two children:

Dennis Power

and

a daughter
Austin Edward Power was a stonemason. He built the stone wall around the Catholic Church in Cooma from stone that he took from the creek below the Cooma Gaol. When the family moved to Sydney he worked on St Mary's Church in Miller Street, North Sydney. He cut the crosses that are still there today. He also worked on the Sun newspaper building in Sydney on top of which was a huge ball painted gold that he made.
Austin died at Sydney in 1938.
Sarah died at North Sydney in 1945 aged 72. Sarah's uncle was David Jones who founded the department store that still carries his name.
2. Elmer Hugh Agnew Power (known as Hugh) was born in Eden in 1881. At Cooma on 14 August 1901 he married Johanna Jones (born 10 May 1887 - a sister of Sarah, Austin's wife). Johanna and Sarah were the daughters of Alan Jones (born in Crediton, England) and Ellen Casey (born in Limerick, Ireland).
Elmer and Johanna had six children:
Henry Donovan ("Harry") Power

b 14 July 1904 at Cooma. Harry did not marry. He worked for the Sydney County Council. He was a mate of Errol Flynn. During the Depression he went to Queensland. He died in 1967 at Parramatta.
2. Cecil Joseph Power b 1906 at Bega. Cecil did not marry. He died in 1938 in Menindie. He was a boundary rider at the time of his death.
Elmer Alwyn ("Curley") Power

b 3 September 1908 at Adaminiby. Alwyn married late in life in 1979 but had no children. He died in 1979. He was living at Cockle Creek.
Myra Ann Power

b 23 August 1910 at Yass. She married Jim O'Neill and had a son,
1. Thomas Power-O'Neill.
Myra died in 1988.
Juanita Pearl Power

b 2 July 1912 at Picton. Nita married Lesley Stamford Atkins at Casino in 1932 and they had five children:
1.Pamela Atkins b 1934 d 1934
2. Leslie Raymond Atkins b 23 June 1935, married ??? White. Their five children are:
1. Vicki Louise Atkins b 29 February 1960. Vicki's children are:
1. Luc Anthony Atkins Marshall b 10 January 1983
2. Nicolas Alexander Ganea b 23 May 1989
3. Paul Eugene Ganea b 21 October 1990
2. Dale Conrad Atkins b 11 May 1961
3. Lisa-Gai Atkins b 23 October 1962. Her child is
1. Brendan Adam Pickford b 28 October 1994
4. Donna Celeste Atkins b 20 June 1966
5. Brett Andrew Atkins b 15 May 1968
3. Elaine Johanna Atkins b 19 April 1938, married ?? Crockett. Their children are:
1. Nicole Crockett b 9 October 1970
2. Matthew Leslie Crockett b 24 November 1971
4. Raymond Terrence Atkins b 27 April 1943, married ?? Chisolm. Their two children are:
1. Joanne Louise Atkins b 14 March 1968. Joanne's children are:
1. Kathleen Hudson b 4 March 1990
2. Erin Sternats b 5 May 199?
2. Stephen Damien Atkins b 24 April 1969. Stephen's children are:
1. Damien Atkins b ??
2. Jacob Atkins b 5 June 1994
5. Glen Joseph Benedict. Atkins b 8 August 1951, married ?? Scott. Their children are:
1. Phillipa Anne Atkins b. 2 August 1985
2. Sam Scott Atkins b 8 January 1988
Terrence Hugh ("Ducker") Power

b 11 July 1915 at Orange, N.S.W.. Terrence married Dulcie Jean Mason at Balmain on 10 February 1940. Their two children are:
1. John Terence Power b 10 September 1940 married Susanne Florence Frame at Balmain on 5 September 1959. Susanne was born on 5 August 1943. Their three children are:
1. Craig John Power b 4 April 1960 at Annandale;
2. Anthony Ross Power b 22 July 1964 at Annandale;
3. Stuart Price Power b 27 July 1969 at Annandale.
2. Marie Jean Power b 8 November 1943 married Spencer Brewer-White at Annandale on 2 December 1961. Spencer was born on 21 September 1941. Their three children are:
1. Paul John Brewer-White b 4 July 1962 at Balmain; Paul John White married Maree Bernadette Wilson at Coffs Harbour on 22 May 1983. Their three children are:
1. Nicole Vina White b 29 July 1983;
2. Sarah Maree White b 25 February 1985 and
3. Ashleigh Heather White b 17 July 1989.
2. David Patrick Brewer-White b 4 March 1965 at Annandale;
3. Geoffrey Neil Brewer-White b 14 March 1971 at Annandale.
Elmer Hugh Agnew Power died on 17 January 1965 at Newtown in Sydney.
His wife Johanna died in December 1958.
3. Mary Veronica Power joined the religious order of the Sisters of Mercy and her name became Sister Mary Aquin. She died about 1970 at the order's hospital, the Mater Misericordiae Hospital in North Sydney.
4. Terence Power was killed in France in WW1. Terence had not married. The following details are recorded at the Australian War Memorial in Canberra:
AWM 145 Roll of Honour Cards Army 1914-18
Name POWER T Regimental No 5074
POWER, Pte Terence, 5074. 17th Battalion
9th October 1917 Age 33
Son of George and Catherine Power of Towrang, Cooma, N.S.W.
Memorial Register No 29
The Ypres (Menin Gate) Memorial, Belgium.
Back to George and Catherine
In 1980 an Agnew descendant, Mrs Ann Marsden of Blakehurst in Sydney, in a letter to me recalled George Power as being a man of medium build with black hair and a black beard. Of George's wife Catherine she wrote: "I knew she was my father's sister and a fine lady; looked after her family very well."
George's niece, (Mrs Mary Ann Strangwidge (nee Power), remembers George as being a quiet man. "He went back to the Monaro where he had a horse team."
In the book "Back to Cooma" Celebrations 1926 mentioned above, there is an entry (on page 51) showing that G Power held mining lease No 13 for two acres on the Bushy Hill mine field. The article reads, in part: "In 1897 a sensation was caused in Cooma by the discovery of gold at a spot known as Bushy Hill, situated about 2 miles east of the town. For a year there was a period of wild excitement. Almost everyone in the district had an interest in one or other of the leases, and each one who had a fractional share in a block expected to quickly make a fortune. However in 1899 work was at a standstill. Efforts were made to consolidate the various leases into a company, to be known as the Bushy Hill Consolidated Gold Mines. The proposed consolidation was not consummated. A good offer had been received but the exorbitant prices asked by some of the lessees was a bar to the scheme being carried out."
Several of George's brothers and nephews were gold miners so it was not out of character with the family to be drawn by the lure of a fortune that just might be made.
Marie Jean White (nee Power) recalled her father Terrence Hugh "Ducker" Power telling her of his grandfather George having a white beard "down to his chest".
Frank Power remembered that his grandparents owned an orchard called "Inglewood Orchard" about four miles out of Cooma where the Royal Hotel was. They grew apples, pears and cherries.
He also recalls an incident when he was about 10 and staying with his grandmother. Grandma was boiling honey and he was supposed to be watching it. The honey boiled over and caught fire and then set the chimney on fire. "Grandma roared in and I ran off a mile to a neighbour named Sherlock. Mr Sherlock told a man to take me home in his sulky. Grandma was looking in the well for me."
George Power died on 12 July 1935 and Catherine Power died on 26 March 1946. They are both buried at Cooma Cemetery. Their headstone inscriptions read: 'George Power died 12 July 1935 aged 87 years' and 'Catherine Power died 26 March 1946 aged 88 years'.