The Story of Honorah Power and James Agnew
and their family of Numeralla, NSW
---
The other stories supplied by Bryan Power [bryanp2-at-bigpond.com]
John Power Snr | Thomas Power | Mary Ann Power | Jane Power | Honorah Power | Elizabeth Power | John Power Jnr | Edward Power | James Power | Henry Power | George Power | Ellen and Charles Power | Bridget Power | Patrick Power |
---
Foreword
This is the seventh history in the stage two series of stories recalling the lives of the 15 children of John and Mary Power of Creewah and Wyndham. All of the twelve stories in stage two tell of the lives of Honorah's brothers and sisters: William, Thomas, Mary Ann, Jane, Elizabeth, John, Edward, James, Henry, George, Ellen, Bridget, Charles and Patrick.
This story, like the other twelve, is on the Monaro Pioneers' website.
Acknowledgements
I gratefully acknowledge the book by Elaine Schofield "in those days…" Numeralla-Countegany-Peak View and Surrounding Areas as a source of reference for the story of the Agnews in Numeralla.
I am also grateful to the late Mrs Ann Marsden who recounted her memories of growing up as a neighbour of the Agnews.
The genealogy of the Agnew family can be seen at www.monaropioneers.com
Bryan Power
PO Box 610, Gisborne, Vic 3437 (03) 5428 2795 or email bryanp2@bigpond.com
Honorah Power was the fifth child of John Power and Mary Donovan who had married at St Patrick's, Parramatta in 1837 and journeyed to Monaro in about 1840. John was first the supervisor of the Yarra Run and later of the Creewah Run. Honorah was the first of seven of John and Mary's children to be born at Creewah. Both properties were 16,000 acres in area and located north of Cathcart. The squatters who held the rights for both Yarra and Creewah were Messrs Conlon and Ryan.
John and Mary had 15 children, 14 of whom survived to adulthood. One remained a bachelor but the other 13 married and produced 130 children in the next generation - an average of 10 per family! Honorah exceeded the average by four!
Honorah married two years after the death of her mother and I believe that her youngest sister Bridget, who was 10 years younger, came to Numeralla from Wyndham to be cared for by Honorah and, no doubt, in turn, to assist Honorah in the care of her growing family. In 1871 Bridget married James Scullin who was a brother of Honorah's mother-in-law. Bridget went on to emulate Honorah's achievement of giving birth to 14 children.
James Agnew was the third of four sons (the others being Adam, Edward and Hugh) of Henry and Catherine Agnew. The family had its origins in Ballyscullion, Londonderry, Ireland. Catherine's maiden name was Scullin and she was almost certainly a sister of James Scullin, also a native of Derry, who came to Numeralla and there married Bridget Power. As well, Mary Scullin and Bernard Scullin whose deaths are registered at Cooma were sister and brother of Catherine and James.
Henry Agnew was sentenced to death in 1836 for conspiring with his brother, James Agnew, to bring about the death of a neighbour, Henry McWilliams. Their sentences were commuted to life imprisonment and they were transported to Australia aboard the St Vincent, arriving at Sydney on 5 January 1837. (The story of Henry's crime and trial and subsequent transporting to Australia is told in pages 40-47 of the book From Shamrock to Wattle by Trevor McClaughlin, published by the Genealogical Society of Victoria.)
Twelve years later Henry's wife Catherine, together with their sons, Adam, Edward and James, came out on the Success to be reunited with their husband and father. Their ship reached Port Jackson on 18 December 1849. Family legend has it that the family walked from Sydney to the Monaro where Henry was working as a shepherd for William Bradley.
Some years later Henry obtained a property known as "The Corner" at Numeralla.
The family was finally reunited when Hugh, who had served in the Crimean War, came out from Ireland in 1858.
Bailliers Post Office Directory's entries for Numeralla for 1867 and 1878-79 record Henry Agnew as 'squatter' and Adam, Edward and James as 'farmers'.
For a time Hugh Agnew ran the store at Numeralla and in 1866 he was bailed up by bushrangers known as the Clark brothers who took a large quantity of tea, sugar, tweed and clothing as well as a double barreled gun and Mrs Agnew's wedding ring. The bushrangers were captured in January 1867.
James Agnew and Honorah Power were married at St Patrick's, Cooma on 12 May 1864.

St Patrick's Cooma
James and Honorah settled at Numeralla and raised a family of 14 children. They were:
1. Henry A Agnew born 1865 Married Catherine Murphy.
2. Bridget Agnew 1866 Married George Williams.
3. John Agnew 1868 I have found no record of a marriage.
4. Charles B Agnew 1870 Married Sophia B Clarke.
5. James Agnew 1872 James died in 1901 at Carcoar.
6. Catherine Mary Agnew 1874 Married Matthew Tracey.
7. Annie Agnew 1875 She died in the same year.
8. George Edward Agnew 1877 Did not marry.
9. Adam John Agnew 1879 Possibly known as Thomas. Married Josephine M Allwell.
10. Vincent Patrick Agnew 1880 His birth was registered as Patrick Vincent. He died in 1897.
11. Hubert A Agnew 1884 I have found no record of a marriage.
12. William R Agnew 1885 Did not marry. He may have been known as Roley.
13. Reginald F Agnew 1887 Did not marry. Served in WW1.
14. Leslie Joseph Agnew 1888 Did not marry.
All of the births were registered at Cooma.
James (senior) died at Numeralla in 1892 and Honorah also died there many years later on 14 June 1923, aged 82. At the time of Honorah's death ten of her children were still living but Bridget, James, Annie and Vincent had predeceased her.
With the exception of their eldest child, Henry, the next generation was not nearly as productive so far as I have been able to ascertain: I have found records for only five of them marrying.
1. The eldest child, Henry A Agnew, married Catherine Murphy at Cooma in 1890.
Their children were:
1. Bertrand J Agnew born 1891 m. Lilian J Thomas in Cooma in 1919.
2. Ethel M Agnew 1893. Ethel died in Goulburn in 1914.
3. Kathleen Maude Agnew 1895 m. John Neil Anderson in Cooma in 1923.
4. Mary G Agnew 1897
5. Cecil R Agnew 1899. Cecil died in Cooma in 1920.
6. Bridget M Agnew 1901. Bridget died in Redfern in 1931.
7. Veronica O Agnew 1904
8. James H Agnew 1906. A James Henry Agnew married Helena Mary Harlacher in Ashfield in 1941.
9. Unnamed male infant 1908 - 1908
10. Agatha N Agnew 1909
11. Catherine M Agnew 1912 A Catherine Mavis Agnew married Thomas Patrick O'Brien in Granville in 1939.
12. Francis R Agnew 1914
All of the births were registered at Cooma.
Henry Agnew died at Fairfield on 19 November 1951. His wife Catherine died in June 1962 at the great age of 92 and is buried at Rookwood.
2. Bridget Agnew married George Williams at Candelo in 1891. They had 10 children and gave several of them unusual names. Bridget died at the age of 40 in 1906. The children's births were registered at Eden except for the twins, Charles and Sherdwell, whose births were recorded at Cooma. I have been only able to trace the marriages of four of the children.
The children were:
1. Beatrice M J Williams born 1891. In 1913 Beatrice married Walter F Gilbert at Lismore, N.S.W..
2. Charles L Williams 1893
3. Sherdwell J Williams 1893
4. Georgina V Williams 1894
5. Clifford H A Williams 1895
6. Mary U Williams 1900 and
7. Aubben R Williams 1901
8. Federar N M Williams 1902 She married John R Riordan at Richmond, N.S.W. in 1925
9. Hassall W Williams 1903 He married Hilda R Howard at Redfern in 1934.
10. Laura A Williams 1905. Laura married Ernest C Neukom at Bombala in 1925.
4. Charles Bede Agnew, the fourth child, married Sophia B Clarke at Bega in 1909.
Their three children were:
1. Sophia E Agnew, who was born at Bega in 1910. In 1937 she married Walter Henry Pembroke at Milton.
2. Gordon R Agnew, born in 1912.
3. James Bede Agnew. I have not found his birth record but his marriage in 1935 to Enid C C Hibbard was registered at Milton.
Apparently Charles and Sophia snr must have been divorced at some time because in 1917 Charles B Agnew remarried Sophia B Agnew at Bega.
Charles Bede Agnew died at Bega in 1943.
6. Catherine Agnew, the sixth child, married Matthew Tracey at Cooma in 1910.
They had two children:
1. Ellen C ("Nell") Tracey born in Cooma in 1911 who married Francis J Lawlis at Singleton in 1935 and
2. James Martin Tracey born in Cooma in 1916. James married Ella Mary Fisher at Petersham in 1940.
Catherine's birth had been registered as Mary Catherine.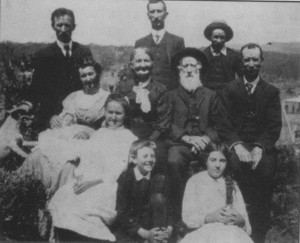 The Tracey Family
Back: Matt and Jim Tracey, George Agnew
Middle: Kate Tracey (nee Agnew), Julie and James Tracey, Thomas Tracey
Front: Nell Tracey (baby), Una Williams, Frank Tracey, Mary Tracey.
There is an obituary for Matthew's father, James Tracey, that can be seen at www.monaropioneers.com
9. Thomas Agnew, the ninth child, married Josephine M Allwell at Cooma in 1910. They had at least one child, Marie J Agnew, born at Tingha in 1911. Thomas's birth was registered as Adam John. He died at Randwick in 1930. Both his marriage and death were registered in the name of Adam T Agnew.
Mrs Marsden's letter
Mrs Ann Marsden who grew up at Numeralla on a property neighbouring the Agnew family told me about them in a letter written on 20 June 1980.
Mrs Marsden wrote, "I will help you all I can with the Agnews and the Scullins which I knew very well. My father had a large property at Numeralla, eighteen miles from Cooma. One side of him the Scullins had a small property where they grew potatoes and lucerne which they sold. They were very good friends of my family.
We had a tennis court and a cricket pitch where everybody came to play etc. Once a year on the flat in front of my home they held a race meeting and Auntie Nora (Mrs Agnew) lived on the other side of us. We also knew them very well.
One of her sons (Henry Agnew) married my mother's sister, Katherine Murphy. They had eleven children, 4 boys and 7 girls. They also lived at Numeralla then moved to Fairfield, Sydney. Five of the family still alive. I don't see much of them now. I am 84 years."
Mrs Marsden described Nora (Honorah) as a small woman with fair skin and brown hair. "She always wore a long dress with the neck up to her ears. Always wore a pretty lace and ribbon bonnet with the bow tied under the chin.
She could cook and sew, made all the clothes the family wore otherwise there was none. She grew and cooked everything they ate - bread, cakes, jam and everything else.
I never seen her husband. He died young leaving her with a large family to look after. He was my grandfather's brother. Came out from Ireland in 1834. I presume he had a beard, the others all had. His brother Hugh was a Crimean War veteran. They settled on the property where some of my nephews still live - the 7th generation of Agnews."
A book titled "in those days…" Numeralla-Countegany-Peak View and Surrounding areas by Elaine Schofield is a wonderful collection of reminiscences of many of the old residents of the area and is a "must-read" if you want to learn about life in Numeralla in days gone by. It contains many references to members of the Agnew families.
What happened to the three brothers of James Agnew: Adam, Edward and Hugh?
Adam Agnew married Bridget Birt and in 1884 they had a son whom they named Henry.
Adam died in 1912. John Moore remembers (on page 42 of " in those days….") "I can recall my mother talking about old Uncle Adam (Old Adam not A.J.Agnew), he used to butcher the beef and put the meat on a cart and take it up to the Badja River and sell it to the diggers."
Edward H Agnew married Mary I Mahoney in 1857 and they had six children:
1. Catherine (born 1859) married George Power in Cooma in 1878. Their four children were:
1. Austin Edward Power born 1878 at Eden
2. Elmer Hugh Agnew Power 1880 Eden
3. Mary Veronica Power 1883 Cooma
4. William Terrence Power 1885 Cooma
The story of Catherine and George Power can be seen at www.monaropioneers.com under The Story of George Power and Catherine Agnew.
2. Edward H Agnew born 1860 married Mary I Kelly in 1885. Their three children were:
1. Lawrence Agnew born 1888)
2. Aubrey A Agnew 1890
3. Emily J Agnew 1893
3. Mary E Agnew born 1862,
4. Annie M Agnew born 1864 married George Edward Kaufline in Cooma in 1883 in Cooma. They had five children:
1. Mary E Kaufline born in Cooma in 1884. Mary married George W Murrell in 1920 in Balmain South.
2. Wallace George Kaufline born in 1886 in Cooma. Wallace married Kate Elger in 1915 in Sydney.
3. Violet Letitia Kaufline born in 1887 in Cooma. She married Alexander O'Keefe in 1925 in Burwood.
4. Lavinia Patricia Kaufline born in 1889 in Cooma. She did not marry and died in 1976.
5. Harold Henry Kaufline born in 1890 in Cooma. Harold married Ethel M Alder in 1914 in Sydney. Harold died in Sydney in 1945.
The genealogy of the Kaufline family can be seen at www.monaropioneers.com
5. Matilda E Agnew born 1866,
6. Adam J Agnew born 1868 married Bridget Murphy in Eden in 1894. Their eight children were:
1. Adam B Agnew born 1895married Kathleen M C Stokes at Coonabaraban in 1916. Their son Kevin Agnew was born in 1917.
2. Mary B C Agnew 1905
3. Annie E Agnew 1896 Mrs Marsden
4. John I Agnew 1900
5. Eileen D Agnew 1904
6. Edward P Agnew 1906
7. Irene C Agnew 1907
8. Imelda M Agnew 1912
Edward H Agnew senior married for a second time to Annie Kaufline in Cooma in 1885. Their three children were:
1. Leo Parnell Agnew born in 1886 in Cooma and who died at age 43 at Kogarah;
2. Josephine Agnew b in 1889 in Cooma and died as a baby;
3. Vincent Hugh Agnew b in 1895 in Cooma.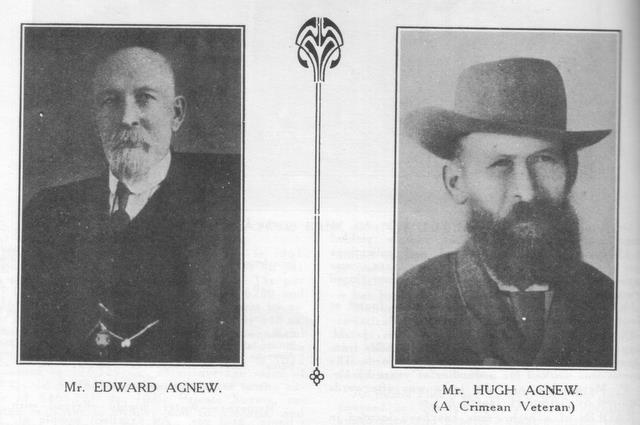 Edward Agnew and Hugh Agnew
Hugh Agnew married Ellen ?? in 1859, a year after his arrival from Ireland. Their children were:
1. Mary Agnew born 1859 (Mrs Ronald McDonald),
2. Henry C Agnew 1861,
3. James Agnew 1864,
4. Catharine Agnew 1867,
5. Hugh Agnew 1870,
6. Patrick Agnew 1871,
7. William Edward Agnew 1876 and
8. Thomas F Agnew 1877.
On page 7 of "in those days…" there is a newspaper account of the 'bail up' at Hugh's store. On the same page there is a photo of his home built in 1868. On page 9 John Agnew states that Hugh Agnew was appointed as the first Numeralla post master on 1st January 1863 at an annual salary of 12 pounds. He held the position until 1908 when he handed over to his daughter Mary who was the wife of Ronald McDonald.
On page 30 Nina Schofield writes: "They used to play a lot of cricket up at 'Carlaminda'. Numeralla used to come up to play and Uncle Matt Tracey used to play." (Matt Tracey was Catherine Agnew's husband.)
There is a photo of Matt and Catherine Tracey with baby Nell on page 34. George Agnew is also in the photo.
John Moore, writing on page 41, tells the tragic story of Cecil Agnew, the fifth child of Henry and Catherine Agnew (nee Murphy)
"They had a good life but they had their tragedies as well, many of those.
I recall my grandfather talking about when the Agnew boy, Cecil Roy Agnew, fell out of the willow tree and broke his back.
He was a happy lad. Grandfather said he was always whistling and singing. This particular time it was a dry year and he was lopping willow trees for the cattle across the river in front of "The Point" - the property belonged to the Harry Agnew family then. Grandfather was milking the cow and he could hear the whistling and singing across the river and suddenly it stopped. So he thought, that's funny, the lad can't be feeling too well today and he walked across towards the river and he could hear the young boy calling out "Tom, Tom come and help me" and he went across and found him on the ground.
He had to go for help. They had to make a stretcher and bring him across to the house at "The Point". There weren't any phones, so you had to go to the centre to contact the Doctor.
The Doctor came in one of the early model cars and announced that he had a broken back and that he would have to go to hospital. The Doctor wouldn't take him in the car, said he has to go by ambulance which was horse drawn. Grandfather and Uncle Peter, still a young chap, pulled the door off one of the outbuildings, put a mattress on it and put the young lad on it. They harnessed up the horse and cart and put him in the cart and started off to meet the ambulance. They met it over near the Bald Hill and transferred him and brought him to hospital.
Of course, he didn't get over it. They had no way of treating a spinal injury in those days and he just pined away and died. But those are the sort of tragic instances that occurred along the way and people had to contend with."
On pages 54-55 an extract from the book Lost Mines By Barry McGowan tells of a gold rush to the Big Badja River about 5 kms east of Numeralla in 1861. The Agnews built a race (a sluice to channel water to wash the mullock away from the gold) and the extract indicated that the parties were getting up to 2-3 pounds per week per man which was very good money for those days.
There was also living in the Cooma area a John Agnew of a similar age to the four brothers. In fact, John Agnew was their cousin, the son of their father's brother, James. This John Agnew married Bridget Scully at Cooma in 1857 and they had ten children born between 1858 and 1879:
1. Ellen Agnew born 1858, died 1865,
2. James Agnew 1860,
3. Patrick Agnew 1862, died 1865,
4. Matilda Agnew 1865,
5. Henry Agnew 1867,
6. Margaret Agnew 1869,
7. Thomas Agnew 1871,
8. a second Ellen Agnew 1872, died 1876,
9. Catherine Mary Agnew 1876 and
10. Bridget Agnew 1879.