Home | Pioneers | Contact Us | Copyright/Disclaimer
---
Bombala District
Churches | Musicians | Memorials | Maharatta Station
---
Property map of early Bombala area
---
This information supplied by Sue Haslingden [haslingdens-at-bigpond.com]
The pastoral district of Bombala can contribute it's growth and development to be almost entirely determined by the number of sheep and cattle grown and raised, and by the quantity of wool shorn and sold from year to year. Early settlers almost invariably stocked their runs with cattle and sheep as there were areas of beautiful grasslands upon which to graze. The success of these early farmers, along with the arrival of the rail road and other transport links, greatly contributed to Bombala's success as a town.
In the early 1840's Mr. Ben Boyd from Twofold Bay, Eden, realised the region's potential and acquired large interests and established business relationships between the tableland and the coast. His inland road network provided not only a link for trade, but also opened up communication. He placed an advertisement in The Sydney Morning Herald (22 December, 1843) "The Settlers of Maneroo (Monaro) can be supplied with stores of every description at Sydney prices. Wool, sheepskins and hides taken in exchange." The same issue had another advertisement, "Wool will be conveyed from Boyd Town to Sydney during the season by regular packets at one shilling per cwt.....". Thus the beginning of the region's identity as one of Australia's finest wool growing areas.
Bombala and the region also has credit for producing excellent breeds of cattle, noticeably Herefords and Angus. Buyers from all over Australia would attend the annual Bull Sales, as the quality of stock and their management was widely acknowledged and respected. Cereals and other crops are also produced.
Today's farming land managers operate in a vastly different environment to their forebearers who were encouraged to clear the land and introduce exotic grasses and fertilizers. Farmers now recognise the importance of natural resource management to enhance their land's ability to respond to the seasons, conserve water and be fertile to grow wool, lamb, beef, crops and other intensively grown produce that are still major economic inputs for the town.
The grazing landscape of Bombala is still as beautiful today as it would have been in the early years with grasslands and gum studded paddocks threaded with streams and rivers following their ancient routes across the land.
(acknowledgement: some information obtained from the Monaro Pioneers website: www.monaropioners.com.au)
---
Photos contributed by Cheryl Marks <chezem.cm-at-gmail.com>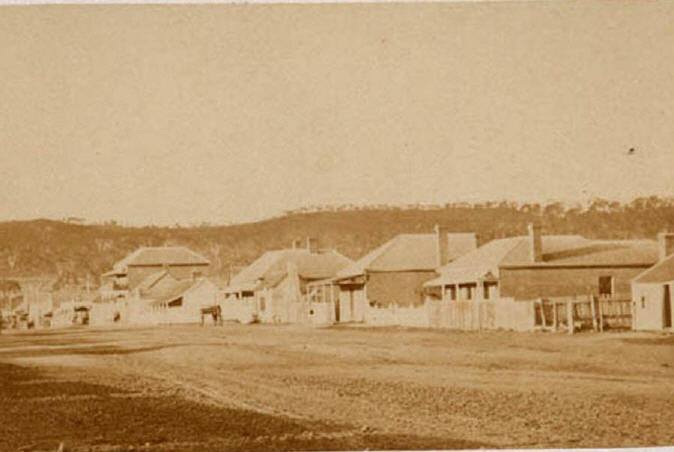 Bombala main street c1880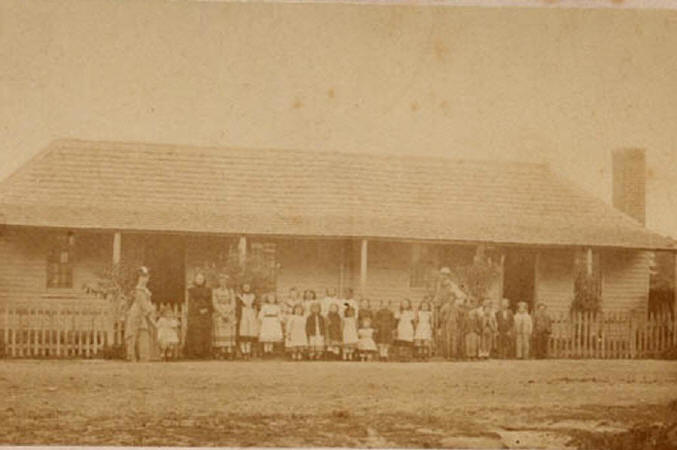 Bombala School house c1880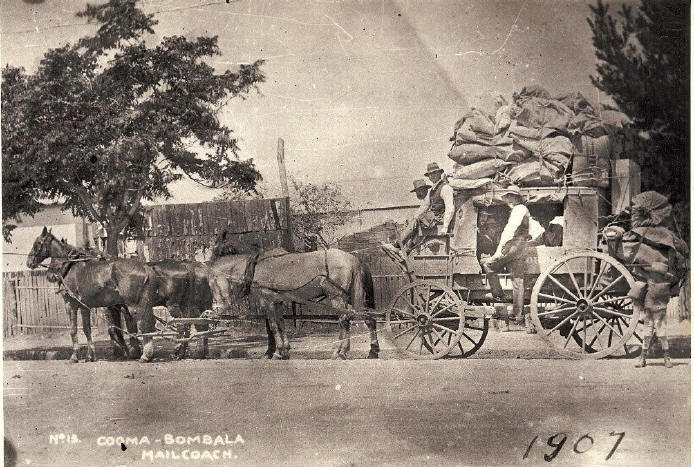 The above photo supplied by Iain Macinnis <iainmacinnis-at-optusnet.com.au>